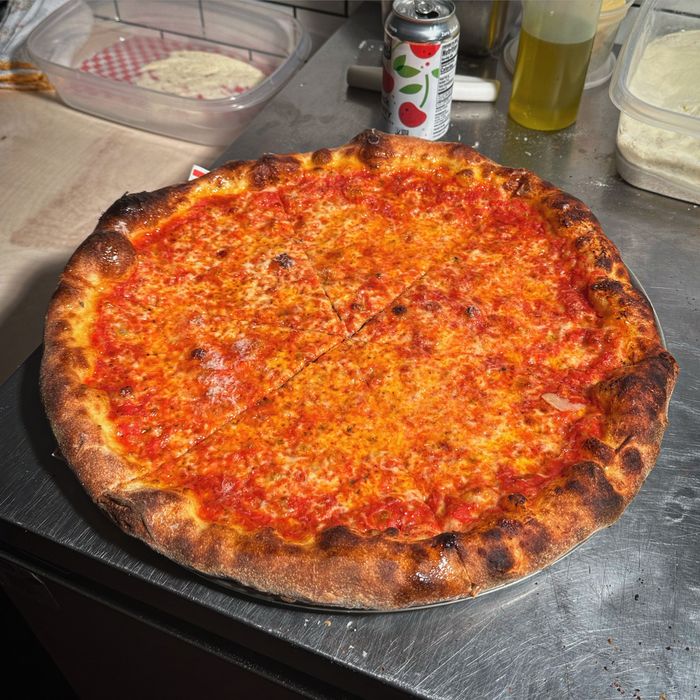 A pizza from Chrissy's new location on 9th Street. Photo: Courtesy of Chris Hansell
Chrissy's Pizza makes the most elusive pies in New York. Trying to obtain one large "Demon Pig Boy" (pepperoni and pickled hot peppers) is, for aging New York punks, like attempting to snag seats for a Taylor Swift concert. A friend has been trying to get some Chrissy's for six months. I've tried twice, and failed both times. Just yesterday, the online portal used for preorder crashed twice because of the demand.
Launched in 2021 by Chris Hansell, the pop-up has been run out of his Bushwick apartment, everything cooked in a home oven. From the look of it, you'd never guess this pizza was baked in an apartment's "off-brand oven": The crust looks puffy and charred, the cheese radiantly orange and plenty of tomato sauce still visible. Now, however, you may finally get your shot: Hansell has announced he's moving into the original Superiority Burger space and officially setting up from July to "???"
The question marks aren't meant to be coy, only to indicate that this whole idea remains something of a work in progress: "We don't know what it is yet — we'll be hanging there for a while," Hansell says, allowing that there are a few firm details: "Full pies only. Weekly specials. And some surprises, hopefully."
To help, Hansell has brought on "a best friend of ten-plus years" in Chris Fratesi, who previously ran a pop-up in Miami called Fratesi Pizza. Hansell also has allies outside the "Chris" Community. Namely, Superiority Burger's Brooks Headley, who became friends and very occasional DJ partners with Hansell after trying one of the pizzas. As you may have divined, this is how the arrangement first came about.
If you're excited, don't race over to East 9th Street just yet. Through July, pizzas will be preorder only, and it might be a bit longer before you can waltz right in. "Mid-August is the goal for walk-ups, and being properly open a few days a week," Hansell explains. "The specific details will come a little later."