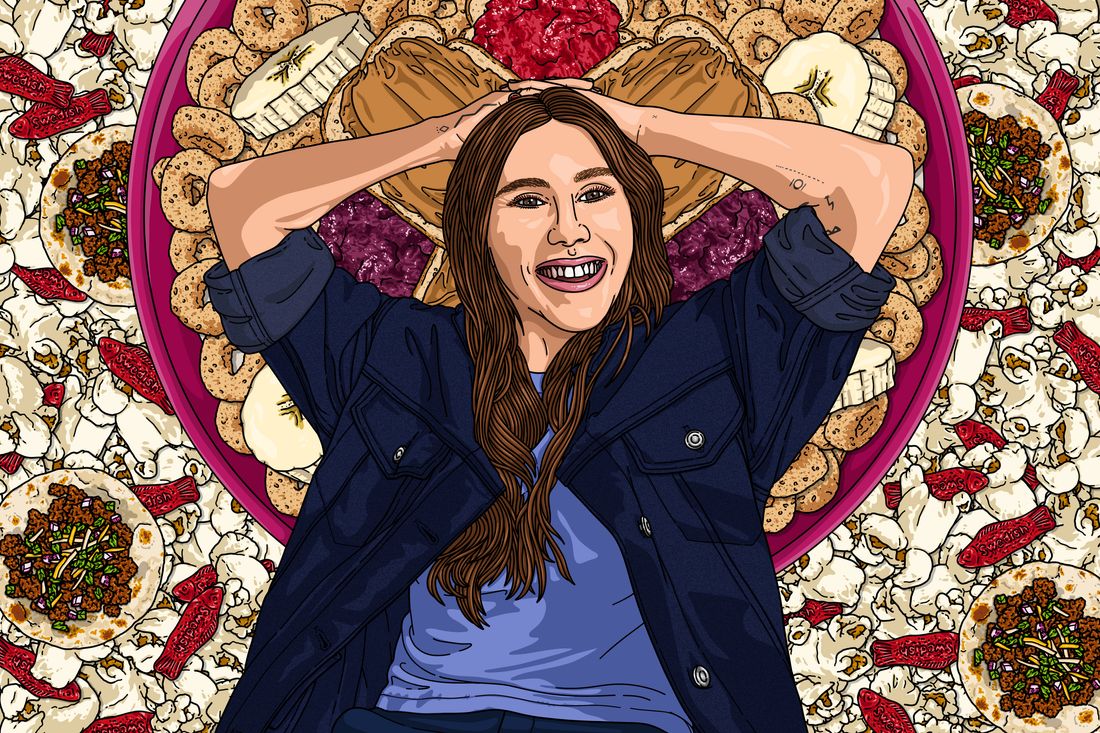 Mamet, who has edited a new collection of essays on food. Illustration: Elly Rodgers
Zosia Mamet is on the move — by car, by plane (filming The Flight Attendant), and by horse. The actress, best known for playing Shoshanna on HBO's Girls, is less of a city girl now, spending time with her husband (Evan Jonigkeit) upstate, where she has room to ride every morning. This week, however, she was back in town to celebrate the publication of My First Popsicle: An Anthology of Food and Feelings, a collection of essays she edited — with authors such as Jia Tolentino and Patti LuPone — focused on the emotional memory of certain foods. 
October 27
Breakfast was a PB&J and lots of coffee with oat milk — a total classic when I'm home and not working. I ride my horse pretty much every day, and I'm terrified of getting hungry. So I always travel with snacks, and I bring what I call a "barn sammy." Usually, it's peanut butter and jelly.
After I ate my barn sammy, I was ravenous by the time I got home. I made a huge bowl of tuna fish, and I was too lazy to even put it on bread, so I devoured it with corn chips. My recipe is pretty simple. I love a condiment, so it's normally a lot of mayonnaise and a little bit of honey mustard. If I have time and I'm feeling adventurous, I'll chop up pickles and celery and add that. Everyone feels differently about tuna fish, but I think we just have to be open. Love is love. Tuna fish is tuna fish.
Dinner was a weird amalgamation of all our food that was about to go bad, since we were leaving the house to head to the city for the week. I had some Trader Joe's goat-milk cheddar. I'm obsessed with it.
My husband, Evan, made us peppermint tea before bed, which is not common for him at all. I'm always the one who's cold and drinking warm beverages, but he was like, "I'm going to make some tea." The tea was an event — a teavent.
October 28
Breakfast was another classic: Honey Nut Cheerios with bananas, blueberries, and oat milk. If I don't eat my barn sammy for breakfast, that's my go-to breakfast before going riding.
A little while ago, one of the women at this new barn that I'm at told me her horse loves Sour Patch Kids. I was like, "What?" I learned that horses have a whole new palate. I'd been feeding my horses apples, carrots — the classic shit — and now my whole world had been blown open. Now my horsey is obsessed with Swedish Fish, so those are pretty much always around. I grabbed a handful, downed a few myself, and shared them with her. I've discovered she loves banana peels. Now I save my banana peels and bring them to her, because she's so obsessed.
This horse is sort of new to being mine, so I'm learning all of her snack desires. When I was filming season two of The Flight Attendant in L.A., I would ride with Kaley Cuoco at her barn. Her mom fell in love with my horse, and I fell in love with one of her horses — so we swapped horses.
I had my barn sammy for lunch at the barn (as a barn sammy should be eaten). I had some Lay's baked chips and pistachios. Apparently, I woke up and decided to eat like a toddler. Between Swedish Fish, chips, and PB&J, it was not a particularly elevated meal.
My husband and I headed into the city late for a friend's premiere party at The Fulton. We missed the film premiere itself, but we hadn't seen our friends in a while, so we hopped over, and we were so hungry. We downed a bunch of sushi they were serving — there was crispy rice that was very delicious — and a whole bunch of sashimi and veggie rolls.
October 29
We're in a hotel for the week, so we got room service for breakfast. I got yogurt and granola with berries, gluten-free toast with eggs and smoked salmon, and a huge oat-milk latte.
The press tour for my book of essays was ramping up, so I had lots and lots of coffee. Normally, I'll just have a cup in the morning — sometimes two. On a big day, I'll have an iced coffee in the afternoon or another latte. But when I'm traveling or working, I stop counting. Not that I normally count my coffee, but I have so much that I lose count.
I had a Kind bar while we were out and about doing press stops bopping about the city.
My husband and I and a dear friend of ours, David Hull, made a short film years ago that our friend wrote. David and I starred in it, my husband directed it, and it was at the Montclair Film Festival. We'd never seen the film on a big screen. It was so great to put it out into the world and watch it with an audience.
We popped by the screening, and a Bareburger was right next to the theater (we hadn't eaten a proper meal basically since breakfast). I had a very necessary bison burger with lettuce, tomato, avocado, and pickle on a gluten-free bun with sweet-potato fries.
October 30
More room service: eggs and gluten-free toast with lots of ketchup. I've been gluten-free since I was 7 — long before it was cool or delicious. Things are way better now. Back then, there was, like, one kind of Pop-Tart you could eat that tasted like a table.
I was all over the city: I went to a yoga class, walked downtown to my fitting with my stylist (Thomas), ran a couple of errands, walked back uptown to the hotel, then went back downtown to dinner.
We went to dinner with some friends we hadn't seen in a while who love BondST sushi, so they were very excited to share that with us. We basically ordered everything off the menu. They were like, "You have to try this! Oh, actually, you have to try this!" It was an incredible and amazing three-hour dinner. We live pretty far upstate, so we are always catching up with friends when we're in the city.
My husband and I have filming schedules that take us all over the place, so home has been a little bit nomadic for the past year and a half. We both got very lucky over the last decade.
October 31
I woke up early and went to yoga and skipped the room service, because I had a breakfast meeting at Cecconi's. I had yogurt with granola and berries with a side of bacon.
I was on phone interviews and back-to-back calls until I had to get ready for Colbert. I was starving from not enough sleep and nonstop working and running around, so I needed an amazing sandwich to fuel up midday. The day was such a blur, but this sandwich was epic. I put everything possible that I could on top of it. It was, like, the size of my face.
I got to Colbert around five and had some vegan doughnuts and BjornQorn. They always have amazing snacks. I really wanted to dress as a popsicle to honor the book, but I couldn't find a popsicle costume! So nothing Halloween-related happened.
I finished with gluten-free spaghetti Bolognese for dinner at Rubirosa with my husband and four of our closest friends. I knew this week was going to be a lot of work promoting the book, and I really wanted to put time aside when I could to see the people that matter to us most and have some really quality hangs.