The final phase of Callum Hann and Themis Chryssidis' CBD venue Eleven is set to launch Friday, as the full-scale restaurant headed by chef Dan Murphy and sommelier Geoffrey Hunt finally opens.
It's Tuesday morning when CityMag arrives on site at the dormant restaurant Eleven on Waymouth Street.
Builders are gathered in the outdoor seating section, inspecting the door and talking over final tweaks to be made to the space before it launches to the public on Friday.
Inside, chefs prep at the bench that lines the open kitchen, getting ready for a service scheduled for the night ahead, in which staff will be taken through the menu.
But for these two areas, the restaurant is still, sitting in pristine pre-opening form – before seats are worn in and the patina of thousand dropped forks appears on tabletops.
The optimistic buzz of a new restaurant coming together washes over CityMag as we watch this scene unfold from outside, the warm air of a 20-degree autumn day contributing greatly to the atmosphere.
Co-owner Themis Chryssidis comes out to greet us and our brief tour of the restaurant begins.
We're led through Eleven's front entrance, located in the corridor of the 11 Waymouth Plaza development, which opens into a narrow corridor punctuated by a large, green door.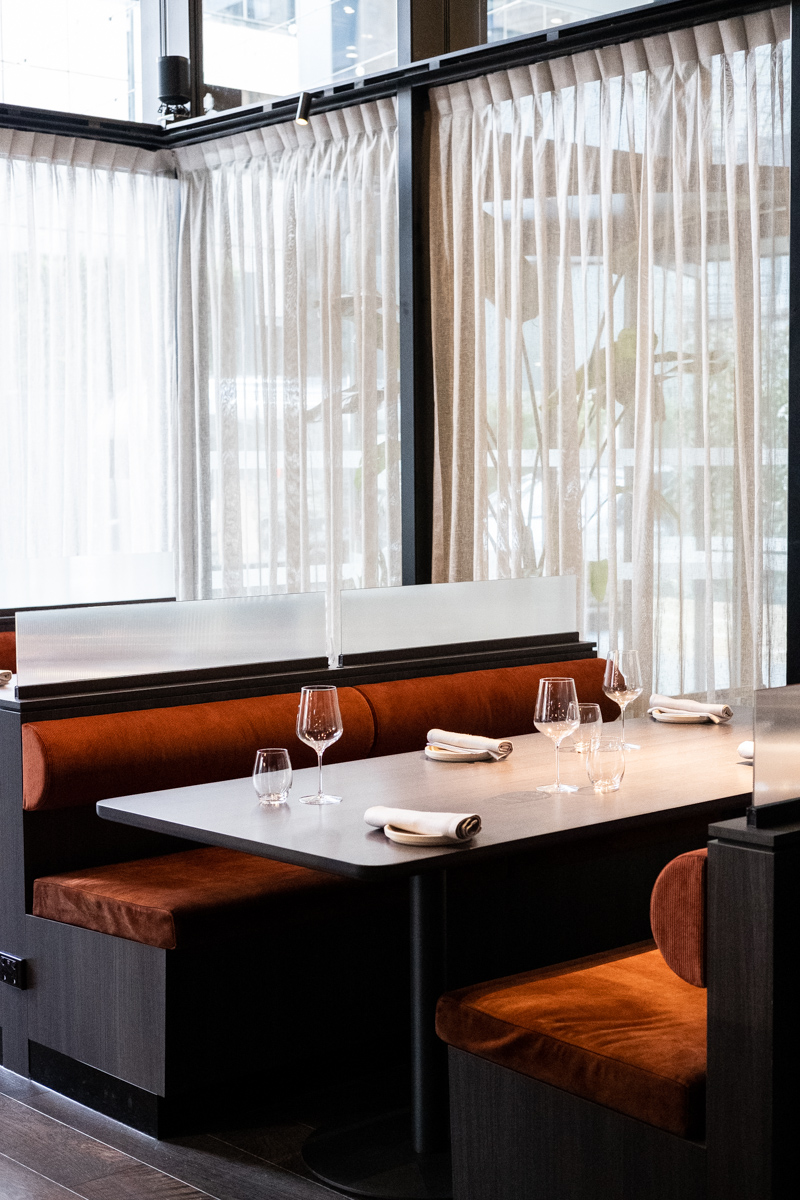 On the other side of it, a host will greet you at the concierge stand as, to your right, the full view of the restaurant opens up, which has been designed by Studio Nine.
In a statement, Studio Nine Associate Interior Designer and project lead describes Jaana Bithell describes the fit out as "a refined, sophisticated and intimate space, with subtle layering of earthy, rich materials."
"It's a foundation for the diner's interaction with Eleven's dynamic food creations — a backdrop to showcase the colours and textures of the fresh and diverse seasonal produce on offer," she says.
Themis offers us a seat in the middle of the restaurant, as co-owner Callum Hann, who has run Sprout with Themis for a decade, leaves the kitchen team to join us for a quick chat.
The restaurant has been 12 months in the making, and the relief (and exhaustion) of opening day being so close is visible on the owners' faces.
"It feels nerve-wracking, anxiety-driving, but also relieving," Themis says.
"And it's emotional, to be honest, because it's been such a big 12 months, with so much going on here with COVID.
"We've had our setbacks, and as a group we've expanded rapidly. It's been pretty full on. It's been a tough slog."
"It's exceeded my expectations of how good I could imagine this place to be," Callum says of Studio Nine's fit out.
"It's hit exactly the brief for me, of sophistication and matching the calibre of food and wine that we know Geoff [Hunt, sommelier] and Dan [Murphy, chef] are executing.
"But it also has a splash of colour, still being fun, and not feeling pretentious. I feel like we've really got that balance right, for me."
The Eleven bar launched in December 2020, but this restaurant was always the main affair.
Chef Dan has created a Modern Australian menu that draws on his French training, while platforming local produce.
To explain the concept, Dan appears at our table with a plate of chèvre agnolotti in an onion broth – which appears in the second course of the restaurant's tasting menu ($125).
"Key to this one is the roasted onion broth. It's something that takes a few days to make," Dan explains.
"We cook the onions over the hibachi, blacken them, peel all the black stuff off, and then slowly cook those onions overnight in water and a touch of soy. The next day then we just clarify it and season it up. It's very simple.
"Our food, I would say, is deceptively simple, but really, really complicated. It looks really simple, but it can be quite complex as we bring it all together."
It also highlights local produce – vegetables are sourced from a grower in Murray Bridge, and the goat's cheese tucked away in the hand-made agnolotti comes from the Adelaide Hills.
"You'll get a really good hit of umami from the broth, roasted onion, quite sweet, but you'll be searching for where that parmesan feature is, and that's the parmesan oil, which adds that fattiness to the dish," Dan says.
Sommelier Geoffrey Hunt has programmed the wine list, which features plenty of South Australian wines but is also attempting not to be too parochial.
"Dan's food being very French-technique-inspired, it lends itself to a lot of really classic wines," Geoff says.
"The list is far and away focussed on classic wine styles, rather than the new and the funky.
"There are a handful of those [new and funky wines] scattered around – a style I particularly like – but it's really designed for the food, the classic, the elegant, not to overpower the food, not to steal the show."
Service will match the interior's casual refinement, with many chefs encouraged to cross the kitchen/service divide and interact with diners.
"There's a focus on that [service] being a lot of fun," Callum says.
"For us, there's no place for that really traditional fine-diner with very stiff silver service, very quiet, where you feel like you have to whisper.
"We want people to come and experience the best in terms of food and wine matching and have a lot of fun in that regard as well."
Eleven officially opens on Friday, 13 August.
While this moment will signify the beginning of the restaurant as an operational business, it is also the end of an extended period of stress for its founding co-owners.
Themis and Callum have spent the last year expanding their hospitality presence beyond their cooking school, in the form of Lou's Place in the Barossa and Eleven's bar.
Suffice to say it was not the easiest time in which to choose to build the foundations of a hospitality empire.
"I think we would have thought of ourselves as resilient a couple of years ago, but we've pushed the resilient boundaries to new levels for ourselves and each other over the last 12 months or so," Callum says.
"It doesn't feel that long ago that we were on the phone to each other, when I was living in Melbourne, in tears going, 'What are we going to do? Are we going to have to lay off staff?' kind of thing, back in March when things were first hitting the fan.
"To have been able to keep all those team members and then launch a new project as well, I think it's taken a bit of courage, a bit of resilience, maybe a bit of luck as well.
"I think it has changed us – hopefully for the better. We have that attitude of, if we can survive last year and get to this point, then we're feeling confident that if we have a good year, we'll be in a good spot," he laughs.
Eleven is open Wednesday through Friday for lunch and Wednesday through Saturday for dinner.
Connect with the business on Facebook and Instagram.