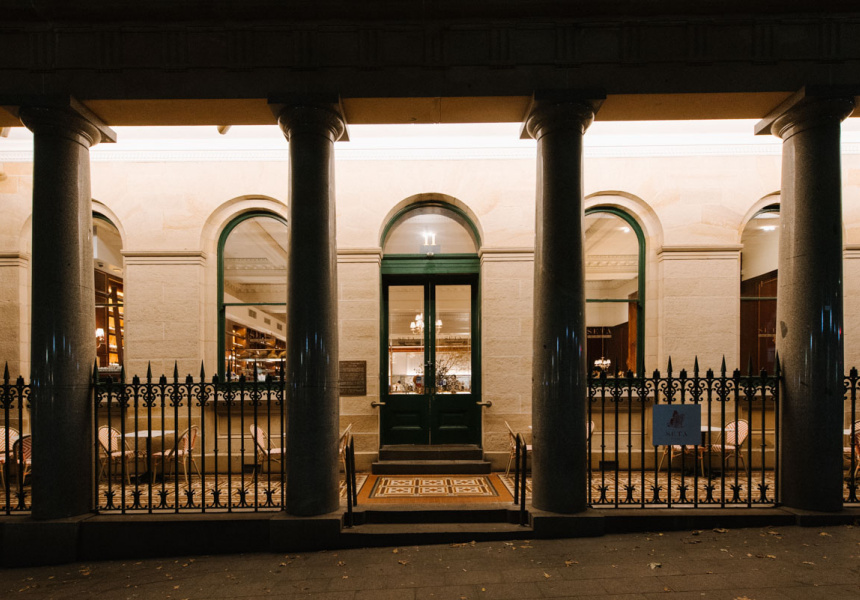 Veteran restaurateur Tonci Farac can breathe a sigh of relief as he finally opens his upmarket Italian restaurant and bar, Seta Sydney, after more than three years of planning.
Farac has been patiently bringing his vision to life since 2017, when he first snapped up The Athenian restaurant, which operated at the site of Australia's first savings bank – built in 1849 – on Barrack Street in the CBD.
The last restaurant Farac operated was Wildfire, the popular fine-dining venue at the Overseas Passenger Terminal in Circular Quay, which closed when the cruise terminal was redeveloped in 2014.
Farac has worked closely with designer Michael McCann (Mr Wong, Felix, Victor Churchill) to completely overhaul the interior of the grand 600-square-metre venue, bringing together Venetian-style dark-timber panelling, hand-cut mosaic floors, Italian-imported marble surfaces and tapered lampshade chandeliers.
"We wanted to create something that would look timeless, like it's always been here," Farac tells Broadsheet. "In 10 years' time, I still want it to look amazing, like The Ivy in London or one of those classically beautiful places in Paris. It needs to be something for Sydney to be proud of, knowing there is something of that calibre."
Even the open gallery kitchen has been worked into the room's design – it's bordered by a larger-than-life picture frame. "I wanted to make [the kitchen] look like it's moving art," Farac says.
To take advantage of the sizeable space, the 170-person venue is divided into eight areas. Aside from the theatre kitchen and main dining room, you can pull up front-row seats at the chef's table, Italian crudo bar or swanky cocktail bar.
There's also a dedicated cicchetti (snack) bar, displaying a variety of sweet and savoury Venetian-style snacks, such as sardines with marinated vegetables; raw, marinated cuttlefish tagliatelle; quail and polenta skewers; and eel with white onion and watercress. It's also the spot to pick up coffee, house-made pastries and beautifully packaged boxes of chocolates and panettone to take home.
Downstairs in the vault, where ambitious convicts once stored their money, there will be a 35-person lounge bar with its own dedicated access. Plans to introduce an outdoor dining space out front are also in the works.
Each area will open in stages. First up is the main dining room, serving an à la carte menu designed by Milan-based executive chef Matteo Vigotti, whose restaurant Novecento in Meina, Italy, was awarded a Michelin star in 2009, and who has also worked as executive chef at historic Milan deli and restaurant Peck. Head chef Giovanni Astolfoni runs the kitchen.
Some standouts include fresh soqquadro (square-shaped) pasta with vongole and sea urchins; Parmigiano Reggiano wafer bruschetta topped with pumpkin, pancetta and giardiniera (pickled vegetables); and a contemporary reinterpretation of tiramisu, which blends three styles of roasted coffee beans.
The chef's table opens early next year, serving a degustation menu, along with the crudo bar, which Farac likens to a Japanese sushi bar. It will have its own menu serving "30 varieties of seafood and 30 different sauces and dips".
"Because we're working with local, fresh produce, and ingredients and products from Italy, we need to interpret it as close as possible to true Venetian-Italian [food]. We don't want to be Australian-Italian, we want to be Italian-Italian," Farac says.
Head sommelier Filippo L'Episcopo (Merivale, Lotus Dining) has pulled together a 500-strong, Italian-leaning wine list. Many of the bottles are displayed in the purpose-built wine library. Reds are neatly stacked on the shelves, while the whites and bubbles are stored in three-metre-tall, copper-framed wine fridges. Or you can visit the luxe bar, which is serving takes on classic Italian cocktails such as Negronis and Aperol Spritzes, as well as 50 types of amaro.
Seta Sydney
11 Barrack Street, Sydney
(02) 9262 2624
Hours
Mon to Fri 12pm–10.30pm
Sat 5.30pm–10.30pm