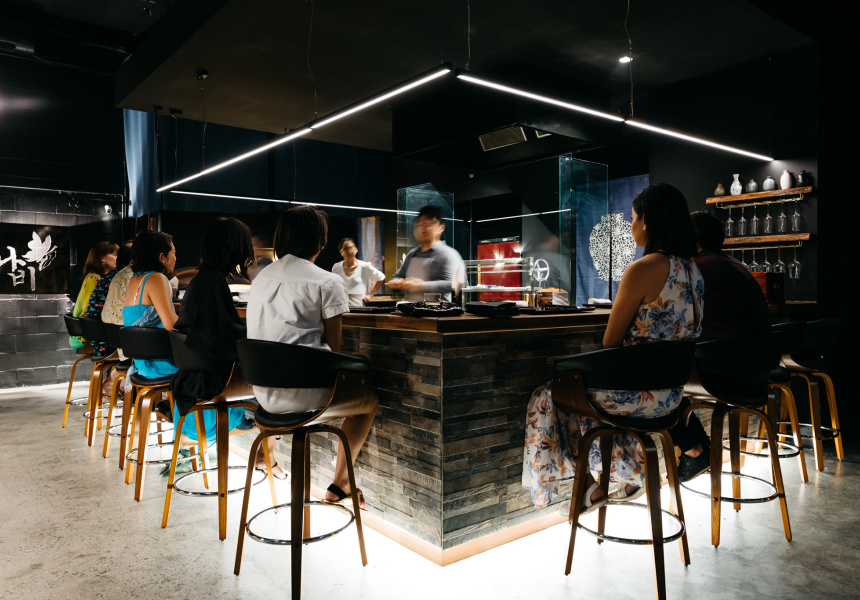 You've probably noticed the sudden influx of Victorians into south-east Queensland. They're buying property. Their kids have joined your local nippers. They're on your community Facebook group, complaining about the lack of daylight saving.
Interstate migration has always come and gone, but coronavirus and Melbourne's months-long 2020 lockdown added a certain urgency to the phenomenon. Folks who for years have confined Queensland to an annual two-week holiday are now packing the moving van.
It applies to whole businesses, too – just ask Alex Kim. The Seoul native was planning to open his new omakase Korean and Japanese restaurant, Butterfly, in Melbourne. But then came that God-awful winter.
"I travelled to Brisbane in the middle of last year and I was really surprised at how normal it was," he says. "There weren't really restrictions, people could go to restaurants. That's when I decided, 'Maybe this is the safest place for a while to open a business.'"
It helps that something like Butterfly hasn't really been done in Brisbane before. This city has stacks of Japanese and Korean restaurants, but they tend to serve budget-friendly comfort food aimed at locals and homesick foreign students – steaming hotpots, plates of fried chicken, bowls of bibimbap.
Glance at Kim's CV and you'll realise that's not his thing. He's spent 13 years working in first-class restaurants around the world, including the celebrated Okku in Dubai; Yokowa, a traditional kaiseki joint Singapore; and Sushi Namiki in Seoul. More recently, he did short stints at the Michelin-starred Lee Jong Kuk, also in Seoul, and Akachochin in Melbourne.
"You travel internationally so much as a Korean chef because Korea is a very high-competition country," Kim says. "[As a culture] we believe there's always room for improvement, so we study more and more, which leads us to travel.
"But that's why I'm opening a restaurant in Australia," he continues. "In Korea, there's no work-life balance. And they have a very clearly defined food culture, meaning it's hard to do Korean food with French techniques, say. In Australia, people are much more accepting of different kinds of cuisine. As long as I make delicious food, that's enough here."
The 22-seat Butterfly feels exclusive. Off Woolloongabba's beaten track in the old Moose & Gibson digs on Jurgens Street, the space has been stripped back to its raw elements, with concrete-brick walls, a concrete floor, and a three-sided dining counter that surrounds a prep bench and a locally built adjustable woodfired grill. The space's few accoutrements include a small zen garden and a record player spinning classical and jazz. Kim sets much of the mood with the lighting, which is dimmed once diners take their seats.
"It's like watching a movie in a theatre for two hours," he says. "High ceilings, isolated, private, quiet – that was the kind of place I was looking for."
Dinner fits the bill as a spectacle, with Kim and his chefs working through anywhere between 12 and 16 courses. What you eat will depend on what's market-fresh on the day, but might include kingfish sashimi; salmon caviar with sumiso (a traditional sauce made with light-brown miso); a yukhoe tartare sandwich with fermented cod-roe cream; Wagyu bulgogi with hollandaise sauce; or pork and kimchi mandu (Korean dumplings) served with potato puree. Throughout, the focus is on Japanese and Korean cooking techniques applied to local ingredients.
"If I try to make traditional Korean and Japanese food, it's not going to work, because our soil, our food, our ingredients are very different to Australia," Kim says. "That's the reason I named the restaurant Butterfly – it's a rebirth of my Japanese and Korean techniques with local ingredients."
A liquor licence is still in the works (the restaurant is currently BYO-wine only), but Kim says to expect natural wines, imported sake and shochu-based cocktails matched to the food.
"It's been going well," he says. "We've had a lot of locals through, but now we're getting more and more Koreans … They're very proud of this restaurant because there's nothing else in Brisbane quite like this."
Butterfly
77 Jurgens Street, Woolloongabba
0478 635 785
Hours:
Wed to Sun 12pm–1.30pm, 5.30pm–10pm