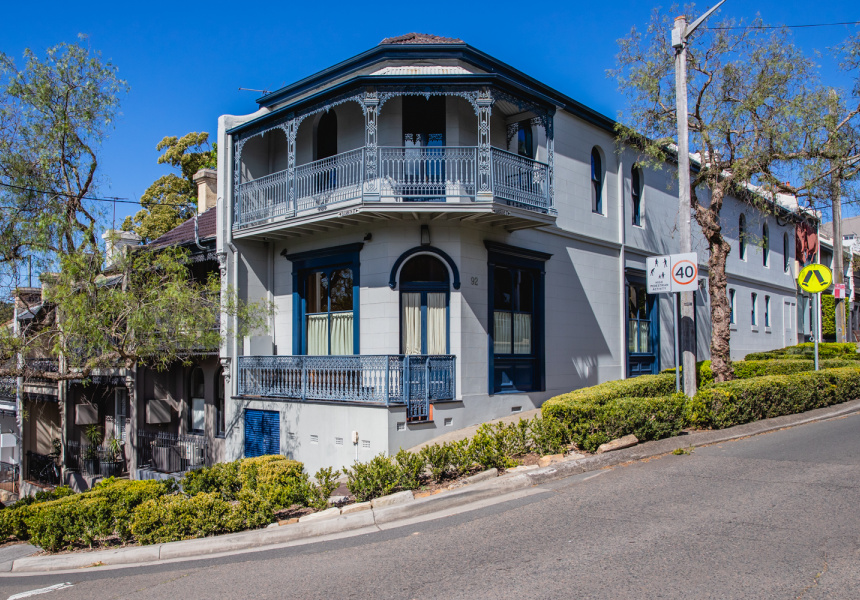 If Sydneysiders weren't already a little bit jealous of Paddington residents, they will be now. Because having rows of elegant terrace houses, jacaranda-lined streets, historic pubs, boutique fashion stores and galleries just wasn't enough, now they get to be besties with Ursula's, the new kid on the block everyone's whispering about.
Ursula's is the first solo restaurant for acclaimed chef Phil Wood (Pt Leo Estate, Mornington Peninsula; Rockpool Bar & Grill; Eleven Bridge) and his wife Lis Davies. They've returned to Sydney from Victoria, moving into the prized corner block on Paddington's Hargrave Street that used to house Guillame and, before that, Darcy's – a neighbourhood institution for 40 years.
"As soon as we saw this building, we knew we didn't need to look anymore," Wood tells Broadsheet over coffee with Davies and the couple's 10-week-old baby. "It's such a wonderful suburb. Locals are thrilled to have a restaurant back in this beautiful building, especially now that Lucio's is gone. We've had neighbours dropping off presents and cards. It's such a special community."
And while Ursula's is inspired by the inviting neighbourhood bistros of Europe, it's also extremely elegant. Melbourne-based designer Brahman Perera worked with Wood and Davies to create a warm, comfortable space. The room is wrapped in colour; bold caramel tones and deep blues saturate the walls and floors, while classic Thonet chairs and crisp white tablecloths create harmonious balance. Sculptor Clementine Maconachie crafted bespoke folded-metal lights for the walls, and Livio Tobler's feature timber pieces, with their signature wavy legs, add just the right touch of whimsy. Every last detail – from the Riedel glassware to the Maison Balzac water jugs – exudes laid-back taste and style.
Wood is something of a Renaissance man (although you won't hear him say this). As well as being one of Australia's most celebrated chefs, he is a keen painter and admits to sending Ursula's younger chefs "a one-page outline of a classic chef every few weeks" during Victoria's repeated lockdowns, before he returned to Sydney.
"It wasn't just one page" Davies says, laughing.
The fascination with history spills over onto the menu, which is gloriously illustrated Bemelmans-style by New York's Happy Menocal.
"It's very produce-driven, with Australian flavour profiles, European techniques, and nods to history and classic Australian ingredients," Wood says.
The coral trout with warrigal greens is inspired by early European settlers getting to know Australian bush food through Aboriginal contact. "Cook was amazed by the sheer amount of stingrays when he came into Botany," says Wood. "One of the first dishes he had was stingray and warrigal greens. I wanted a fish reminiscent of that texture."
The beef carpaccio is a nod to a classic Darcy's dish, but this time done with a vibrant Thai-flavoured roast tomato dressing of lemongrass, chilli, makrut lime and galangal. In a tribute to Australian ingredients, snapper cooked in classic French style arrives covered in a light, bright Keen's curry and fennel-based vinaigrette.
It would be remiss if a menu inspired by the Great Aussie Classics did not include a reference to Dame Nellie (even though her eponymous dessert was created by the French chef Auguste Escoffier). Wood's peach Melba is made with a roasted diced peach, raw peach slices, raspberry syllabub, vanilla ice-cream and crisp toffee on top. And the golden-syrup dumplings – lightly steamed, rum-flavoured dumplings with golden-syrup rum-and-raisin caramel and a malt-flavoured whipped cream – were inspired by the classic CWA recipe, a version of which Wood found in an old cookbook by Dame Flo Bjelke-Petersen.
The wine list was designed by master sommelier Sebastian Crowther, a close friend and former colleague of Wood's from Eleven Bridge. It's centred around family-run wineries such as Tyrrell's, Crawford River, Jim Barry, Henschke and Grosset. A tight cocktail list hinges on a few classics and features Ursula's Negroni — a White Negroni that Wood created during lockdown, made with Berto Aperitivo, Poor Toms Sydney Dry Gin and Regal Rogue.
Wood has assembled a dream team of old colleagues and rising stars. John Laureti (Pt Leo Estate, Rockpool) and Luke Cawsey (Saint Peter, Rockpool Bar & Grill) join him in the kitchen, and restaurant manager Emily Towson (Fred's, Sixpenny) leads the floor team with help from Nicholas Donelan (A'Mare, Spice Temple) and Manuela Roca (Matilda, Caffe e Cucina).
Ursula's opened last week, and already the locals are pouring in. "It felt just like what we hoped it would feel like," says Davies. "A lot of neighbours came in. Most people said they had walked here, and that was really lovely."
"We are focused on being part of Paddington's fabric," Wood says. "Paddington has an incredible history – from being a working-class, poor suburb to having some of contemporary Australia's greatest artists working here, and Italian establishment restaurants like Lucio's and Darcy's and Buon Ricordo popping up on these little corners. We want to be part of its continued story of great restaurants serving great neighbours."
Anyone else considering a move to Paddo?
Ursula's
92 Hargrave Street, Paddington
Hours:
Tue to Sat 12pm–3pm, 6pm–10.