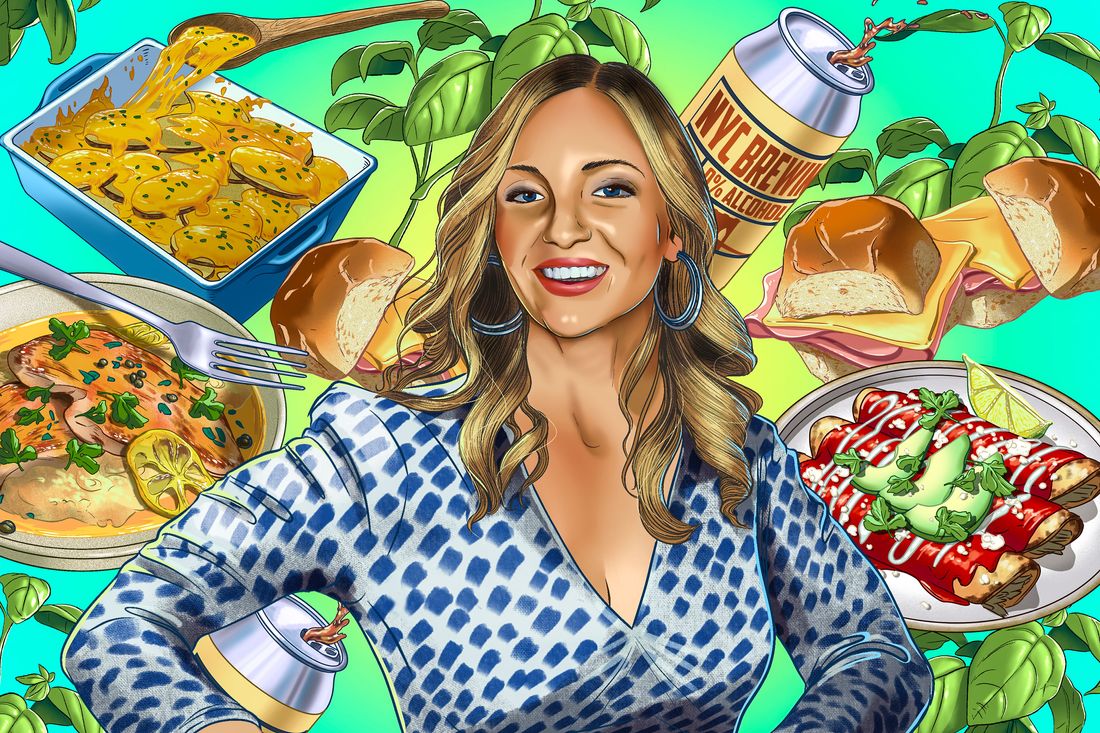 Elliott, who is making a point to enjoy some cheese (and ham) during her second pregnancy. Photo: Adam Mazur
The actress and comedian Abby Elliott has been expecting, both the new season of the Bear — in which she plays Sugar, the older sister of Carmy — and her second child. So ahead of a busy month, she was in L.A., relaxing with her family, celebrating a "baby sprinkle," and doing her best to sate her cold-cut cravings in the safest possible fashion.
Thursday, May 4
My breakfasts pretty much always look the same: plain Greek yogurt with honey and berries and some muesli, and that fills me up enough. Then I started to crave sugar. I usually have a box of chocolates around, so I popped two pieces before lunch. This is my second pregnancy — I'm giving in to my cravings more this time. If I want chocolate, I'm going to have chocolate. I can't deprive myself.
I've really been craving deli meat, which is a no-no when you're pregnant. I guess because you're at higher risk of listeria. There's so much you can't eat; it's overwhelming. During my first pregnancy, I read a really good book called Expecting Better, by Emily Oster. She just goes through everything and lays out what the odds are that you'd get sick from something and just the information to let you make informed decisions on your own.
I need deli meat, so I've either been zapping it in the microwave or pan-frying it to make sure it's safe to eat. Pan-frying ham is really good, so I did a little bit of ham for lunch.
When I was on location for The Bear in Chicago, I craved ham sandwiches all the time. I'd pan-fry a ton of ham and then melt brie, add some fig compote and some arugula. Those got me through. We wrapped shooting when I was 33 weeks pregnant.
We kept it simple for dinner that night because my cousins were coming in the morning. We made pasta and a really meaty bolognese sauce with basil from our garden. It was good. It was maybe a little too meaty.
Friday, May 5
Yogurt with honey, berries and muesli. Breakfast has been the same exact thing for the last three months of my life. I also downed two shots of espresso. I didn't drink coffee during my first pregnancy because it made me too sick. I powered through it this time because I needed the caffeine. Now I drink a cup of coffee every day.
I picked up my cousins Aubrey and Hailey from the airport, who'd flown in from Connecticut. They were thrilled to be in California, so we mostly just hung outside all day. For lunch, we did a ton of cheeses. I've been cheating a little with the cheese rules during this pregnancy — no soft cheeses; they need to be pasteurized — but I just really love cheese. And I love prosciutto. I tried to heat that up, but I started taking a more European stance on some of these rules, especially given that I'm getting so close, and the baby is pretty much cooked at this point. I was definitely more nervous during the first pregnancy. This time, when you have a 2-and-a-half-year-old, you don't really have the time to be nervous. Plus my daughter isn't the best influence. She loves cheese as much as I do. "More cheese, please" is her motto.
We did enchiladas for a sort of Cinco De Mayo dinner. My husband buys the mole from Guelaguetza, a huge, super-fun Oaxacan restaurant in L.A. We made mole enchiladas. He did most of the heavy lifting, but I slow-cooked the chicken and shredded it and then he assembled everything and worked his magic.
Saturday, May 6
Breakfast was the same. One of my cousins hadn't been in California for at least ten years, so we went out to Spartina in West Hollywood to meet her friend for lunch. We ordered some burrata, meatballs, and this amazing French toast. It was so sweet. We were on a patio, and had a very slow lunch. Everybody was having mimosas, and I was jealous. I had a nonalcoholic beer. I really love the Lagunitas nonalcoholic IPA or the Heineken Zero. I am also into those nonalcoholic spirits that everyone's making now. Anything that tastes a little peppery is so good with food.
We had an early-bird dinner at Smokehouse at 5:45 p.m. Date nights have been pretty early, but it's easy to get a reservation at that time — even with a big group. It was my husband and me, my daughter, my cousins, my sister, and her boyfriend. My daughter and I split chicken marsala and cheesy potatoes.
I was wiped, but I think my cousins and my sister went out that night. She lives in L.A. too. We were born in New York but grew up going back and forth when our dad was either working on a show or working on a movie. I miss New York so much, but at this stage of my life, Los Angeles is really good. Plus getting to go to Chicago a few months a year now — that felt like I got that city experience I was craving.
Shooting this season, my mom and husband came with me to take care of Edie. It was prestrike, so my husband was in a writers' room on Zoom every day. We just moved our lives to Chicago for a couple of months, and it satiated something inside me.
My parents love the show; they started saying "behind" or "yes, chef" after they watched the first season, even though I didn't do it on the show very much. I had some FOMO last year, not being in the kitchen, so this year I had a lot of catching up to do. My character is a lot more involved in the kitchen this year, so I learned all the lingo and the jargon. A lot of it was improvised.
Sunday, May 7
I didn't really have breakfast because we were up getting ready for our baby sprinkle. They say a "sprinkle" is for your second, when you have all the gear and stuff you need. I didn't expect any baby gifts. People brought them, which was so nice, but it was more just like, Okay, let's celebrate this. I really just wanted a party, and to see friends that I hadn't seen in a couple of months.
We did it in the backyard with tiny little hand sandwiches from Joan's on Third. We wanted to keep everything easy. My husband took charge of the catering. There was a great Chinese chicken salad, a southwest chicken salad, a meat plate, a cheese plate, and some corn fritters. The tiny sandwiches were the big hit, and I got my deli-meat craving situated.
Toward the end of the night, we were all just lying outside on the sofas, and our dog, George, started barking. He's tiny. Like six pounds tiny, and ran to the edge of our lawn. I was like, "This isn't right. I'm going to follow him." I ran over and our Yorkiepoo was four or five feet away from a coyote. He was barking at the coyote, wanting to play. I swooped him up and yelled at the coyote until he ran away. He tried coming back, though. Maybe he really wanted to eat a ham sandwich. Or my dog.
Monday, May 8
My cousins went to get bourekas for breakfast, from this really good place on Ventura called, Borekas. They were awesome. We got three different kinds: one butter, one cheese, and one with a spinach filling in it. They came with some jammy eggs and pickles, too.
Before my cousins left, we went to Zuma Beach while my husband stayed back to picket for the WGA strike. We got lunch at the Reel Inn in Malibu. I've been there going forever, and it's so great. I got fried shrimp and a nonalcoholic beer. They have a huge fish tank, and my daughter loved looking at the fish.
My cousins left and for dinner we made chicken piccata from The Bear. In season one, our culinary producer, Courtney Storer, made a chicken piccata that my character was making in the scene. She showed me exactly how to make it. She's an unbelievable chef. I crave this chicken all the time, not just during pregnancy, and I'm constantly trying to perfect it. I still feel like I haven't gotten it. My husband made it this time, and it was so good.
I definitely feel inspired to cook more because of the show. I can't say that I do cook more, but I'm in awe of what Courtney does. She's constantly clocking how we're moving in the kitchen and how authentic everything feels because she has so much experience. There are scenes where we have these meals that she made or that Matty Matheson made. Like, in the season finale last year, we were all eating their braciole. It was so, so, SO good.
I'm going to be busy for the next couple of months with the baby, but I would really love to get good at cooking. I'm fine, but to be very good is so special, and to be able to have people over and to give them something that you made, that you feel good about, is beautiful.
I still crave some of the food we ate in Chicago, especially at the end of my pregnancy. We had this bone marrow at Gilt Bar and it was unbelievable. I've been like, Where can I get it exactly like that? We've tried to buy it, and we've tried to do it, but we don't have a torch to brûlée it, and we don't quite know how to do it right — but oh my God, it was awesome.