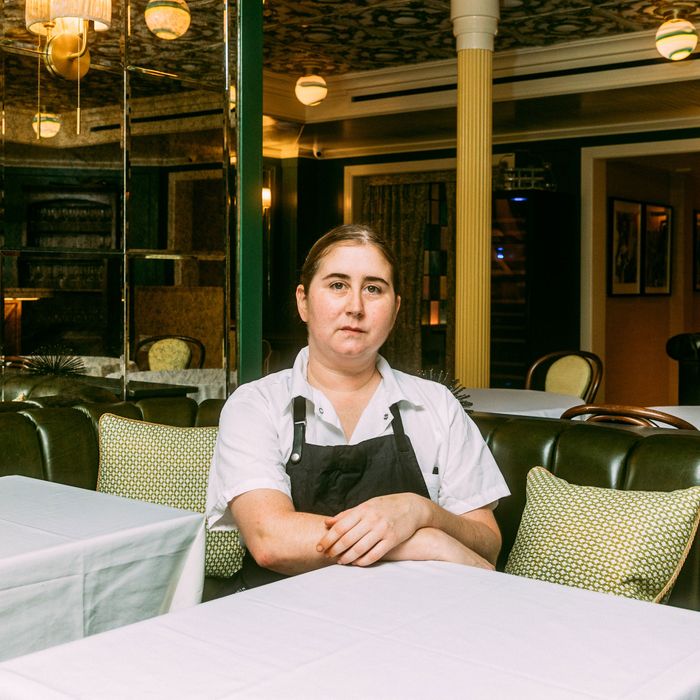 Ashley Rath.
Photo: DeSean McClinton-Holland
In the New York City hospitality industry, there are a number of "opening experts," people who specialize in establishing a business and setting it up for future success. Ashley Rath is one of them. Over the course of her still-brief career, she has worked to open Atera, Dirty French, Santina, and the Grill, where, as a 29-year-old chef de cuisine, she turned out updated versions of high-rolling American classics. So it was a shift when she traded midtown for Brooklyn to help open LaLou, a casually intimate Prospect Heights wine bar with no Dover sole in sight. And it seemed like a U-turn when she left to help open a megarestaurant in Las Vegas, landing in Sin City just a few months before the pandemic began. 
Many restaurant workers who left the city before and even during the pandemic have stayed away. Rath, meanwhile, couldn't wait to return. Now, she's helming the kitchen at yet another new restaurant, Saint Theo's, a breezy, high-kitsch West Village Italian spot that specializes in a style of Italian cooking Rath had once sworn off. So why did she come back? Why is she once again excited about Italian cooking? Grub Street called her up this week to find out.
You've been open less than a week at this point. How's it going? 
Some days, it's felt almost like a party — but in a good way, not a crazy way. I haven't cooked in the West Village in 11 years, and I forgot what it's like. I've always found that the West Village has this vibe to it; everybody just wants to be out. It's communal. It's energetic. It's fun. It's youthful. And it still feels like that.
We're open for four days a week at the moment. I'm doing about 140 covers, sometimes more, but not much, just so that we can get the kitchen down, the dining room down. It's nice to be back in New York City feeling that groove again.
What's the menu like? I read it as "Italian vacation."
The menu is coastal-Italian influenced. For me, my biggest influence is Sicily. We also have a Venetian part of the menu — our cicchettis and our cuttlefish over polenta, those are very authentic Venetian dishes, which is something that I didn't know much about before this. I absolutely love the cuttlefish. I don't feel like you see cuttlefish that often on the menu.
Yeah, what's the deal with cuttlefish?
It's like squid but sturdier, so it just needs to be braised and treated really gently and that's what we do. It has a bite. I wouldn't say chewy is the word, but it has a nice snap to it.
It sounds very Venetian.
Funny enough, after working at Santina, I thought that I would never be cooking Italian food again. As much as I love it — and if you look at old menus of mine, like at LaLou, you see influences of it everywhere — it's never something that I thought I would be cooking consistently. But I do love it. So when they offered me this job, I got excited.
Wait, why had you sworn off Italian?
I think it's because it was something that I was never trained in. As much as I enjoyed it, it wasn't a niche where I wanted to be stuck, and so after Santina, I just made the decision that I wasn't going to do that again and made a very hard pivot to the Grill, which is all large-format meats and sauce work. I absolutely loved that and still do. But then this opportunity fell into my lap, and I was happy to cook it again — I was reminded that I enjoy cooking it, and so it was just kind of a no-brainer to join onto the project.
I'm the type of person that doesn't like to be boxed in. I don't know what the full answer is. I like learning. I think that's why I like to do openings so often — I like doing research. The happiest time period of my life was when I was working on the Grill because not only was I cooking but I was also doing research half of the time. I like expanding my techniques, expanding my horizons. And I think that's why I never want to just be like a "French chef" or an "Italian chef" or, you know, a steakhouse-style chef. I want it to all come together.
At the Grill, you were known for Mad Men–style, all-American luxury food, and two years later, you opened LaLou in Brooklyn as executive chef doing something totally different.
But it was so much fun! And the technique behind cooking the steak at LaLou or making the potato dumplings, it still felt like it had the same amount of focus as the Grill, just a very different style.
So you're in New York, you've been opening restaurants and then, in December of 2019, just before the pandemic, you take a job in Las Vegas. Why?
I wasn't looking to get out of New York. It was an opportunity that fell into my lap. And it was something that I didn't realize that I quite needed until I did it. At the time here, I was starting to question my ability in New York. I was nervous. I wasn't sure where I fully stood in the New York City dining experience. I'd done so many openings. I'd gone through so many reviews with Pete Wells. And I guess I went through a moment of self-doubt.
What was the doubt?
Was I good enough to be a chef in New York anymore? I'm being very honest. And then MGM reached out to me, and they asked me to come out for a six-month consulting gig to help open up this restaurant, Mayfair Supper Club, that was honestly very similar to the Grill, a lot of tableside service. The menu was different but had Dover sole and prime rib and all these things that I knew how to execute. I realized that I needed to prove to myself that I could do it again, but I wanted to do it without the social pressures of New York. And so, in, honestly, two weeks, I said yes and up and moved my life to Vegas for six months. But then, of course, the pandemic happened, and I got stuck out there for a year.
I thought it would be very interesting, and believe me, it was. Just to walk from employee parking to the dining room was a mile. They have warehouses the size of the Grill where they just keep inventory. Cooking in Vegas is kind of like a machine, and you just hop on. And if you don't, you're going to get lost.
You get three normal months, and then …
Yeah, so the day I landed in Vegas, I found an apartment and then two days later, I started work. Some people like meditation — I'm not that person.
It was kind of a whirlwind. We opened with like 300 people on New Year's Eve and then we just never stopped until everything halted on March 16.
Were you thinking you would definitely come back to New York at some point?
Oh yes. They were making me offers to stay, but I was very direct that I was just going to work out my six-month contract and go back to New York afterwards. I was really gung-ho to get back to New York and get back to what I love to do. Vegas was a wonderful experience, but I do not want to cook anywhere else besides New York.
Why?
Because it's my city. I like it here. For all the things that I said that made me nervous, it reminded me that that's also what makes it fun and exciting. And it's a great food city. You just don't get the same caliber of cooks or product or management somewhere else. Everything that you want to be at a high quality, you just get that in New York naturally. Sometimes you get jaded when you work in New York for too long. You're like, Oh, I don't have good cooks. Oh, it's not California, so the farmers' market isn't great all year long. But once I left, I realized how good everything was. I appreciate it more now.
And then you get back to New York specifically to open Saint Theo's?
No, that didn't happen until about two and a half months ago. I came back in November looking for a job. I remember in December, I did a pop-up at Ten Bells with Sami & Susu, and it just all felt different. It was very jarring seeing how quiet everything was, especially coming from Vegas, where everything was open. But I was really impressed at how well everybody did. It was the first time I had a sense that, like, I should have been here to help.
How is it different opening now? 
Hiring has been extremely difficult for both front of house and back of house, but I can't say that's unique to us — that's everybody that I know. I've reached out to friends in Buffalo, and I'm like, "Do you know anybody who's still in need?" I've reached out to friends in Vegas. Like, everywhere, everybody's looking. I would say, though, I'm very lucky. I've had a select few people who have followed me from different restaurant openings. My executive sous chef, Betty Peña, I've worked with before, two of my line folks, one of my prep cooks. And then she brought in a bunch of dishwashers. So yes, we're still understaffed, but the team that we have, because we all know each other and we've worked together before, is cohesive and strong. I've always believed that you treat people well — I think everybody believes this — but how you treat people in the kitchen as a manager, particularly as a chef, will pay dividends in the future. And so far, that's worked for me.
What else is different about running a restaurant in semi-post-pandemic New York?
Deliveries.
Deliveries?
Deliveries and imports. Getting the Italian imports in has been incredibly hard. We're not the only aspect of this industry that's been hit. Produce companies don't have enough drivers, so you're ordering now two days out instead of ordering the night before. It's the littlest things. This one blew my mind: tablecloths. Finding tablecloths is hard. I was speaking to the linen person that I work with, and he said he'd reached out to his contacts in Pakistan and even they don't have enough. Then he made an interesting point: Everybody scrambled to do outdoor dining, and the tables weren't the prettiest so then everybody put tablecloths on those and now they have outdoor and indoor. It's the littlest things that I didn't think about because it wasn't happening in Vegas, which is weird, but it just wasn't a thing. That's been the biggest change to me, in all honesty.
When Bon Appétit profiled you a few years ago, you said you'd never start your own place. "Who wants to take on the financial burden of opening a restaurant in New York?" you said. 
That article makes me laugh a little bit. At the time, I was 100 percent committed to running other people's places. And I still like to do it — that's kind of the position I find myself in now, and I find it enjoyable. But at the same time, I believe I was 28 in that article and, you know, the years change you.
What's changed for you?
My parents have owned their own business for the last 35 years. Watching the liberties and freedoms that they get to take and the control that they have over how things are done — it's the same reason why I like to do openings. You get to set the tone, you set the procedures, you set how everything is done. I think that has started to shift into me being a little bit more ambitious and confident.
What's your sense of what diners even want right now? We've been speculating a lot: Do people want comfort food? Do people want excitement? Do they want high luxury? 
Originally, I thought that people wouldn't have wanted fine dining, but they're kind of craving normalcy again. There's a clientele in New York that will always be able to afford that style, and they're looking for it.
But I can't really speak from the customer's perspective. One thing I haven't done a lot since I've been back is go out, which is kind of surprising for me. On my days off, I'm normally a person who likes to eat at as many new places as possible.
Why haven't you been out?
I think a lot of it had to do with the fact that when I got back to New York, I was on unemployment and didn't have a lot of money. And now I'm opening a restaurant, so I don't have a lot of time.