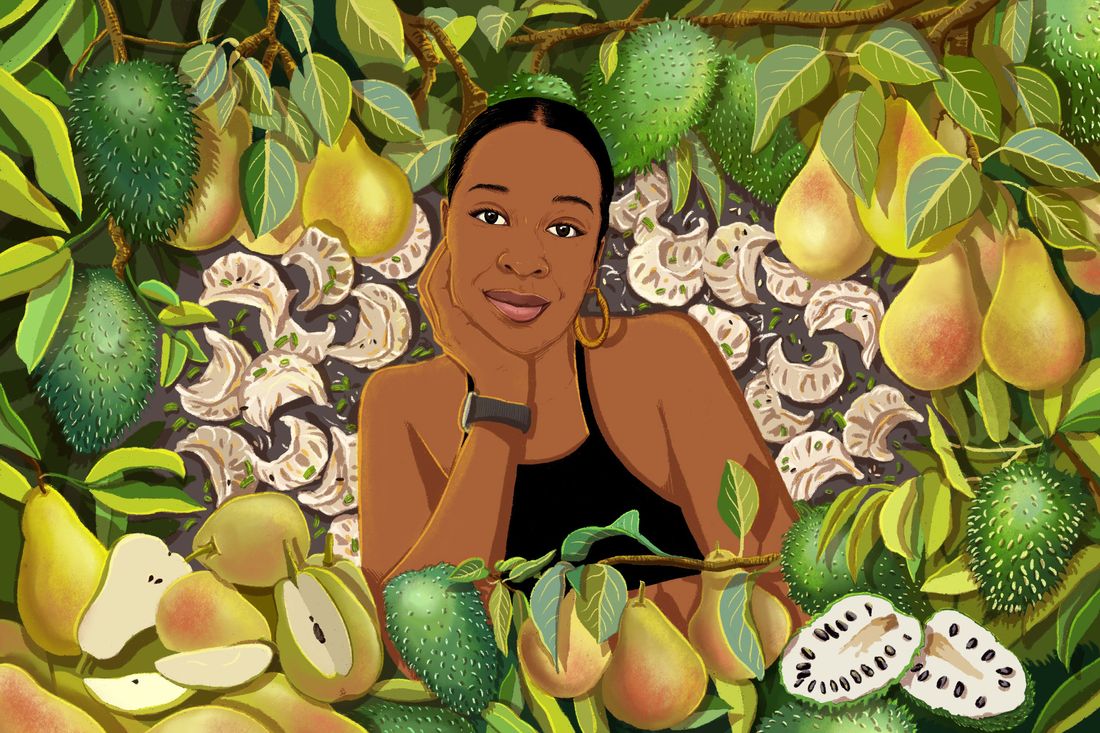 Shenarri Freeman of Cadence.
Illustration: Maanvi Kapur
Last March, the chef Shenarri Freeman was in the midst of opening her first restaurant, Cadence, with Ravi DeRossi's restaurant group, Overthrow Hospitality. From her perch in the East Village, she's served veganized versions of the soul food she grew up on in Virginia, like southern-fried lasagna and smoked grits with fried oyster mushrooms. The restaurant turned out to be a big hit, and her cooking landed Cadence spots on the year-end lists from the New York Times and New York as well as a nomination for the James Beard Foundation's Emerging Chef award. Over the weekend, Freeman jetted down to Washington, D.C., where she lived for ten years, to see some old friends and eat Ethiopian food.
Friday, March 25
I was heading down to D.C., where I lived for ten years, for my friend's 30th birthday, so for breakfast I got a deli sandwich from Orchard Grocer on the Lower East Side: the Miles, a vegan "bacon, egg, and cheese" sandwich on a croissant. I had that with Natalie's tangerine juice, echinacea tea, and berries.
That sandwich is just freaking amazing. I go out of my way to go there sometimes, but it's worth it's every time. I think the main thing that attracts me is that they have vegan croissants, which is kind of rare. I haven't come across anyone else with a better vegan croissant. The process of making one is really hard, so if I see one, I go for it.
I always go to Maketto as soon as I get to D.C., because it's down the street from the train station. It's just one of my favorite staples. I got leek-and-mushroom bao buns, spring rolls, and vegetable gyoza dumplings. I always eat those three things. They have a few other dishes I'll get, some bigger noodles, but I didn't want one huge entrée. I want to try everything on the menu; I'm that type of person. It's just easier.
When it comes to dumplings, I especially like gyoza because I'm not too crazy about super-fried food. I like gyoza because they're partially fried, partially steamed a little bit.
After lunch, I ended up at my best friend's house. We met 11 years ago, we went to undergrad at Howard, and we've been glued to the hip since. She's Somali and Ethiopian, and I usually have a lot of Somali and Ethiopian food when I'm in D.C., whether it's her home cooking, her mom's cooking, or her grandma's home cooking. Or we'll go out and get Ethiopian food.
When I got to her house that evening, she had cooked some Somali rice, which has fried onions and raisins, and her grandma had made a pepper sauce. I had a glass of wine with that. Usually when I go there, there's either food in the fridge or her mom is there cooking. This time, she had dropped some stuff off. It's so nice.
Saturday, March 26
I have a lot of friends who have restaurants in D.C., so I took some time to actually visit them and check out their spots. One of them is the executive chef at the Gathering Spot, a private members' club, so I had to go check him out. It opened up last summer, and this was my second or third time there.
The menu is great, but when I go, because they don't have that many vegan options, he always makes me things off the menu or things he's trying out. I had some Brussels sprouts with chile-apple honey, pickled apples, sorrel, and cilantro; salted-potato Caesar salad with mushrooms, avocado, and pickles; and thyme biscuits.
This was the night of my friend's 30th birthday. I got to see a lot of my friends that I hadn't seen, some of them in over a year. It was just great to see everyone, be able to catch up and hang out. This is ten years' worth of friendships. It was fun to see everyone in one space.
After, I grabbed a slice of vegan pizza at Duccini's in Adams Morgan before I passed out. That gets the job done. I mean, it was dinner, but it was that final touch before I went home.
Sunday, March 27
I was very hung-over. I woke up and had a smoothie with apples, mango, bananas, pineapple, spinach, and coconut water. I chilled out for a moment with a bowl of fruit, basically cleansing and taking it slow after a long night of partying.
I try to start the day with fruit, because I think that's how I learned to eat over the years, especially this last seven or eight years. I love soursop. It's a little harder to find in New York, so I usually do a mixture of berries, or pineapples. The fruit is so much better in other places. It's also cheaper — or free. Fruit is just overpriced in New York. It's kind of ridiculous. In places like Mexico, they have sour oranges, different types of oranges, so they don't even taste like what we think oranges are up here.
For lunch, I got sushi and miso soup delivered.
Back at my best friend's house, she made Jamaican rice and peas — for some reason! It was pretty random; she said she saw a video for it on TikTok, and she wanted my opinion on it. I loved it, and I ate all of it. We just hung out at the house, taking it easy.
Monday, March 28 
Breakfast was a green juice and pineapple.
For lunch, I made vegan Alfredo sauce. I was cooking at my friend's house based on what she had: almond milk, that was the base. Then we had some vegan butter and this vegan Parmesan. I added some onion, garlic, tomatoes. Some peas, some mushrooms. Just kind of kept building on top of that flavor because almond milk is not ideal, but I needed the base. I added some flour to make it thicker, almost like a roux, and then the noodles and parsley.
For dinner, I got Ethiopian food with another friend at Zenebech. I went with another friend I hadn't been able to see yet; it was a dinner date to catch up. We both love Ethiopian food.
Oh my God, it was so good. I'm still dreaming about it.
I miss D.C.'s Ethiopian food so much. The way New York has bodegas, D.C. has Ethiopian restaurants. I think because it's a bigger community, there's much more variety. It tastes different than what I have here, so it's a craving for me. Every time I go to D.C., I try to get some in.
I'm faithful to my favorite Ethiopian restaurant, but they were closed, so we ended up landing on Zenebech. I got the veggie platter with ater (a split-pea dish), mesir (lentils with spices), tikel gomen (cabbage, carrots, and potatoes), and gomen (collard greens). Anything with lentils, I'm excited about.
I started eating Ethiopian food with my best friend in college; her mom would cook for us. She would make us spaghetti with turkey, which was really good but strange to me. I didn't venture out at least into the vegan side of it until six or seven years ago. I learned that they had these veggie platters. I got a little addicted; I would be eating it every week. These veggie platters are just super-good, super-cheap, super-filling, and the flavor is just out of this world. I never really had African food growing up. I feel like Ethiopian food was my first introduction, and I instantly fell in love.
Tuesday, March 29
I had a smoothie in D.C. and then headed back to New York. When I got back, it was still morning, so I went to Plantbaked and got a vegan croissant and a chai latte with oat milk. I love tea, but I don't drink coffee. I tried it when I had an office job, and it didn't last long.
For lunch, I got vegan ramen from Warude. That's across from my house. I always feel great after eating their food. I usually get their ramen or gyoza — they are really good.
I got invited to a dinner event that Lo Bosworth was putting on. There was cucumber with mint and heart-of-palm ceviche; I got a vegan version of the spring orecchiette with asparagus, morels, and Marsala sauce.
I didn't cook that much this past week, mainly because I wasn't at home. But I try to cook when I'm at my friend's house and I'm out of town and have a second. I'm not in the restaurant as much as you think, only one or two days a week, so I can cook at home a bit more —  as opposed to when I was in the restaurant five days a week.