This is the fourth instalment of our lockdown special.
In lieu of being able to head out for dinner, we're embarking on a virtual tour of the coast's best eating establishments. We've asked chefs to inspire us with recipes that we can make at home, bringing the fine dining experience into our own kitchens. This week we're talking to Monique Guirguis – wife of Chef Michael Guirguis from Suq restaurant in Wamberal.
We opened Suq Restaurant in the Summer of 2016. The decision was an easy one. The building needed a bit of work, but it sat on a perfect sunny corner just a short walk from Terrigal Beach.
Michael is a Chef of more than 30 years. His career began at the age of 18 working in a kitchen in Lyon, France and I also had experience as a Chef before we started a family together on the Central Coast in 2013.
We wanted to offer something not yet seen on the Central Coast so we brought a refreshing change from the usual entrée, main and dessert menu (and a bit of risk along with it) – a full share plate menu inspired by world cuisines mainly from the Mediterranean, parts of Asia, North Africa and France.
We wanted to give diners a taste of Chef Michael's culinary portfolio, to be transported by the many flavours the world has to offer. Sharing food goes back to the roots of Michael's background which is Egyptian/Moroccan and is the tradition of many cultures – it brings people together and thus creates a great mood for our diners.
Our patrons are often very surprised that they have so much to choose from and that even though it seems unusual to have so many cuisines together in the same place, it really does work very well.
Michael first trained in France and whilst much of his experience comes from French cooking, he also has a special interest in Japanese and Italian food and other Asian cuisines as well.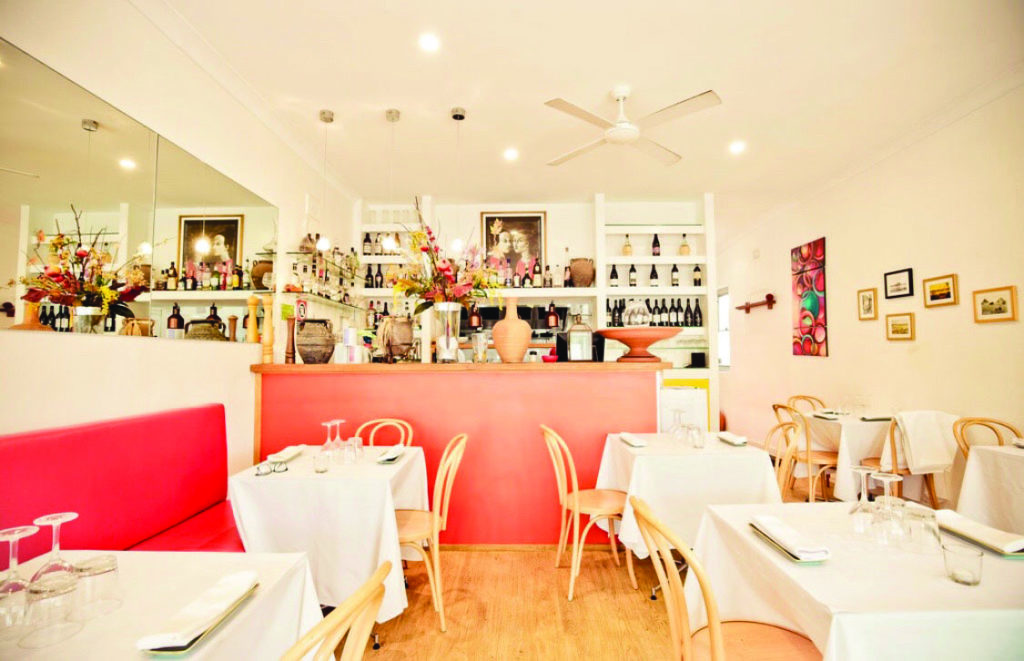 Michael has also worked in Lebanon and Greece and in many fine dining establishments in Sydney. Suq is the fourth restaurant he has opened. Suq is not a typical fine dining restaurant, it is more a place to share the food and taste the food together, to create a cultural ambience and to transport the diner with the flavour of the food.

We want people to feel relaxed but also to feel the quality of the food and the love that we put into it. We do not cut corners or take short cuts. Everything is made using the best meats and seafoods and imported ingredients. It is quality over quantity. Our arancini are made with Taleggio cheese and porcini mushrooms from Italy, we serve olives from Greece and Italy and goat's cheese from France. Our desserts are made fresh in house with chocolate from Belgium and France and fresh fruits in season served with renowned Serendipity gelatos and sorbets.
Most of all we pride ourselves on our staff – not only on our kitchen team but our front of house too, who take incredible pride in great customer service as that is truly the pinnacle of hospitality.
Here is a simple but tasty recipe from Michael's Egyptian heritage which is easy to make at home. It is also well known in all Middle Eastern and European cuisines and can be modified to suit any filling such as meat or different cheeses or vegetables to suit you. It is something that is perfect to share and can even be made as a pie or flan. If you have the time (which some of us do at the moment!) you can make your own pastry but we have opted for ready made here.

Recipe: Fatayar with Spinach and cheese (pastry triangles)
• 1 tablespoon olive oil
• 1 onion diced
• 2 medium garlic cloves finely chopped
• 300g spinach roughly chopped
• 100g feta cheese
• 125g ricotta cheese
• 2 large eggs
• 1/4 teaspoon nutmeg
• 1/4 teaspoon black pepper
• 1 pack puff pastry or short crust (short crust is traditional)
Method:
1. Defrost pastry completely.
2. Preheat oven to 180C
3. Heat olive oil in a medium pot and sauté onions on low heat until soft and translucent. Add garlic and spinach. Cover and cook until spinach is wilted. Take off heat and squeeze out any juices from the spinach.
4. Mix ricotta and feta cheese in a medium bowl then add nutmeg and pepper.
5. Beat eggs in a separate bowl, then add to the cheese mixture.
6. Stir in the spinach to the cheese mixture until well combined.
7. Oil an oven tray
8. Cut squares of pastry around 10cm x 10cm.
9. Fill squares with the spinach cheese mixture and bring in corners to create a triangle shape. Seal edges with a fork.
10. Brush them with a beaten egg.
11. Bake for 20 minutes until golden. Serve with rocket and balsamic and olive oil.
For Dough:
250g Flour
2 teaspoons of baking powder (be sure not to confuse with 'baking soda' or you'll end up with a strong sour taste in your dough)
Olive Oil
50g butter
1⁄2 cup of water
Method:
Combine the ingredients for the dough, lightly dust your palms in flour and knead until it had an elastic consistency.
2. If you find the dough is too wet or sticky add more flour and if too dry, more water. Once your dough is the correct consistency, roll it out with a pin.
Georgia is a clinically trained nutritionist, wholefoods chef, columnist and mum. She's been featured in Body & Soul and had TV appearances on ABC Breakfast and Studio 10 for her unique approach to food and health. She's known for reinventing traditional foods for the modern kitchen and was instrumental in a radical new approach to sports nutrition with a program for the NRL Parramatta Eels, kickstarting their ascent on the ladder in recent years. Find out more at stirringchange.com.