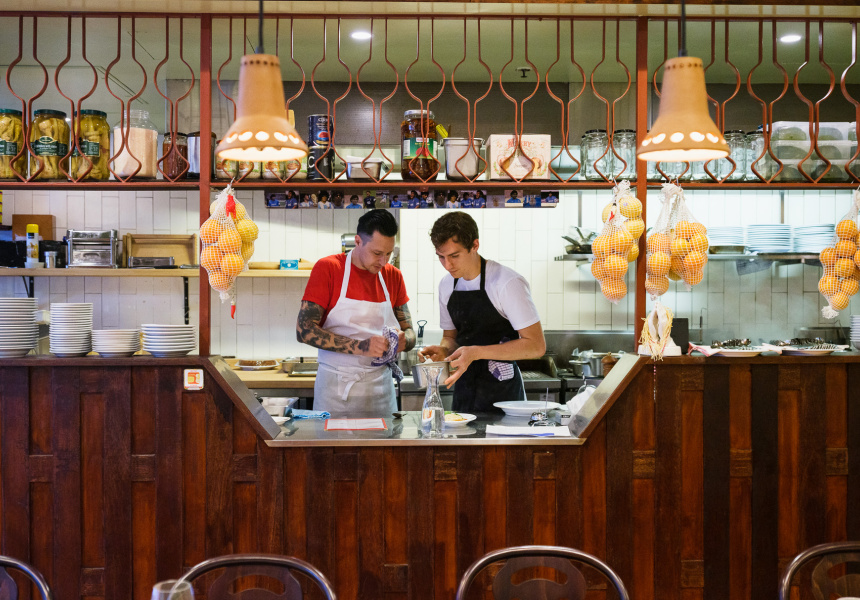 The first thing you see when you walk into Bastardo is an enormous old pasta extruder. Slowly your eyes take in a mint-green terrazzo table surrounded by dark brown bentwood chairs, walls dotted with colourful canvases and plates painted by Mikey Freedom, a kitsch bright orange lino floor and a bar framed by a fence hung with bunches of dried chillies.
Subtler touches come into focus as you pay closer attention: a shrine dedicated to Argentinian football legend Diego Maradona; red leather benches; cans of Italian tomatoes and fat bags of citrus fruits; and a beautiful wooden foosball table from the '30s, carted back from Argentina 11 years ago.
You could be in Italy, Argentina or Surry Hills, in the 1960s or 2020. And it has the same ambience as sister restaurants Bodega x Wyno and Porteño. "It sort of reminds us of Bodega when we first opened that 15 years ago," Milgate tells Broadsheet. "As soon as we walked in here we felt at home."
It's apparent that Ben Milgate, Elvis Abrahanowicz and Joseph Valore know what's up when it comes to the Surry Hills restaurant game. In fact, along with this venture they are adding another one to the block this month: Humble Bakery.
Bastardo's comforting menu pulls from Valore and Abrahanowicz's respective Sicilian and Argentinian backgrounds. On the antipasti side of things there's an 18-month-old Parmigiano Reggiano, which arrives at your table in chunks cut from a 40-kilogram wheel; fried pizzas filled with mozzarella that "the old man [Elvis's dad, Adan] is busting out nonstop", and a selection of classic charcuterie. Starters include eggplant parmigiana; octopus served with radicchio and parsley ("like they do it in Chianti"); and dish of a grilled tongue. "I learnt it from an ex's dad who was from Napoli," Milgate says. It comes with bagna cauda, a warm dip made with garlic and anchovies.
Then comes the pasta. There's spaghetti with 'nduja and clams; a tagliatelle with duck and silverbeet (the doing of a chef who brings experience from top Quebec restaurant Nora Gray); and culurgiones (stuffed pasta) filled with potato and ricotta. Grilled swordfish and a pork sausage (made next door at Bodega) also feature, along with a selection of veg-heavy salads to break up all that dough. Finish with house-made gelato (made using the brand-new gelato maker at the group's soon-to-open Humble bakery), or zabaglione with golden kiwifruit.
Bastardo's knock-out drinks list is the cherry on top. Most of the 150-plus wines (13 by the glass) are from Italy, including from small producers "that might only have four-to-10 hectares," says Lara Gray, who helped Valore put the drinks lists together (she was responsible for the wine list at Bodega x Wyno, too) and is always on-hand to answer your questions about the latest drops.
There are Italian beers and classic cocktails (think Negronis and Americanos), as well as grappa, amaro and other liqueurs – including a limoncello made in-house with what Milgate calls " big, ugly mafia lemons".
"It's basically stuff we think will go really nicely with the food the boys have prepared. We just want people to enjoy themselves – to start with an aperitif and roll into some deliciousness," Gray says.
For now it's dinner only, but the view is to open for lunch and an after-work aperitif hour down the track.
"We'll just see how it goes," Milgate says.
Bastardo
50 Holt Street, Surry Hills
Hours:
Tue to Sat 5pm–late