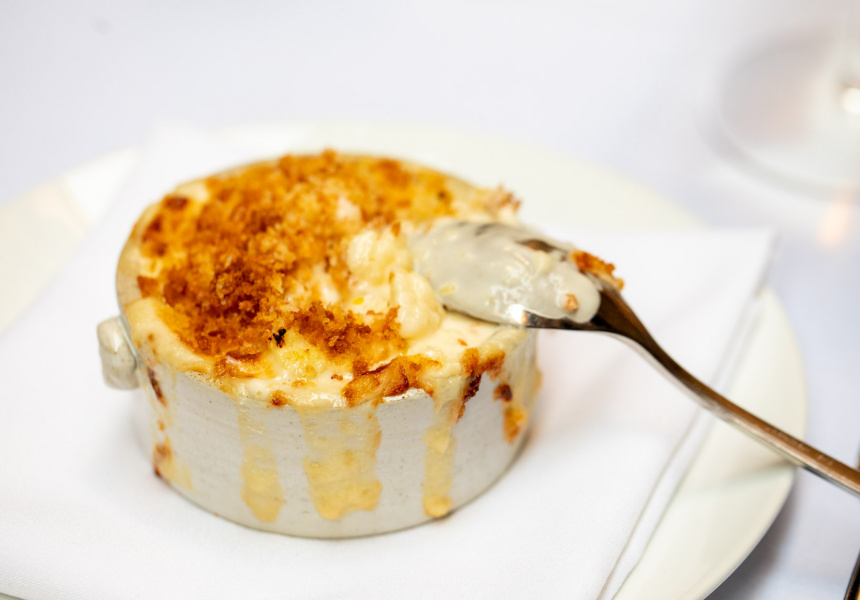 I have a friend who got me onto the expression "steamy carbs". You know – those king-of-carbs dishes you crave, such as just-out-of the-oven cheesy macaroni, hot chips, warm toast smothered in much-salted butter, garlick-y garlic bread – the list goes on. In other words, the best of the good stuff.
After dining at Restaurant Leo I can comfortably say that the extremely wonderful cauliflower gratin can, and should be, added to that triumphant list.
The dish isn't fancy, just florets of cauliflower mixed with two cheeses – fontina and Parmigiano Reggiano – along with leek and a generous amount of Pepe Saya's uncultured butter. There's a squeeze of lemon, some thyme and toasted panko scattered over the top to give it a golden, crusty lid.
When a smart diner orders it from the entree menu, the ramekin is popped in the oven and it arrives at the table piping hot. I mean, what's not to love?
"We have sold over 500 since we opened late June," owners Federico Zanellato and Karl Firla tell us.
Restaurant Leo, which opened right as Sydney's lockdown happened, is a glorious new CBD laneway restaurant that feels like the city version of much-loved Fratelli Paradiso. Like that Sydney institution, Leo is doing things simply – but extremely well. Case in point: the gratin. (That's because of who is behind it: Zanellato of Pyrmont's Lumi and Firla of now-closed Newtown fine diner Oscillate Wildly. The floor is run by restaurant manager Alex Grenouiller.)
In winter you can up the deliciousness by adding black truffle, which is shaved onto the cauliflower gratin at the table. This addition is, of course, very tempting, but the dish stands alone without it.
It's perfectly gooey, salty and bitey thanks to the fontina (here, a washed rind cow's milk from Aosta in Italy). It's also stringy. Dig a spoon in and lift it towards your anticipating tastebuds and tentacles of cheese emerge as if the dish is resisting this final destination (my mouth). It's moments like these you wonder if you've made the right decision: to bring a dining buddy. It means I had to share – boy, life sure is hard sometimes.
I say pair it with a glass of Paltrinieri Radice Lambrusco – a surprisingly tropical, lightly bubbly, pretty-pink sparkling – and you have a match made in CBD-laneway heaven.
"I Can't Stop Thinking About" is a series about Sydney dishes Broadsheet Sydney editors are obsessed with.