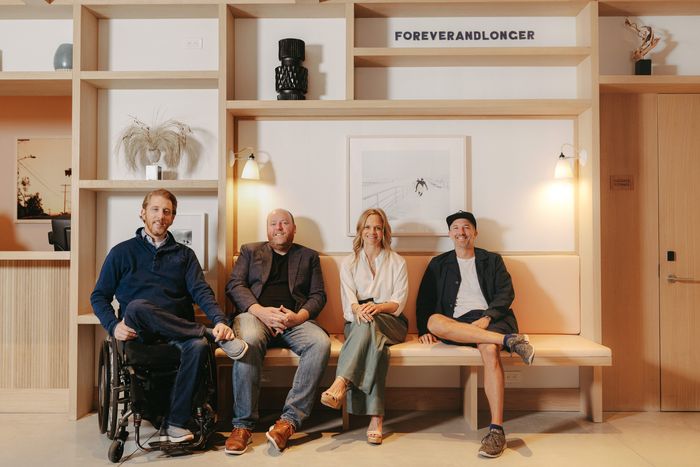 Rockaway Hotel partners Jeffrey Brosi, Terence Tubridy, Michi Jigarjian, and Jon Krasner.
Photo: Caroline Tompkins
The Rockaways' food scene has come a long way in the decade since Hurricane Sandy; beachgoers now have their pick of mushroom-pepita tacos, grass-fed burgers, and avocado-chicken arepas, among other things (that is, if the concession stands get cleaned up before Memorial Day). A brasserie-style restaurant in a ritzy new hotel like The Rockaway seems like a natural next step. But this one's going for something a little different.
When Margie's opens on Friday, the restaurant will not only anchor the neighborhood's most upscale hotel. It will also mark the start of a new business model with a heavy emphasis on social impact, as its partners — Rockaway locals — underwrite a slew of programs designed to help improve the community.
In September, third-generation Rockaway Beach residents and brothers Terence and Dan Tubridy of In Good Company, along with partner Jeff Brosi and developers Jon Krasner and Michi Jigarjian of 7G Group, opened the 53-room hotel, just a saltwater spray away from the beach. The hotel has been running several food and beverage options already — the Rooftop, an open-air bar and restaurant with panoramic bay and ocean views; the airy Pool House café with low-key beach fare; and the Greenhouse Café, a cheery all-day takeout option for coffee, sandwiches, and salads.
Today marks the first day of service for the hotel's flagship restaurant, Margie's, done up in a mid-century brasserie style. It's located on a corner that was for decades a popular local bar called McGuire's, once run by Rockaway legends and basketball Hall of Famers Dick and Al McGuire. "It was really important for us to keep that corner entrance," said Terence. "There's so much history there that we wanted to preserve."
The space pays homage to Rockaway's '40s-era resort heydey in other ways. The restaurant itself is named for the Tubridy brothers' grandmother Margie Murphy. Vintage framed Kodak prints, silvered with age, hang among paintings by local artists like Susannah Ray. Margie herself is also pictured, in her 20s, radiant in an Esther Williams–style swimsuit at the beach. "Our grandmother was a grand host who loved music, food, entertaining, and the Rockaways," said Terence. "She died young, but she made such a lasting impression on all of us and the community. We tried to encapsulate her spirit in this space.
The kitchen is run by chef Barry Tonks, who earned a Michelin star overseeing McClements Restaurant in London. Tonks grew up in a small fishing village in Scotland and spent three years as a trawlerman himself; his menu is unsurprisingly heavy on seafood. There's a lavish raw bar, along with dishes like lobster toast with shishito peppers; linguine with clams and coriander pesto; scallops a la plancha and grilled halibut with mojo sauce and charred lemons. There are also non-seafood offerings like steak and a "French style" roasted chicken with French fries, lemon, and garlic.
While the owners have built a boutique hotel complete with luxurious pool, private cabanas, and a restaurant peddling oyster towers, they have not been tone-deaf to the neighborhood and its needs. In 2016, the Rockaways had the 13th-lowest median household income among the City's 55 neighborhoods ($44,400), and the second-lowest in Queens. 18.9 percent of the population lives below the poverty line, a number that is higher than the national average of 13.1 percent. Other hotels have tried to make their mark in the area, including the design-heavy Playland Motel (which shuttered in 2016) and a La Quinta that later became a homeless shelter. (The High Tide Inn is currently accepting reservations.)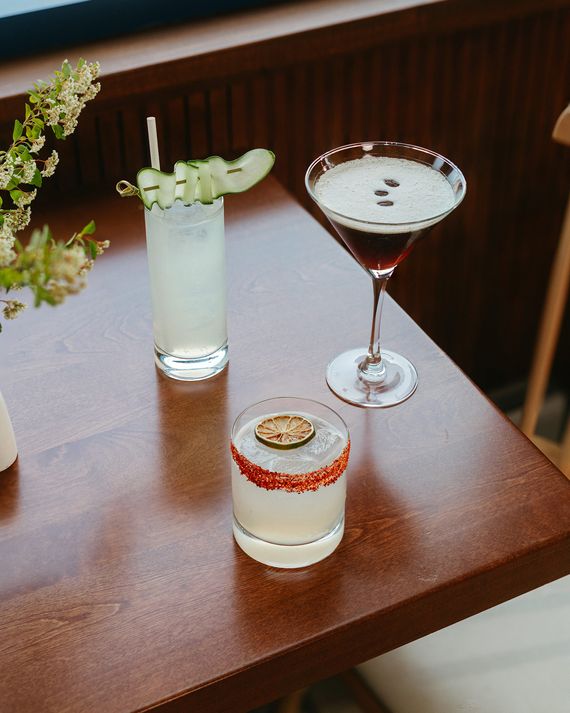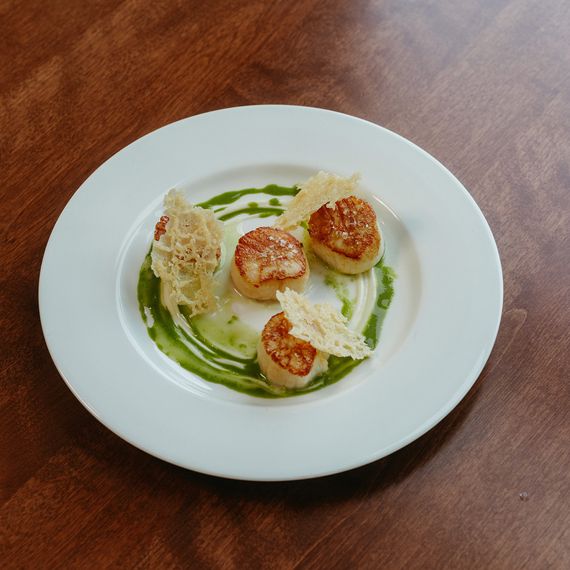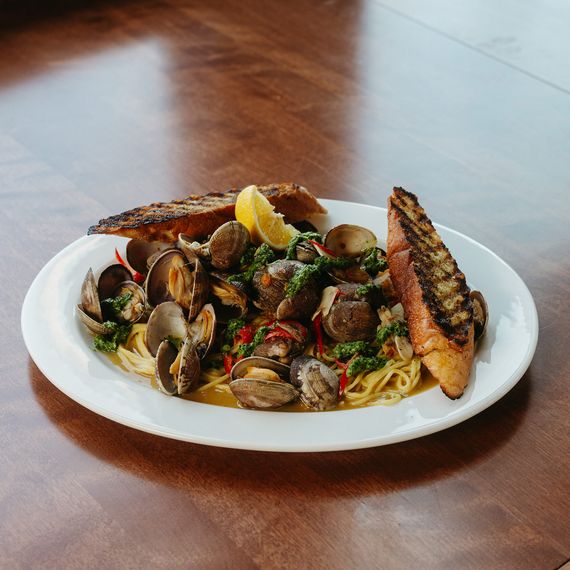 To staff the hotel and its restaurants, the owners decided early on not only to employ but also empower local residents. Jigarjian, who runs the hotel's social-impact program, wants to use the hotel as a platform for positive change. "We're creating programs that build trust and support the community," she says.
That starts with an approach to staffing that includes hiring at least 100 workers from the area, as well as an innovative free-education and job-training program. The partners implemented a "Hospitality Way" curriculum overseen by veteran consultant Beatrice Stein (whose clients include the Starr Restaurant Group and the Ritz-Carlton, among others) to introduce local residents to the business of restaurants and hotels. The program will culminate in a job fair intended to help students land hospitality work.
There are currently 20 students in the five-week program, all from the neighborhood, ranging in ages from 18 to 63. Stein gets into the nuts and bolts of the hospitality industry, covering different types of jobs and techniques for building customer loyalty. There are lessons in soft skills like professionalism in the workplace, which includes intangibles like posture, body language, and reliability. There are also heavier discussions about conflict resolution, teamwork, and self-motivation.
"The program opens their eyes to an industry that most of them have just seen from afar," said Stein, who also runs her own nonprofit, "Hospitality Pathways Program," which trains unemployed and underemployed workers for front-of-house restaurant positions. "Our goal is to give people opportunity in a field that has so much potential, that they can't break into without some help. We are that foot in the door."
Nina Soszynska, 44, who lost her job in customer service at JFK during COVID-19, signed up for the program in hopes of finding a new career. "I love people and have always dreamed about working in hospitality," said Soszynska, who has lived in the Rockaways for 17 years. "I'm excited to learn how they run the hotel. It's amazing that this class is free — there are so many positions I can see myself in."
The hotel owners are also building a two-acre urban farm for the Campaign Against Hunger, which supplies the neighborhood with fresh fruits and vegetables, and is in the process of opening a local café featuring its produce. Beyond that, they created a free swimming school for children at the St. John's Residence for Boys and invested heavily in arts programming at the neighboring Waterside Children's Studio School.
For the brothers, the hotel is about more than building a place to chill between surfing and sunning (though there are surf lockers to keep your board if you like). "11691, 11692, and 11693 are some of the most underemployed Zip Codes in the city," said Terence. "We wanted to offer opportunity and a path for upward mobility. It's that Rockaway hospitality."