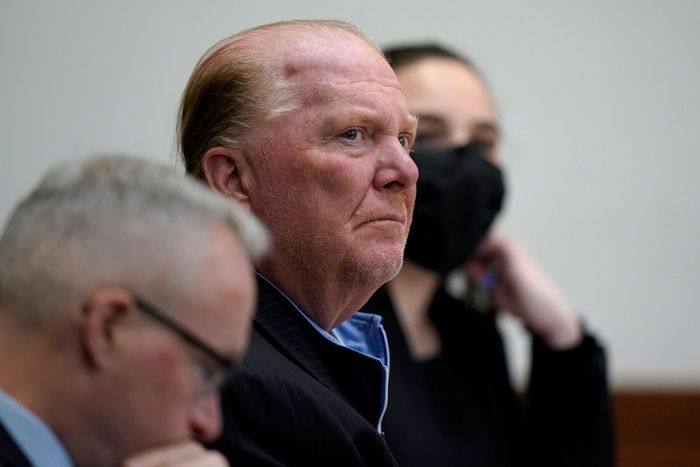 Mario Batali in court on Monday.
Photo: Steven Senne/POOL/EPA-EFE/Shutterstock
After two days of testimony and two hours of deliberation, the long-delayed Boston trial of Mario Batali has reached a verdict: not guilty.
The celebrity chef — the first, the Washington Post points out, to face criminal charges as part of the Me Too movement — had been accused of indecent assault and battery for groping a woman at Towne Stove and Spirits, a Back Bay bar next to Boston's Eataly, where Batali was then a part-owner.
"It's an understatement to say that Mr. Batali did not cover himself in glory on the night in question," began Boston Municipal Court Justice Judge James Stanton, who, after Batali waived his right to a jury trial, became the sole decider of the case. But the case, the judge said, rested on the question of the accuser's credibility, and in the court's assessment, "the complaining witness has significant credibility issues."
In a bench trial that began Monday, Natali Tene, now 32, testified that in April 2017, she'd spotted Batali at the bar and was trying to take a stealth photo of the chef when he waved her over to his stool. She'd been prepared to apologize and delete the pictures; instead, Batali suggested taking selfies together in what became a three-minute photo shoot. In court, Tene described what was happening in and around those pictures. Per the Post:
"His right hand is all over my breasts, all over my rear end, in between my legs, grabbing me in a way that I've never been touched before like that — like squeezing in between my legs, squeezing my vagina to pull me closer to him, as if that's a normal way to grab someone," she testified. She also said, at one point, that an obviously drunk Batali put his tongue in her ear.
She said Batali then suggested she meet him in his hotel room at the Mandarin Oriental, an offer she declined. "Chills, like, came over my body when he asked me to join him at the hotel room," she told the court. She left the restaurant soon after.
The defense countered with a very different sequence of events: namely, that they didn't happen. "There was no indecent assault," Tony Fuller, Batali's lawyer, said in his opening statement Monday. "By the end of it, you'll realize that she's not telling the truth." Batali, who had previously pleaded not guilty, did not take the stand.
For much of Monday, the defense used bank records and excerpts from old text messages to, as the New York Times put it, "cast Ms. Tene as flippant and as lying in order to get a payment from a celebrity." In his explanation of the verdict, the judge cited those credibility issues as the reason for his decision, leaning on a handful of incidents hit hard by the defense: In 2018, she had tried to get out of jury duty by claiming to be clairvoyant, which Stanton called "egregious and offensive to the rule of law," and she had once created a "fictitious legal document" to "evade a $200 gym-membership fee" — both of which, Stanton said, supported the "defendant's contention that her motive was financial gain." Stanton also pointed to the pictures themselves, taken over the course of three minutes, in which Tene does not appear to be in distress. "The burden is on the Commonwealth to prove beyond a reasonable doubt … that a charge is true," he concluded. "That's not the case here."
Allegations against the chef were first made public in December 2017, beginning when four women told Eater that Batali had "touched them inappropriately in a pattern of behavior that appears to span at least two decades." In the next several months, more allegations came out, including reports of rape. The NYPD went on to investigate three sexual-assault complaints against Batali, but ultimately closed them in early 2019 because "detectives could not find enough evidence to make an arrest," the Times reported. Last year, though, Batali and his former business partner, Joe Bastianich, and their company did agree to pay $600,000 to more than 20 former employees in a settlement over a sexual-harassment investigation by New York attorney general Letitia James.
Tene has also filed a separate civil suit against Batali for "severe emotional distress" related to the incident; that case is still pending.