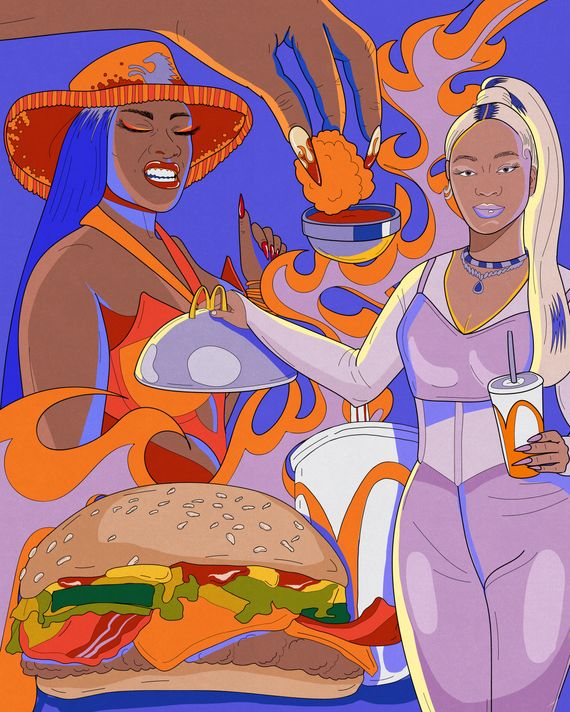 Megan Thee Stallion and Saweetie are just two stars who have recently leveraged their cachet for fast-food marketing.
Illustration: Maria Contreras Aravena
The commercial opens in a modern-day Wild West. We are at Thee Stallion Saloon. A lone tumbleweed drifts past the gleaming motorcycles and glimmering neon signs outside. Honoring the saloon's cinematic position as a locus of camaraderie and conflict, the ad follows a familiar script. Our hero — the saloon's namesake — sits inside among her crew, an orange, bejeweled cowboy hat tipped over her face to create a momentary sense of mystery.
Suddenly, an Afroed woman bursts into the bar, panicked. "Someone stole your Hottie Sauce!" She pauses. "All of it." Our hero instantly snaps into action. "Not my Hottie Sauce!" Megan Thee Stallion responds, rising from her seat, filled with purpose. She fires up the bike, and she's off.
Chasing the thief from Houston to New Orleans, Stallion's semi-animated motorcycle pursuit ends in a reveal: The thief is none other than Megan's icy alter ego Tina Snow, whose plan is quickly foiled by the "real" Megan. To ensure the sauce's safekeeping, Megan hands it to a Popeyes chef. "The Hottie Sauce is here," she announces under a Popeyes sign that's as orange as her hat, sticking out her tongue with a final signature "ahh!"
The spicy-sweet Hottie Sauce, inspired by the Hot Girl herself and intended to be eaten on pretty much anything, is a vibrant addition to a long line of fast-food marketing tactics that have centered on Black musicians. The "Popeyes x Megan Thee Stallion" collaboration is new territory for both the star and the restaurant chain, although it was recently preceded by a number of high-profile partnerships: Lil Nas X's appointment as "Chief Impact Officer" for Taco Bell, Nelly's deal with Burger King, and McDonald's meals from Saweetie and Travis Scott (more than a year before the Astroworld tragedy), as well as this week's announced collaboration with Mariah Carey.
Megan's campaign differs in a few important ways, however. For one, it includes not only food, but also merch like sweatshirts, graphic tees, and tumblers. (With a new drop announced this week.) And what is perhaps most distinctive about this partnership is that it positions the rapper as more than a mere spokesperson, promoting Megan's involvement as a business partner and future Popeyes franchisee. In doing so, it raises new questions about celebrity, consumption, and fast-food companies' decades-long pursuit of Black buy-in.
In her book Franchise: The Golden Arches in Black America, author and Georgetown professor Marcia Chatelain explains that during the late 1960s, social unrest — particularly the riots and protests that followed the assassination of Martin Luther King Jr. — gave rise not to a larger social upheaval (the likes of which might have addressed structural racism or poverty), but rather to corporate intervention in the matter of civil rights. Companies like McDonald's began to approach and appeal to Black communities, presenting their restaurants as sites for employment, ownership opportunities, and economic advancement. Coinciding with Nixon's "Black capitalism" initiatives — which favored economic incentives over real justice — Black communities were especially primed for the framing of the fast-food franchise as a freedom dream. The catch, of course, was that the franchise model requires quite a bit of capital to get the dream up off the ground. And as history shows, wherever capital is concerned, celebrity is sure to follow.
The earliest vanguards of Black-celebrity-fronted fast-food franchises were Mahalia Jackson's Glori-fied Chicken and James Brown's Gold Platter chain. Both came and went in the late 1960s and '70s, and attempted to leverage the clout and wealth of a well-respected star as a buttress against the economic peril that plagues the restaurant industry. While both businesses have been largely forgotten, their legacy remains, as the short-lived ventures helped to establish the role that Black celebrities in particular would be called upon to play in the fast-food industry: purveyors of Black culture who lend what Chatelain calls "authentic soulfulness" to the otherwise soulless products that fast-food companies sell.
While Popeyes — which got its start, unsuccessfully, in 1972 as Chicken on the Run before being renamed after Gene Hackman's character in The French Connection — has never before partnered with an official celebrity spokesperson, it has enjoyed a level of popularity among the famous. In a 2003 interview on The Oprah Winfrey Show, for example, Beyoncé gushed about her love for the chicken chain. "I really love Popeyes … At one point everywhere I went people would buy me Popeyes, like the fans!" the Houston-born superstar explained. "Popeyes heard, so they gave me a lifetime membership."
Beyoncé aside, celebrity endorsements have not been the franchise's primary marketing tool. In recent years, Popeyes has instead relied on a fictional figure — a middle-aged southern Black woman named Annie, who, since her introduction in 2009, has been portrayed by Bajan American actress Deidrie Henry — to do its commercial bidding. Annie, in the words of former Popeyes global brand manager Dick Lynch, "could be anyone. She could be your mother, grandmother, a chef, maybe even a cashier or the CEO of Popeyes." Perhaps this is so, but the history of Black women and chicken is not so simple.
In the book Building Houses Out of Chicken Legs, Psyche Williams-Forson formulates a counter-history of Black "chicken ladies," women who found, over the course of several centuries, that the cooking, frying, and selling of chicken proved to be a source of "economic freedom and independence." As Williams-Forson contends, these Black women treated chicken, a food often mired in anti-Black narratives and imagery, as a "tool of self-expression, self-actualization, resistance, even accommodation and power." Unlike the fictional Annie of Popeyes, who is bound to her corporate maker, the real women in Building Houses out of Chicken Legs must face these complex histories of gender, food, race, and power with each of the meals they prepare.
With Annie, Popeyes established its Black image and sound. In time, the franchise also gained attention for the "blackening" of its marketing voice, and after its successful rollout of a new chicken sandwich in 2019, Chatelain wrote in the Washington Post that "part of Popeyes's success in making the chicken sandwich 'cool' was the company's Twitter account and its reliance on African American vernacular and slang in describing the sandwich and taking jabs at competitors." In the wake of this discourse, the Megan Thee Stallion promotion emerges as the product of a marketing formula that remains intent on consuming Blackness to promote consumption. But how do we square this corporation's ongoing commodification of Black southern women with Megan's own brand?
As a southern Black woman whose expression of "hotness" ties together positive ideas about pleasure, ambition, bravado, and abundance, Megan Thee Stallion is a master of self-narrative and social-media sloganeering. Her "Hot Girl Summer" coinage — the catchphrase turned hit song that earned the rapper her first No. 1 on the Billboard's Rhythmic Songs chart — was roundly co-opted by a number of brands, including fast-food companies like Wendy's, with no involvement from Megan. In pop music, a persona like Megan Thee Stallion is, of course, a product in and of itself, designed to be simultaneously aspirational and authentic, unattainable yet relatable. Megan's narrative emphasizes self-possession and control over her body, mind, and music — but companies will quickly mine as much as they can from any popular image to appropriate its cultural capital.
So is Megan's official involvement with Popeyes a correction to this exploitation, and a win for empowerment? There is no simple answer. But given the U.S. fast-food industry's increasing reliance on Black people and a "Black sound," the partnership recalls a history that binds Blackness and commodity. We cannot forget the foundational ingredients that comprise the nation-state: slavery, settler colonialism, and capitalism. When and wherever we eat, we enter into a political process — much of which is willfully obfuscated by these corporations — that connects us to food-service workers and agricultural laborers, as well as the executives who curate and control their customers' dietary decisions.
Fast-food advertisers have found recent success by combining an eating culture that prizes the familiar and expedient with society's appetite for the cultural consumption of hypervisible Blackness. Megan Thee Stallion is no Annie, of course, but her role as the newest Popeyes spokesperson still forces us to confront the issue of Black women's fungibility within the chain's marketing. And as Megan takes on the role of the southern Black woman in Popeyes's new commercials, her youth, glamor, and notoriety ultimately promise a remix, not a revolution, on the company's traditional advertising. Unfortunately for me, there is not enough Hottie Sauce in the world to cover up the bad taste that this branding legacy leaves behind.