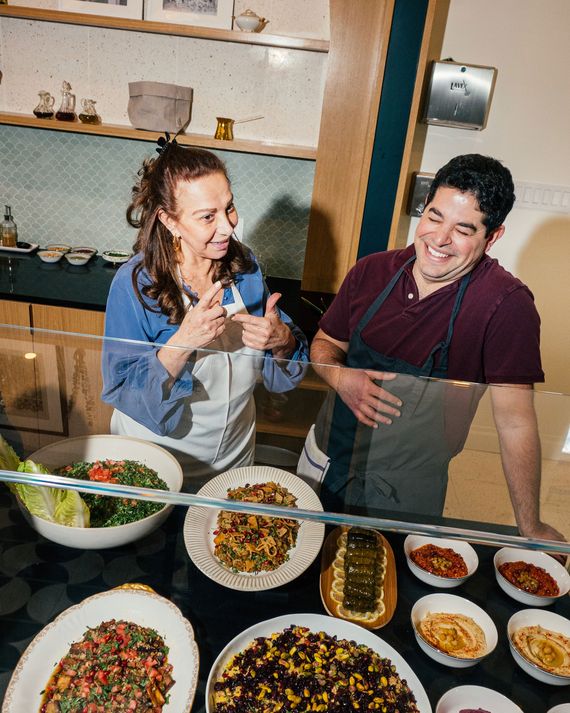 Nabila and Mike Farah at Nabila's in Carroll Gardens.
Photo: Jutharat Pinyodoonyachet
Five years ago, Mike Farah was a Wall Street guy with fantasies of starting a restaurant. His father had owned restaurants when Farah was growing up in the Washington, D.C., suburbs, and he'd loved them ever since. But everybody loves restaurants, and almost everybody has fantasized about owning one. Farah knew that he couldn't just open something, especially in New York. "I have too much respect for how competitive and professional it is in this industry in the city," he says. "I would only do it if I had something to work with."
Which is why he decided to open a restaurant with his mom.
Nabila's is a casual restaurant on Court Street, scheduled to debut later this month. When it opens, it will be a showcase for Farah's mother's cooking. The executive chef will be Nabila herself. The cuisine is Lebanese; the guiding principle is abundance. The counter is stacked with trays of spinach pies so fat they look like dumplings and pots with simmering hot stews and, starring in the pastry case, a manhole-cover-size knafeh. "The whole vision behind this," Farah says, "is to recreate the feeling of going to one of Nabila's dinner parties."
Lots of restaurants are designed to feel like dinner parties these days, but Nabila's parties are the stuff of legend. "At least once a month I would have a party for 30 or 40 people," she recalls, and those were just the little parties. She would throw the big parties — 100 people or more — every few months. "I would be cooking for a week!" There would be drinks first, and then appetizers, and then Nabila would reveal the grand buffet, although she'd also do seated dinners, 50 or 60 people in the basement of the family home in McLean, Virginia, and sometimes barbecues. Every occasion was a party occasion: Valentine's Day, Halloween, Thanksgiving, Fondue night. After dinner, the dancing could go on until 2 or 3 a.m. "Now I'm too old," she laughs, "I've mellowed down, but I used to — oh, mamina!"
The restaurant is meant to capture some version of this experience. When you walk in, you're greeted by the full spread of available options, arranged to suggest bounty, and you'll point at what you want along the counter, and then someone will bring the order to your table, and you will feast on a menagerie of dishes that your average Lebanese restaurant won't have.
"Even at restaurants in Lebanon, you'll get this beautiful meze, and then you move onto the next phase, and it's just, like, grilled meat," Farah says. "Nothing against grilled meat! I like grilled meat," he assures me. "But there is so much more beauty and complexity in Lebanese food, and for whatever reason, it's often confined in homes." That's Nabila's: restaurant home cooking. And so there will be malfouf — cabbage rolls stuffed with beef and spiced rice simmered in a garlicky lemon-mint broth — braised lamb atop a bed of freekeh, twice-cooked in homemade chicken stock, and eggplant salad with tomatoes and pomegranate and molasses-lemon dressing. Sheesh barak, baked ground-beef dumplings served in garlic yogurt sauce with mint, will be a constant on the menu. There will be loubieh bi zeit, a soulful green bean–tomato stew.
That Nabila is now the headliner at her middle son's Brooklyn restaurant is a bit of a surprise. She didn't work in a professional kitchen until she was 40. She has still never used a recipe. "Cooking was a hobby for me," says Nabila, sitting in the soon-to-open dining room, retracing her steps: married shortly after finishing her master's in sociology at the American University of Beirut, moved with her husband to the Bay Area, started a family, moved the family briefly to Riyadh, where she started hosting parties, and then back to D.C., where the dinners grew.
And then, in 2001, she got divorced. For the first time in her adult life, she was looking for a job. "I was a single mom. I said, 'What can I do to maintain the lifestyle I have?'"
In McLean, there was a Middle Eastern market, the Gourmet Basket, where Nabila had shopped for years. She'd come to know the couple who owned it — one gets the feeling Nabila comes to know most people in her orbit — and the wife had died, and the husband was looking to sell. Did she want to buy Gourmet Basket?
"Some of my friends were like, 'Are you sure you want to do this?' Even my brother said, 'Nabila, you've never owned a business. You never wrote a check in your life!'" she recalls. "I was so reliant on my husband all my life. I never worked when I was married. So I said to myself, 'I'm gonna do it!' You should have seen me the first time I was behind the cash register — I was shaking."
This September marks her 20th anniversary as the owner. Business is six times what it was when she took over, having grown exclusively by word of mouth. "It literally took her almost ten years to have a website," Farah says with affectionate annoyance. "She takes every order down for catering by hand and chicken-scratches it on a yellow pad" — orders for the Jordanian Embassy, the Qatar Embassy, the Lebanese Embassy, the World Bank, and the IMF. In other words, says Farah, "it's a very classic D.C. clientele."
The question now facing Farah is how to spread Nabila's cooking to a restaurant in New York City, a city where she does not live.
The idea began, Farah says, with a soft sell: "I started tossing it around as a joke, and then I very slowly, deliberately, started making it sound more and more serious, and then eventually I was like, 'Should we think about doing this?'" The two were acutely aware that neither of them had ever run a restaurant before. The project hinged on Nabila's food, but Nabila — who would be advising mostly from afar — had never used a written recipe in her life. "She cooks entirely on instinct and intuition and feel and senses," says Farah, and while this is awe-inspiring, it is also excruciatingly difficult for cooks to replicate in a professional kitchen.
For 15 months, Farah commuted to D.C. every other week to watch his mother in the kitchen. Eventually, it was time to find a chef. For a decade, Luis Ahuet had cooked in some of New York City's most intense kitchens (Esca, Eleven Madison Park, Semilla), but after COVID, he'd more or less given up on restaurant jobs. "I finally had time to step back and be like, Man, this is not a good lifestyle," he says. "It's not sustainable. I was going to consult — I was really going to try to find my way out of the industry." But then he saw Farah's ad. He liked the tone, and he'd always wanted to work with Lebanese food. A few months later, he had the job and was on his way to D.C. to meet Nabila.
"I walk into her kitchen. There's all these incredibly skilled ladies. And it was fascinating and terrifying at the same time. I felt like I knew nothing when I walked in there," he says, lighting up. "That felt good because I felt really comfortable with my skills until then. Everything they do —the pies, the recipes, the flavors — I just didn't know any of that. They're very, very good at it." His job was to also become very, very good at it.
It has been a process of culinary forensics. "We just had to follow her around. Let's say she uses spoons, or 'cups,' she calls them, it's just a container. So we'd go behind her, grab that container, and weigh that" using a kitchen scale, says Ahuet, which he brought from New York because Nabila doesn't own one. They took videos of the women working in Nabila's kitchen. They took pictures. They took notes. They leaned on Farah's palate — he may not be a cook, but he is his mother's son. It has been a process of meticulously managed trial and error; it is a more technical kind of cooking than anything he's done before. "Nabila is kind, she is generous, and she is brutally honest," Ahuet reports. "There's not a lot of room for error with her, and it's hard to reconcile making things perfectly when you don't have recipes and you want to make them like someone who's been there for 40 years."
In other words, it is not a job for everyone, as Farah was acutely aware. "Nabila is a really strong personality — really vibrant and warm and loving, but just a big personality, and if she doesn't like you, it's going to be made known very quickly," he says. "But they hit it off really well." Every restaurant is an exercise in chemistry, but never more than here.
"I'm a bit hyper," says Nabila. "Or how can I say that — energetic? I'm always searching for something to do. Mike is more mellow and smooth and soft. I react quicker than him," she reflects. "Sometimes it's good, sometimes it's bad. Mike holds his feelings more."
He is methodical, deliberate. "I can be a calming presence," he says, slowly and thoughtfully. "If I need a certain level of energy, she can provide that." They are, Nabila says, well-suited business partners: "I always want things right now, and he's like, 'Everything will be okay.'
The restaurant has also ushered in a new phase of their relationship. "It's really fun to see her skill and her intuition happen at the same time," Farah says. "Growing up, I didn't really watch her cook. It's fun to see my mother like that because I never did before."