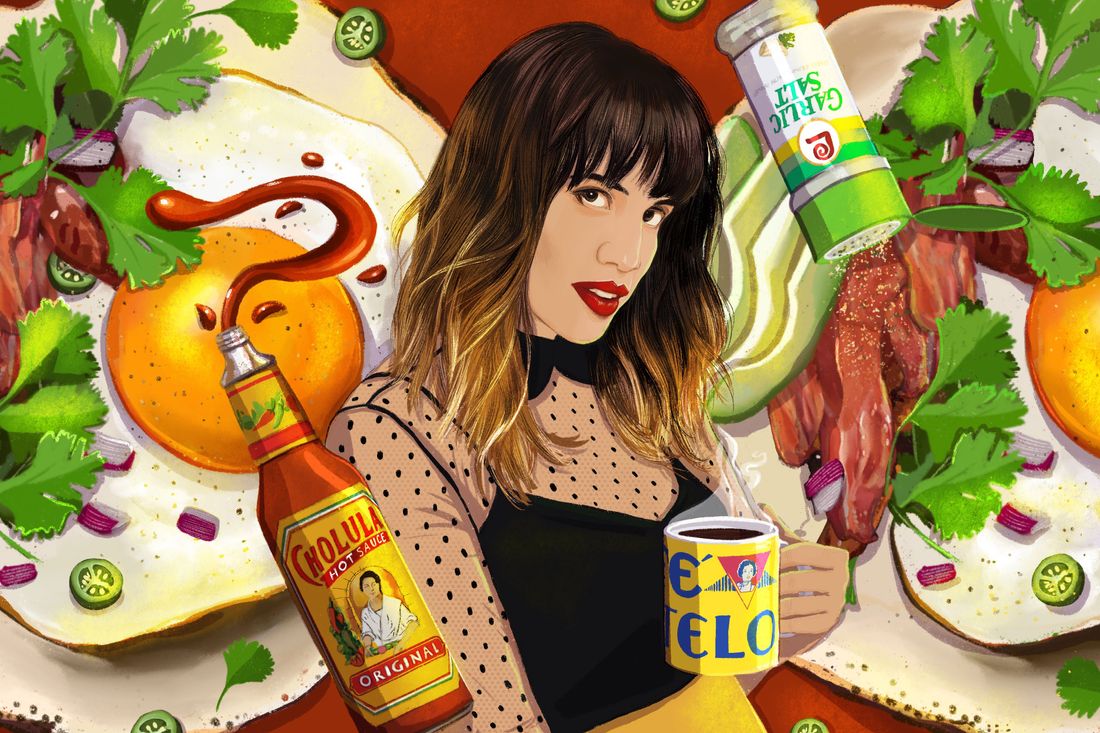 Natalie Morales will teach you how to make Cuban coffee.
Illustration: Maanvi Kapur
This year, Natalie Morales became a first-time director — and a second-time director. In March, she released Plan B on Hulu, and today marks the release of Language Lessons, which she co-wrote and stars in with Mark Duplass. The story of a Spanish language teacher in Costa Rica and her student in Oakland, it's told through Zoom (glitches and all), and The New Yorker praises Morales's performance as "laughably smart, sympathetic, and engaging." Off of Zoom, during the limited time she had not doing press for the new film, she made plenty of Cuban coffee, stopped by the farmers' market for pupusas, and managed to spend a long weekend in Ojai with some friends and her favorite chocolate. 
Monday, August 30
I had some yogurt and granola with some mangoes from Miami that my stepdad sent me. Because this was apparently not sweet enough, I drizzled honey all over this thing. Oh, yes, I also had half a chocolate chip cookie from Milk Jar. My very nice friend Dina sent me a whole box. I had never been there, she just bought me a box.
I'd been out of town, and I just got back recently. I had no groceries, so this was literally all I had to eat. Let's see how long it will take me to actually shop for groceries.
Lunch was from Tocaya Organica. Two barrio tacos with vegan picadillo and queso fresco, and iced green tea. I usually love this place, but unfortunately these tacos were cold and the server was too nice to me, so I did not complain and ended up eating cold tacos.
Early in the evening, my friends Josh and Lauren came over for a glass of orange wine on my porch. They brought over a really delicious bottle that I can't remember the name of, but it had a cool picture on the cover. If you make wine, all you really need to do to make me buy it is have a cool label. I am a sucker for good packaging.
It's not that I need a cool label. I will, of course, have wine with an ordinary label that someone recommends. It's not that I don't know much about wine, it's that I don't really care that much. What makes me care is people that put effort into their packaging and make it kind of an interesting piece of art. I understand that this could be a gimmick, and the wine could be terrible, but it's what makes me take a risk in buying a wine I know nothing about.
Got the veggie ramen and a yuzu-mint lemonade from Silverlake Ramen. Just the best. It's probably my favorite ramen place in L.A., mostly because I don't eat meat. So it's hard to get vegetarian ramen that is very good where the broth tastes good — because I concede that ramen is all about the porky broth. And Silverlake Ramen does it really well.
Tuesday, August 31
I had no time because I refuse to wake up earlier than I absolutely need to. I'm not sure why I do this, even though it makes my life harder. I had all these plans to go get a nice breakfast for myself before this huge, long press day for my new movie, but alas, I am not that person. Breakfast was cream cheese and toast — Dave's killer bread, thin-sliced, seeded — plus Cuban coffee — Bustelo — with oat milk.
I make it in a Cuban coffee maker. We call it that, but it's like a moka pot or one of those percolators. It's a two-part system. It's not like the Italian one, where you just make an espresso, because on the side you have this little metal cup. Imagine the size of a shot glass, but it's a metal pitcher. That's all, right? You put sugar in there, depending on how much you like.
Then, when the coffee first starts to brew the very, very first drips of the coffee, you put just a little bit of drip in that sugar, and then with the spoon you beat it until it's almost like a candy and it has a lot of air in it. Then when the coffee's done brewing, you pour all the coffee into that little pitcher, that tiny little pitcher. Everybody calls it espuma, it's like a sugar foam that the coffee already inherently has. So that's how you make Cuban coffee. It's really easy. I can teach you how to make it.
My lunch was leftover ramen and tuna salad that I made with the one can of tuna I had. A very basic tuna salad that was just tuna, mayo, and Lawry's garlic salt, which I legitimately put on everything.
My stepdad always cooked with Lawry's. I remember he would make pasta, and it would be olive oil and that garlic salt or cream cheese and that garlic salt. He would make these frozen ravioli with a sauce that was butter, cream cheese, and garlic salt. And it was so good. I just think Lawry's tastes good in everything. Everything needs it.
For dinner, I made myself refried bean and cheese tacos with Cholula. I used some Greek yogurt as a substitute for sour cream and the last of my cilantro. Also, a Tecate. It had been a long day, and sometimes all you need is tacos and beer. This was the dregs of what I had at home, though, and I really needed to go grocery shopping.
Cholula is something I discovered when I moved to L.A., because L.A. is a big hot sauce city, and Cholula's sometimes on the table. I never liked Tabasco, and I'm one of two people on the planet who doesn't like sriracha, probably. I also don't like really spicy stuff, generally. Contrary to popular belief, Cuban food is not spicy. It's spiced. It's flavorful. But it's not hot.
So Cholula came into my life like a real blessing. It's mostly tasty, it's mostly really flavorful with the tiniest bit of spice, but it's not a spice that, like, lingers or gets in your nose or you sweat. It gives a little bit of a kick to food, but mostly it has a really nice flavor to it that makes things taste really good.
After dinner, I had two leftover Kit Kats. Those were in my fridge. They were probably two months old. I had stayed in a hotel at the beginning of August and was really hungry and broke into the minibar and ate some Kit Kats and then didn't finish the package. So I brought the rest home, and that's what those were for.
Wednesday, September 1
Not a lot of time again, so I ate Vans power protein waffles and PG Tips tea with a splash of oat milk. I like these waffles because (1) they're waffles, and who doesn't like waffles, and (2) I'm a vegetarian — with a few fish exemptions — so I will take protein wherever I can get it.
I haven't eaten beef since I was 17 because I got really bad food poisoning from a burger at a place where I worked, but I probably can't name it or I'll get sued. It was "I went to the hospital" food poisoning. I stopped eating beef from there, and then a few years later, I stopped eating chicken and turkey and pork.
Pork was a big thing for me to stop eating because I'm Cuban and that's 50 percent of our diet, but I love animals so much. That's the basic reason why I'm a vegetarian. I do really still feel bad about eating fish. Constantly. Sometimes I have dreams of fish swimming around in my stomach after I eat sushi, which is why I don't eat it often.
Growing up, Cuban food was basically all I ate. I didn't have a peanut butter and jelly sandwich till I was like 19 or 20, when a friend made me one. I knew what it was. It was just not something we ever had at home. Also, the idea of it seemed strange to me. It was a friend of mine who was white. And I was like, "Can I have a peanut butter and jelly sandwich?" It was like caviar to me. I had never eaten anything like that.
I also didn't eat a lot of vegetables growing up. They're not super popular in Cuban cuisine. So I had my first asparagus at 23, and that's a lot for someone who now is vegetarian. It's been a learning curve. I had to close my eyes and eat random vegetables that I've never eaten before.
Anyway, I forgot to eat lunch because I was working all day, so I was starving. For dinner, I had a brie, apple, and fig sandwich and a vegan chocolate protein shake from Stamp Proper Foods. I'd never eaten there before, but this was very good, and yes, get off my back — still no time for groceries.
Thursday, September 2
A late breakfast-slash-brunch of spinach, quinoa, and sweet potatoes. Had the leftover chocolate shake from the night before.
My early dinner was a hippie sink bowl (with vegan feta, romesco, and more sweet potatoes), smashed cucumbers, and coconut water from Grain Lab. I'd also never been there, but my cousin and I were nearby and trying to make good choices. The other option was Krispy Kreme, but your girl chose right. That hippie sink bowl was so good.
The big theme of my diet this past week is that I did not go grocery shopping and had barely anything in my house. I do love to cook. But my favorite thing to do is look at what is in the house and figure out what can I make from these weird combinations of things that I have? It's sort of my own Chopped challenge. I find the challenge to be interesting, but this was a little bit extreme.
My late dinner was a cream cheese and jelly sandwich and a peanut-butter-chocolate cookie.
Friday, September 2
Breakfast was Cuban coffee with oat milk, toast with cream cheese, and a medium boiled egg with garlic salt.
Late lunch. I stopped by Echo Park farmers' market and got some bean and cheese pupusas from Delmy's Pupuseria along with a watermelon agua fresca. I was going to get something at the bookstore right next to the farmers market, and I was also hungry, and I was like, "Oh great. I'll just stop by here." It doesn't hurt that I love pupusas. Pupusas are the best. I usually get them at any farmers' market that I'm at because they're always there.
I went to a small little screening of my friend Joe's new movie at his house, and there I had some cheese pizza. We were near Glendale, so I followed that up with lavender and strawberry frozen yogurt from Yoga-urt. I really do crave sweet after salty.
I love ice cream. I can't say I do not love ice cream. I hardly ever will turn down ice cream. I love Van Leeuwen, I like Salt & Straw, and I love McConnell's.
Saturday, September 4
I was heading to Ojai for the long weekend, so I made some Cuban coffee, plus the only tortillas that I had left were all broken, so I popped them in the air fryer to make some quick tortilla chips. (I got the air fryer sometime last year when everybody got one because we were all bored out of our minds trying to figure out what to do with our lives, I guess. It has come in really handy, and I really like experimenting with it.)
Then I took some of the leftover refried beans and the last of my yogurt mixed with some Cholula to make a quick bean dip. I promise to you, dear reader, I planned to get groceries as soon as I was back home.
For lunch, my friend Aliza got me a vegetarian sandwich from Farmshop. Pretty dang good. They also have ridiculously perfect fruit and charcuterie platters that she brought along for this weekend. A+.
For dinner, we ordered some Thai food. I had tofu pad see ew and had some of my friend David's pad Thai and then my favorite chocolate: Tony's Chocolonely. For real, I was buying it in bulk, and it was a problem. I ate it so much that I was like, You need to stop doing this. This is too much chocolate for one person to have. It's also really hard to find, so that's good. It's always out of stock everywhere. The last time I bought it on Amazon, and it came from Iceland. That's how out of stock it is here. I had no idea it was coming from Iceland.
Luckily, my friend happened to have some at her house, and I could get just a little taste. It was also lucky for her that it wasn't my favorite flavor and so I did leave her over HALF of the bar. You're welcome, Michaela.
And, yes, I did finally order some groceries after I got back to L.A. I'm fully stocked and very excited.