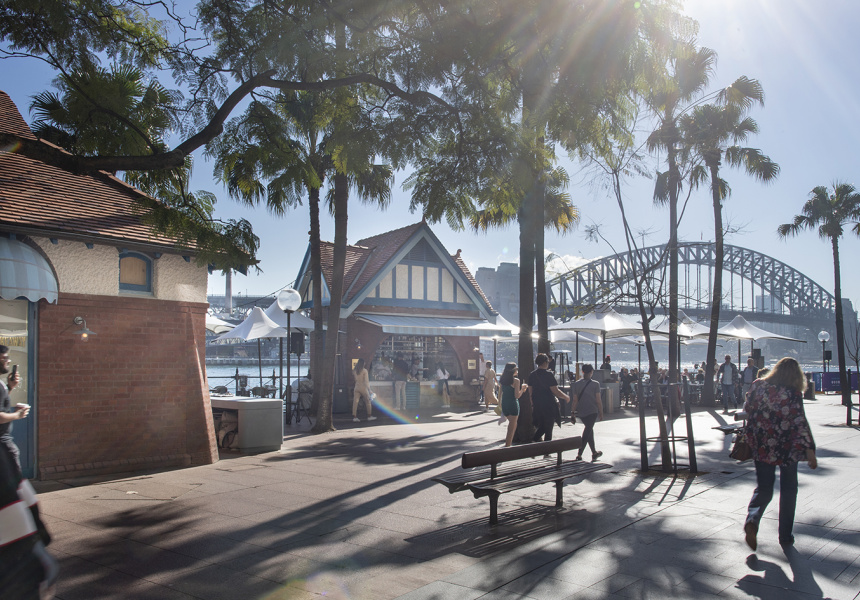 Sydney has no shortage of waterfront diners. But it often feels like we don't use the harbour to its fullest potential; this especially holds true when it comes to Circular Quay. It may be a cultural hub, and home to many high-end restaurants, but attracting locals for casual visits to enjoy the harbour and views has been more of a challenge.
Now, taking up residence in a converted heritage amenity block that for decades was an oyster bar and cafe, on the harbour side of the Circular Quay boardwalk, is the French-flavoured Whalebridge. The new eatery lets the view do the talking, while still hitting big in the kitchen. It's the latest arrival for The Sydney Collective, which counts popular venues such as Watsons Bay Boutique Hotel, The Morrison and The Imperial in its roster. It's offering a casual, adaptable take on fine dining that runs the gamut from pre-theatre snacks to afternoon aperitivo and all-out big-budget lobster and champagne dinners.
While the venue sings on a sunny day, it's equally lovely to visit on a crisp, clear evening, and an excuse for locals to enjoy Circular Quay in a way we don't often do. Quite literally perched on the edge of the water, it's positioned so almost all tables score a view of the Harbour Bridge and Sydney Opera House. It evokes that Venetian-style canal-side feeling of being so close to the water that you worry about dropping your phone in the sea. It's a completely outdoor venue, so the weather's whims can be a risk – but it's worth the gamble.
"Sydney has a great many incredible French bistros. What we have done to set ourselves apart is work with our surroundings on Sydney Harbour and the history of the site," executive chef Will Elliott (ex-St John London, Restaurant Hubert) tells Broadsheet. "Other venues already do the sexy, dimly lit Parisian vibe so well, while we want to evoke the sun-dappled French Mediterranean seaside."
The produce-driven menu is broad and welcomes diners to choose their own adventure. Dishes like the parfait de canard, a duck liver parfait with fois gras butter and brioche, is smooth and rich. The twice-baked Comté souffle is light in the mouth but impactful in flavour. Some of the big hitters, like the generous bouillabaisse de Marseille, overflowing with prawn, scampi and white fish, make the most of seafood freshly pulled from the sea.
A light crudité plate and a charcuterie selection teamed with the Parisienne Negroni (made with Citadelle gin, Pampelle Ruby and Lillet Rouge) set you up nicely for afternoon snacking. Or order the wonderfully crisp yet juicy poisson frites – crumbed whole whiting with endive and celery remoulade – for a casual seaside fish'n'chips experience.
"The menu is designed to encourage variety for our guests and a variety of dining experiences. Whether they choose to focus in on one section or try a little from each one, I wanted it to be interpretable for each experience," says Elliot.
The build-your-own seafood tower is a highlight. The team can help you curate it from an array of chilled ocean delights: whole or half lobster, a standout scallop served with an almond butter base, mussels escabeche with pickled carrot, oysters and caviar. And the fougasse (a provincial leaf-shaped herb-and-olive-oil bread) with onion dip could be one of the best bread-and-dip combos of the year.
Open your drinks list for a broad and intuitive selection of cocktails and wines, including some excellent French drops mixed with local hits.
If you needed an excuse to be a tourist in your own city, or enjoy Circular Quay all over again in a new way, this is your spot, says Elliot.
"We want to appeal to both visitors to Sydney, for whom we can stand as an example of just how great our city's food scene is, and Sydney locals, who have so much choice for where to dine that it will push us to always improve."
Whalebridge
8 & 10 East Circular Quay, Sydney
(02) 9000 7709
Hours:
Mon to Thu 12pm–3pm, 5pm–9pm
Fri to Sun 12pm–9.30pm