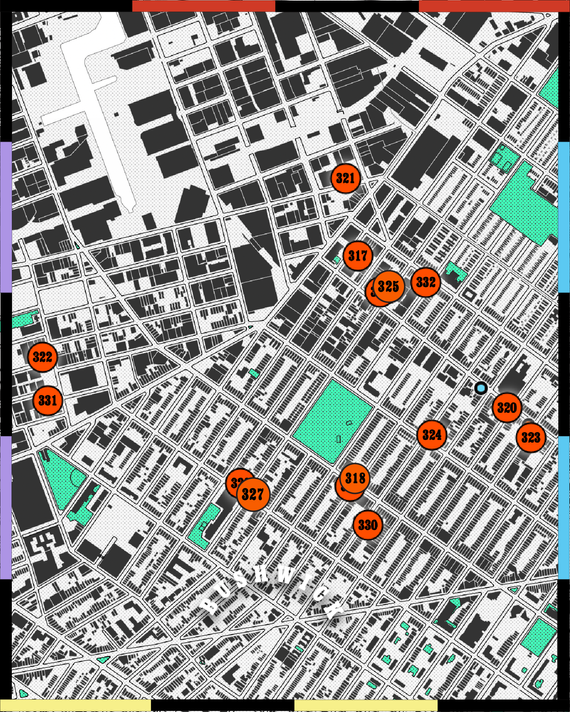 A running list of everywhere I've been, week 32: 315. Krispy Pizza 316. Panchita's Place 317. Faro 318. Palmetto 319. Empanada City 320. Taqueria Al Pastor 321. Elsewhere 322. Roberta's 323. Ops 324. Carmelo's 325. Tortilleria Mexicana Los Hermanos 326. Brooklyn Beer Garden 327. Leslie's Kitchen 328. 101 Wilson Bar 329. Circo's Pastry 330. Dweebs 331. Bushniwa 332. La Cantine 333. Maya's Snack Bar 334. L'imprimerie
Bushwick is like amusement-park Brooklyn. Dive bars, unregulated loft apartments, natural wine, vintage clothing stores, nightclubs, cafés, and late-night taco stalls all make it one of the more compelling neighborhoods for going out in the borough.
At some point — before Girls — it was supposedly cheap to live there, too, but 2022 Bushwick is pretty bougie, even if it doesn't yet have its own Whole Foods. Oddly, though, spend a bit of time there during a weekday and it may seem as if nobody in Bushwick works at all (even if many of them actually work service jobs at night). With all those people around, Bushwick boasts an unparalleled number of excellent daytime cafés.
All of this means that Bushwick, sunup or sundown, can be a pretty nice place to hang out. Whenever I'm there, it reminds me of my early 20s, when I had a higher tolerance for late-night subway rides and Uber Pools. Either way, with Labor Day approaching, it seemed like an excellent spot to spend some time for something like a makeshift summer break in Brooklyn. I figured a trip back in time to a more carefree point in my life would be more restorative than any to a city beach.
Which is how I found myself in line at Elsewhere, a multi-zone venue on the edge of Bushwick that borders East Williamsburg and Ridgewood. My friends and I were there for Papi Juice, a queer POC dance night with different DJs playing for the various bars inside. There was a taco truck in the outdoor smoking area, but we didn't partake; the line was long, and I'd already stopped by Taqueria Al Pastor around midnight for the pregame at my friend's house. I had also fortified myself with an agua de Jamaica while I waited, knowing the hydration would pay dividends later on the dance floor.
Elsewhere. Photo: Tammie Teclemariam
In fact, there was a lot of Mexican food over the course of the week. It's impossible to resist when there are multiple options on nearly every block. The following night, after a couple of rounds at Carmelo's, a different group of friends and I planned to end the night at Tortilleria Mexicana Los Hermanos, which lets you BYOB in their connected dining area, until the woman behind the counter said we could also take our food to the beer garden next door, creatively named … Brooklyn Beer Garden.
We sat down at a table in the back corner trying to distance ourselves from the porta-potties. The wall behind us was spray-painted with "Rust in Peace Brooklyn" — whatever that means — and a group in the next section was playing literal beer pong. My friend bought me a $9 canned beer and let me know he was not impressed, but our tacos were good and nobody bothered us except for some security guards telling bad jokes. Still, this place somehow felt like a tourist trap.
Pizza at Roberta's. Photo: Tammie Teclemariam
Speaking of tourists, if you're going to pretend to vacation in Bushwick, pizza will happen, and — as became clear on a Saturday afternoon — Roberta's is still very popular with out-of-towners. We sat next to some German guys who didn't even order drinks, but our attention was mostly occupied by a round table in the corner with five similarly aged women and one guy. Behind us, some people were dining with what seemed like their older parents, with the gentleman sporting black-painted nails that clashed with the rest of his outfit.
There are almost a shocking number of bars open at 2 p.m. on a Monday afternoon, and even though I was going for vacation vibes, I opted for iced tea and a club sandwich at La Cantine, which someone had described to me as "the place where European tourists go for lunch."
The majority of tables inside and outside were occupied, though everybody was dressed as if they lived within a couple of blocks of that corner. Besides two women with ciabatta sandwiches working on laptops, there were a lot of young people just hanging out with their dogs and chatting with a friend. My sandwich took almost 20 minutes to come out, so clearly people don't come here in a rush, but all the components were well done and you could tell it was all freshly made on site, so I can see why La Cantine is the spot.
From there, I walked about 20 minutes over to L'imprimerie, stopping for a scoop of sorbet at the brightly colored Maya's Snack Bar across from a Food Bazaar on the way. At the bakery, I ordered a hibiscus iced tea like the guy in front of me and drank it at one of the outdoor tables decorated with large potted plants underneath the bridge. I was starting to get lost in the urban-tropical view until a train rolled past above me and precipitated a mysterious mixture of water droplets and particulate debris on both my tea and me. A summer shower, maybe, along with a little bit of terroir for my drink.
Maya's Snack Bar. Photo: Tammie Teclemariam