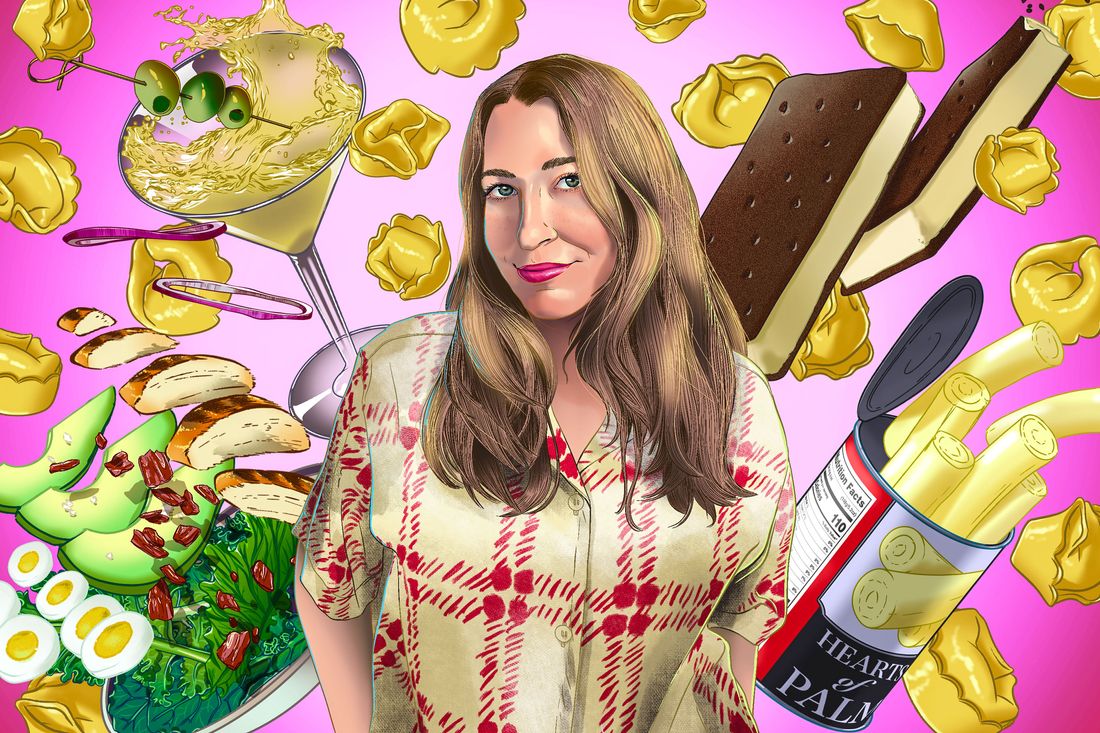 Karten, her martini, and an ice-cream sandwich. Illustration: Adam Mazur
As a social-media consultant and writer of the Link in Bio newsletter, Rachel Karten has spent the past couple weeks sifting through the chaos of platforms like X (né Twitter) and Threads. Despite the upheaval — driven, Karten suggests, by "wild business decisions and egos" — she says the experience of using them is "the same." Threads, for example, is "exciting for brands, but personally I'm feeling bored by it." The same goes for overfussy martinis: "When it's, like, fennel whatever, I'm just thinking, I didn't want fennel. I wanted olive juice." 
Thursday, July 6
I started my day by going to a workout class at a place called Bünda. It has cursed energy — there's a quote on the wall that reads "Better butt, better body" — but it's close to my apartment and has good music. I don't really talk to anyone there, but there's one instructor who learned my name. That was a huge breakthrough.
I read somewhere that after you work out you should eat protein within an hour of the workout ending. Unsure if that's true but abiding by the rule regardless, I got home and quickly grabbed a cottage cheese from the fridge and topped it with half an avocado, flaky sea salt, ground pepper, and a little olive oil. I'm happy cottage cheese is having its moment. I feel like it had bad PR for a while. It's always been delicious to me.
Today was the first day of Instagram's new app, Threads, being out — very relevant to me since I write a newsletter about working in social media and consulting with brands on their social strategies. With other Twitter alternatives like Blue Sky and Mastodon, I didn't even download them. But Threads felt too easy. The first posts were chaotic, but millennial chaotic, not Gen-Z chaotic. I talked to a reporter at The Wall Street Journal about my thoughts on it — "Promising, but fear all the stupid 'Does pineapple belong on pizza?' questions may ruin it" — and started sending out some posts from accounts I work on.
For lunch I made a mortadella sandwich with a side of taralli. I asked my fiancé to bring home "something fun" from his trip to Eataly the other day and was pleased with his cacio e pepe taralli pickup. The sandwich also had mayo, mustard, sliced baby dills, and lettuce.
After spending a few hours working on my newsletter that would be going out the next morning, I called it a day and made dinner. When I saw Farideh Sadeghin's recipe for "Koobideh, But Smash It on Tortillas" on Instagram, I knew I had to make it. I'm trying to make more of an effort to actually cook the recipes from creators I like instead of just scrolling past them.
This was a riff on a viral TikTok trend where you make smash-burgers on a tortilla. For Farideh's version, you mix ground beef with a bunch of spices, spread it thinly on a flour tortilla, and cook it beef-side-down in a cast-iron skillet. The beef gets lacy edged and crispy, while the flour tortilla puffs up in the residual beef fat. You top it with salted yogurt, cucumbers, dill, feta, toasted walnuts, and a spritz of lime. 10/10.
Friday, July 7
I woke up and made one of my favorite summer breakfasts: burst-tomato eggs. I heated oil in a pan and threw in a handful of ripe cherry tomatoes with a big pinch of salt. I cooked them until they burst and softened. I added two eggs and scrambled them in, and threw that on a tortilla.
At noon, I received an email from a producer at CNBC asking if I wanted to go on air in approximately three hours to discuss Threads. I spent the next hour avoiding responding because I knew it was something I should do, but I had never done live TV before and was scared. I was like, "Maybe if I don't respond, then it'll be too late, and then I won't have to do it." Eventually, I responded, saying yes. I can't really eat when I'm nervous, but I made another sandwich and had a few bites.
I expected that when you go on live TV there would be a pre-call. I assumed I'd get some sort of down-low with the questions they might ask, if I should wear headphones or not, and what kind of backdrop I should use, but I got absolutely no details, just where and when to log on. When I joined the Zoom, the producer was like, "Commercial break's over in three minutes, and then you're going on." I was like, "Okay." I was just in my bedroom on Zoom but also on live TV. It was weird.
I thought the interview went well, and I concluded that I sounded smart enough! For dinner, I was planning to "save money" and "cook," but now we were celebrating my first live-TV appearance, so my fiancé and I went to Yakitoriya, a small husband-and-wife-run spot on Sawtelle. I noticed a lot of people on Yelp complaining about the rules being strict and the service being slow. I usually don't abide by Yelp reviews and don't look at them often, but if I see that a place I've been wanting to go has a particularly low score, I'm lured to it from a sociological perspective: What's going on here? I was looking it up for menu research and saw it had a three-star Yelp review and was curious about the negativity, but I found it to be absolutely charming and perfect. Highlights included crispy chicken skin with scallions, Japanese pickles, soboro don, chicken liver skewer, and ginkgo nuts. We also shared a large Sapporo and Junmai sake.
Saturday, July 8
For breakfast, I made burst-tomato eggs again. I used a standard nonstick pan. It's dinner-only for cast iron; I don't fuck with it in the morning.
A few weeks back, a PR company invited me to have lunch at an Italian restaurant on Rodeo Drive. I don't usually say yes to free PR meals. Despite growing up in L.A., I have never spent any time on Rodeo Drive. It's a dark place, and I hope not to return! Still, this restaurant had good tortellini, and I'm thankful I didn't have to pay the outrageous going rate of $52 to eat it.
I wasn't hungry for dinner until late, thanks to the six-course tasting menu and wine pairing at lunch, so I ended up ordering from Goop Kitchen. It pains me to admit that Goop Kitchen (Ms. Paltrow's ghost-kitchen empire) is good! It really does! But its Cobb salad is unreal. I don't remember why I first ordered it, but it's the most consistent, delicious thing in my life. Maple-glazed bacon. Point Reyes blue cheese. Pickled peppers. Tangy Dijon-mustard vin. It always hits the spot.
Sunday, July 9
I started the morning at Bünda. The sign outside reads, "I got 99 problems but a peach ain't one."
I made burst-tomato eggs again. I paired the scramble with the sesame version of Ella's Flats this time. No offense to Mary of "Mary's Gone Crackers" fame, but Ella's Flats are soooo much better!
Sundays are my big meal-planning days, so I sat down and made an iPhone note of everything I planned to cook during the week. I have a roster in my head of 20 recipes that I am just slotting in to make, with the occasional new recipe or new cookbook that I'll sometimes dabble with. This week I made white chicken chili, a big Greek salad, chicken sausage with roasted veggies, mushroom tacos, and tofu larb. I've made the last one — Hetty McKinnon's recipe — a lot, and it's amazing. I always stack my vegetarian meals toward the end of the week, since those ingredients won't go bad as quickly. One of my old Bon Appétit co-workers taught me that, and it really stuck. I try to optimize my recipe planning so I can avoid Googling, "Is this sausage still good in fridge?" I grabbed Whole Foods sushi for lunch while grocery shopping.
For dinner, I made the aforementioned white chicken chili. It's a recipe from Kendra Vaculin at Bon Appétit and has become a regular in our apartment. I topped it with fresh avocado, cilantro, Fritos-esque chips, yogurt, and a lime wedge. I worked with Kendra at BA, and it always feels nice to make a recipe from somebody I know. Even if I've never made it before, there's a level of familiarity because I know their tastes.
Monday, July 10
I had a banana before heading to the dentist for a cleaning. I'm convinced the dental hygienist hates me. Why else would she run her tools back and forth on a sharpening stone in the middle of my cleaning? Chilling.
For lunch, I had leftover chili. It tasted even better than the night before. I love leftovers! I heated this chili up because my fiancé doesn't believe in cold leftovers, but if I make pasta the night before, I eat it cold the next day. I'm all for cold leftovers.
For dinner I made a last-minute decision to go to Tower Bar, the Sunset Tower restaurant. I ordered a dirty gin martini, a drink I've become so associated with that people will DM me martini-shaped cat towers and olive pillows. It wouldn't be MY Grub Street Diet without a martini, I (unfortunately) thought to myself. I have a long history with martinis. I used to drink wa-tinis with my parents growing up, water martinis with olive juice. I also ordered pigs in a blanket, shrimp cocktail, wedge salad, fries, and the burger. I saw a star from the Barbie movie and a big podcaster.
I opened Google Maps to see where I could get dessert nearby and noticed Awan, a plant-based-ice-cream shop I had been wanting to go to, was a few minutes away. I ordered a kids' scoop of the Gaviota Strawberry flavor and sat down to enjoy it.