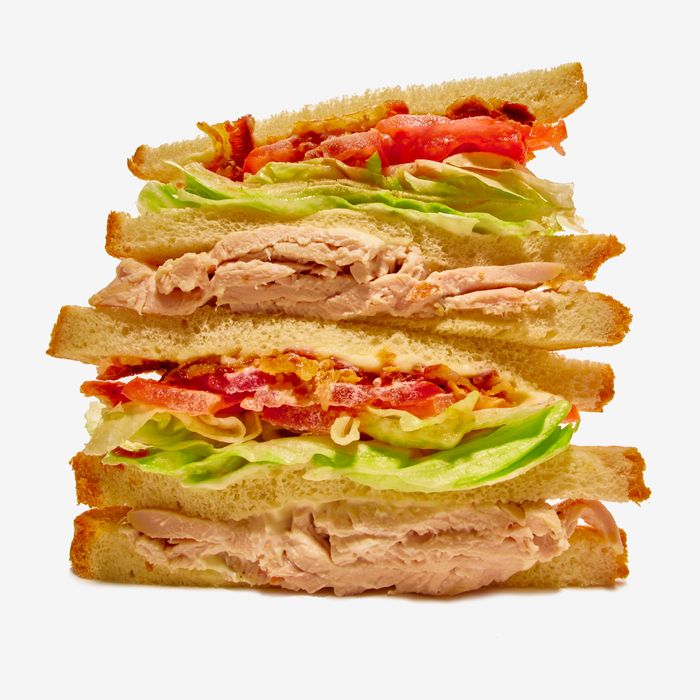 Nothing beats a turkey club. Photo: Marcus McDonald
This article originally appeared in The Year I Ate New York, a newsletter about eating through the city, one restaurant at a time. Sign up here.
For as long as anyone can remember, the narrow storefront at 174 Fifth Avenue has been known as Eisenberg's. But the beloved coffee shop wasn't able to weather the pandemic, and in 2021, Eric Finkelstein and Matt Ross (the duo behind Court Street Grocers) came to its rescue. They've renamed it S&P, a nod to the shop's original operators, and a necessary step to avoid infringing on the previous owner's trademark. Now, it is a new restaurant as well as an act of preservation. To find out how it stacks up against the bygone lunch counters of yore, I stopped in on opening day with my colleague Adam Platt, a longtime Eisenberg's devotee. Here's what we thought.
Adam Platt: You never came to this restaurant when it was Eisenberg's, correct?
Tammie Teclemariam: Never. Tell me why it was great.
AP: This room is the equivalent of the Julia Child kitchen exhibit at the Smithsonian. This is an ancient, stuffy railroad space. The stools — I don't even know how many there are, but I think they're original. I don't fit on them. They're really built for depression-era bologna-sandwich eaters. For old boomers like me, who love a diner, this is a place of worship.
TT: Places like this — bars where you can get a quick breakfast or a light sandwich at a decent price — really don't exist, even if it feels like they should. Maybe they used to, but people stopped caring. It's nice to see this, a diner that's freshly invested in itself but isn't trying to do a bunch of new things. I'm optimistic.
AP: Eisenberg's wasn't a diner in the traditional sense, and you would mostly go for the ritual, the sense of being right in the middle of the hustle and bustle of the big city. But my critic days are over, so nobody cares what I think. Who was the actor standing at the front when we walked in? I recognize him from something.
TT: He plays Cousin Greg on Succession. He's an investor.
AP: Is he behaving himself?
TT: I think he's schmoozing.
AP: Let the record show that we are not sitting at the counter but instead at a table in the back, where we can order more food and spread out a bit. Everything feels clean, and there are flowers. Very shipshape.
TT: What was your usual order here?
AP: A BLT, nice and easy, not too filling.
TT: I think matzo-ball soup is a must. And we're starting with a round of sandwiches: a tuna melt — and peanut-butter and bacon, because I think it's their new signature.
AP: Conceptually, and even in real life, the idea of peanut butter and bacon seems ghastly to me.
TT: I don't eat peanut-butter sandwiches of any sort, and the pickle on the side makes me wonder if I'm supposed to have it separately or put it inside the sandwich. I'm going for it. One big bite.
AP: The sandwich is a little slippery, but the bacon is nice and crisp.
TT: It is not thick cut, but it is not supermarket quality, either. It is good bacon. You got the strata of fat and a satisfying crunch with the goopy peanut butter.
Peanut butter and bacon. Photo: Marcus McDonald
AP: I'm not going to have much because I need to save room. I'm more interested in the tuna melt.
TT: I know that tuna melts are classic diner sandwiches, but I'm like an Italian: I don't think fish and cheese should mix.
AP: A tuna melt here is like a grand soufflé at La Caravelle.
TT: We are duty-bound to give it some attention.
AP: I will say it is a very well-structured tuna melt.
TT: Evenly toasted, not too melty. The tuna is fine, but I am surprised that it has American cheese on both sides of the bread. It's a little like glue or a more intense mayo. We're starting off with two very sticky sandwiches.
AP: I think this version of the tuna melt is quite good, not too gooey. Good tuna melts mostly taste like good tuna sandwiches. They have integrity.
TT: I wouldn't necessarily compare it to a French soufflé, however.
AP: What can I say? I'm an old boomer boy. I'm dipping everything in ketchup anyway, even the tuna melt.
TT: We need to take a temporary break from sandwiches for matzo-ball soup. I love broth, but the level of this soup is very low, and it's a little too brown. This is not the golden, clear liquid you expect, even if the color is a result of a slightly deeper flavor.
AP: The matzo ball doesn't look light or inviting.
TT: It is actually fluffy, though the small portion feels a bit paltry.
AP: Paltry is not a good descriptor when it comes to matzo-ball soup.
TT: It is still a classic order, just like the chocolate egg cream that you have.
AP: People love to wax on about egg creams, but to me they are consistently disappointing. I don't know what the fuss is about. They're somehow both watery and foamy. This one is okay. I'll call it bearable. Much better than what the previous owners used to do.
TT: I'm really enjoying my cherry-lime rickey. Like a very sophisticated Shirley Temple.
AP: Before we get to the other sandwiches, can we discuss the pickles?
TT: Oh yes, let's talk about the pickles.
AP: These pickles are a thing of beauty. They're perfectly sized. They have that deep-green hue that you see on a good deli pickle. They're even sort of glistening. The pickles are fabulous, okay?
TT: I'm not usually a pickle girl, but this could make me reconsider.
The Reuben, which can be ordered with corned beef, pastrami, turkey, a chicken cutlet, or broccoli. Photo: Marcus McDonald
AP: The Reuben is also beautiful. Thick-cut pastrami. And a scrim of Russian dressing, so it isn't overwhelming. At some point, everyone decided that to be good, deli sandwiches had to be huge, and you couldn't eat them. This, however, is a nicely constructed sandwich.
TT: It is very melty and beasty with the sauerkraut acting like a whiff of cologne.
AP: I could keep eating it. Garçon, bring us your biggest pot of mustard, please!
TT: But we need to move on.
AP: The burger is a little small. My first thought is it's not the legendary burger from Joe Jr. on Third Avenue.
TT: But it doesn't have to be legendary. It's a nice-looking, compact burger.
AP: You're right. And we have the round cottage fries, which I love.
TT: The fries are really good. At JG Melon, which is maybe the most famous place for this style of fry, they're always undercooked. But these are nicely browned and salted, an enjoyable stack of potato coins. They are also served quite austerely in a plain white bowl.
AP: They are a wonderful vehicle for my beloved ketchup.
TT: And now we come to the BLT. Tell me why this is such an important sandwich.
AP: In my view, this is the king of diner dishes. It's easy, and it's perfect. It has the illusion of being slimming because you get the lettuce and the slices of tomato along with your crackle of bacon, which is good on anything. And let it be known that this is a beautiful BLT. Am I rambling on like a bald, BLT-loving lunatic?
TT: The readers don't have to know you're bald.
AP: Oh, they know.
The S&P BLT. Photo: Marcus McDonald
TT: I love BLTs, and this is a very good BLT. Great proportions. It feels reliable, which is what you want anytime you go to a diner.
AP: How much does it cost?
TT: Twelve dollars.
AP: In these inflationary times, I'd gladly pay $12 to eat that BLT again.
TT: I'm starting to feel full.
AP: Let's try the rugelach, which tends to be puffy and heavy. These are dense and small with a little candy bottom. It is very dank rugelach.
TT: The kind of thing that goes well with coffee.
AP: Do you like the coffee?
TT: I would probably suggest running over to Eataly for an espresso. This coffee is too hot and too much.
AP: That's what diner coffee should be.
TT: I'm a person who weighs my beans and makes pour-over at home, so maybe I'm not the best judge.
AP: You're a coffee snob?
TT: I prefer the term connoisseur.
AP: What do you think of your first trip to this storied space?
TT: I would like to come back. You could serve this food in a newer room and it wouldn't have the same appeal as it does here, in a narrow hall, where it feels like some sense of normalcy lives on. You don't often see this, a new-old restaurant that really feels old. Is it sufficiently nostalgic for you?
AP: I was happy even when it was the old Eisenberg's and it wasn't very good. This is much better. I like the fact that it's crowded and the service is jaunty. Everything we had basically tasted really good. We're still eating this food as it's been served for nearly a century. That alone is cause for rejoicing.
TT: The hardest part is remembering the new name.
AP: It's not called Eisenberg's?
TT: No. It's S&P.
AP: Oh, well. We'll get used to it.
Want more stories like this one? Subscribe now to support our journalism and get unlimited access to our coverage. If you prefer to read in print, you can also find this article in the October 10, 2022, issue of New York Magazine.