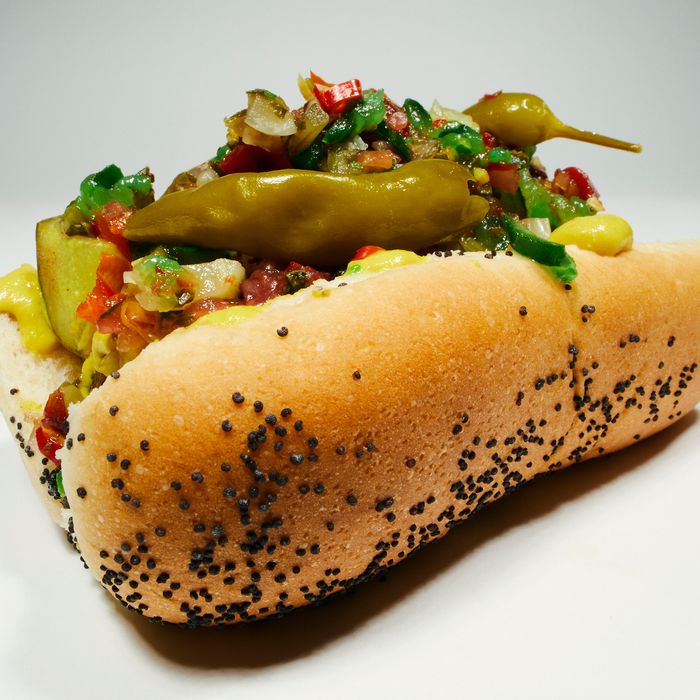 Thai sausage, Chicago toppings. Photo: Hugo Yu
In their seven years of cooking together, husband and wife Trevor Lombaer and Sutathip Aiemsaard have never had a home. Sure, there are the various Bed-Stuy apartments they've shared since 2016, but the place where they spend their days — the kitchen — hasn't ever been their own. They've worked out of a food truck and hot dog carts, friends' backyards and restaurants across New York. Most recently, they cooked out of a downtown Brooklyn ghost kitchen. Now, they finally have a permanent spot: Little Grenjai is moving into Gates Avenue, with the kitchen they've been working all these years to build.
Lombaer is especially enthusiastic about the wok range for dishes like holy basil pork, crab fried rice, charred Chinese broccoli, and the most ubiquitous of all Thai dishes in New York: "We can finally do pad Thai without unintentionally braising the noodles in the sauce," he says.
Though they'll feature some traditional Thai options, like laab (with duck or a vegetarian mushroom-based version), papaya salad, and khao soi, they describe their menu as Thai American, mashing up the cuisines of Aiemsaard's Thai background and Lombaer's upbringing in Chicago. For their Chiang Mai Chi Dog, for example, they pair homemade sai oua sausage that's dragged through the garden (as Chicagoans say): sport peppers, mustard, dill pickle, relish, onion, tomato, and celery salt. Another option, the Krapow smashburger, is a chile-and-basil–spiked pork-beef patty with XO sauce, homemade Thai giardiniera, pickles, and American cheese.
The décor is inspired by classic American diners, as are the hours. They'll open the 31-seat dining room at 9 a.m. for coffee and congee service, in honor of Aiemsaard's go-to breakfast in Thailand. "There are two types of people, " she says, "those who want congee in the morning — like me — and those who want coffee and pastries, like Trevor. We can't wait to play around with both."
It was important for the Bed-Stuy residents to open something near their home, but they're also aware of the rife gentrification they'll inherently be joining. "We're not trying to step on anyone's toes," says Aiemsaard. "We just want to be friends with everyone." (They're partnering with Save Our Streets, a nearby organization that supports at-risk youth, and offering a pay-what-you can lunch box.)
Aiemsaard, who worked in interior design before moving to the U.S. with Trevor, describes the restaurant's aesthetic as "approachable, fun, and welcoming," with cues from fast-food chains and retro diners (checkerboard floors, white subway tiles, and sparkly booths). In the bathroom, colorful wallpaper "wraps around you like a Technicolor dream coat."
And then there is the music: Before working in kitchens, Trevor rapped and performed as Trevor the Trashman, and some of the deep cuts from that era — and even his middle-school days — will make their way onto the playlist alongside old Thai songs and hip-hop.
To start, Little Grenjai will be closed Mondays and Tuesdays as they train the team and master an all-day approach, which will include both counter and table service. After three lease negotiations on previous properties, more than a year of renovations, and a slew of logistical challenges, Little Grenjai is the culmination of the thing that brought these two together: bold, exciting flavors in a space that feels like home.