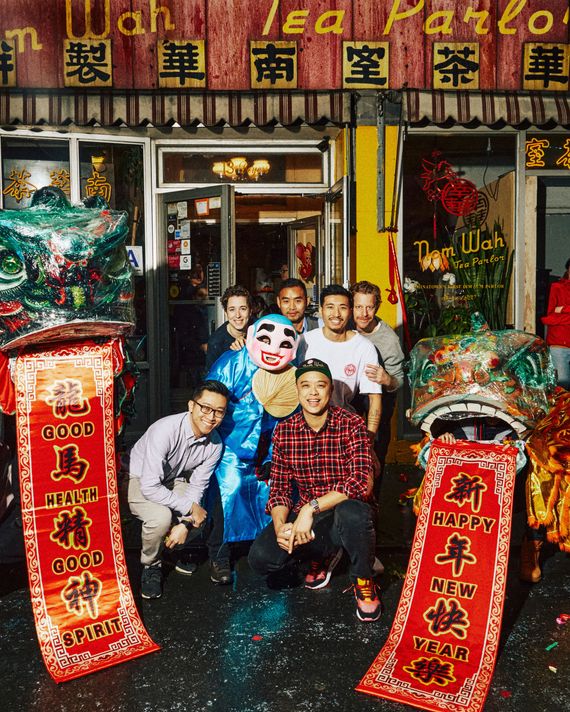 Vincent Tang (front left) and Wilson Tang (front right) outside of Nom Wah Tea Parlor, the restaurant currently in the middle of a heated legal dispute. Photo: Alex Lau
This article was featured in One Great Story, New York's reading recommendation newsletter. Sign up here to get it nightly.
In the winter of 2015, Vincent Tang took a job at the family business, Chinatown's century-old Nom Wah Tea Parlor, which has long served as an anchor along Doyers Street. Just 25 at the time, Vincent had no restaurant experience, so he started by learning the ins and outs: opening and closing the store, working as a cashier. Vincent's cousin Wilson was the co-owner, and his father, Fred Tang, was both a 50 percent profit shareholder and the landlord. At the time, Wilson had big plans for Nom Wah, and he needed someone he could trust with the dim sum destination's day-to-day business. The arrival of his cousin felt like the best possible solution. To celebrate Vincent's hiring, the two went to a Brooklyn Nets game at Barclays Center, where Wilson had season tickets. In time, the mood soured. "It wasn't until he came on that I was like, Oh, man, this is not the right guy to take on management roles," Wilson says now. "But how can you fire your cousin, right?"
Tension between the family members grew over the ensuing years until, on January 31, 2022, Fred declined to renew the restaurant's lease. The following month, Fred and Vincent also allegedly demanded that Wilson return the Nom Wah trademark — which he'd filed under his own name — to the Nom Wah corporation. Then in July, Vincent allegedly accused Wilson of taking money from the restaurant and sued him, stating in his complaint that he "cannot continue to operate with a co-owner" who has engaged in a "years-long pattern of diverting money and opportunities away from" the business to himself. The father and son also claim that Wilson's expansion plans have "diluted" the brand name, and that he failed to provide sufficient prior notice to Fred before opening new locations. (Vincent did not respond to repeated requests for comment; calls made to a number listed for Fred went unreturned.)
Wilson remains the public face of Nom Wah — and over the past decade has helped to vastly improve the fortunes of the once-struggling restaurant — but he says he has been avoiding the original Doyers Street location since last May. At the same time, the restaurant has seemingly suffered. Customer reviews of the food, which have always been mixed, are trending downward, with one Yelp user saying "the business owners ran it down the drain," and others claiming they were cursed out over tips. At the same time, revenue from online orders has collapsed, from $302,941 in 2018 to $74,110.55 in 2022 to a projection of just $35,000 this year.
Despite criticism that the restaurant's recent surge of popularity has turned it into a tourist trap, Nom Wah has frequently been held up as one of the neighborhood's most successful and visible businesses. Now, it appears any reconciliation between the co-owners is impossible, and the sides have begun to seriously discuss how they might split it up. "I treated him almost as a father — he was actually better than my father," Wilson says of Fred, who first gave him the opportunity to take over Nom Wah. But now? "I think he's just a conniving bastard."
Opened in 1920, Nom Wah has been one of Chinatown's most famous restaurants for decades. According to this magazine, it was "venerable" — and the neighborhood's restaurant "most frequented by Western patrons" (read: white people) — as far back as 1971. But its reputation had faltered by the '90s. A former employee, who grew up a couple blocks outside Chinatown, says that in the 2000s the place was more a social club than a restaurant. Others say the food was awful. It was a dying landmark.
Wilson took over in 2010, after Nom Wah's then-owner, Wally Tang (whom Wilson calls his "village uncle"), sold the Doyers Street building to his friend Fred. At the time, no one wanted the restaurant besides Wilson. He renovated the space and offered dim sum into the evening. At the same time, Wilson saw the branding potential for Nom Wah and the value of its history as an iconic location.
Nom Wah's shine was immediately restored and then some, with crowds soon packing onto Doyers Street while waiting for a table. Wilson opened a new location in Philadelphia, and in 2015, Vogue hosted a Met Gala pre-party at the original restaurant. Streamlined fast-casual locations, plus licensing deals in and around Shenzhen, China, followed. Wilson also became a prominent ambassador for Manhattan har gow, driving a Porsche with a NOMWAH license plate. "He made good on the opportunity," notes Eddie Chan, co-owner of another neighborhood hot spot, Uncle Lou.
Wilson and Fred had an arrangement that was, as Wilson puts it, "Chinatown gangster." While Wilson ran the restaurant and assumed risk, he split the profits 50-50 with Fred, whom he alleges would only accept cash. After Fred's draw, along with older kitchen employees who insisted on being paid in cash, there wasn't a lot of cash left over to pay for other things. After a sales-tax audit from the state in 2018, Fred proposed a change to Nom Wah's profit-sharing, asking to memorialize the relationship and put Vincent on the paperwork. Wilson agreed, figuring this would guarantee an easy lease renewal.
Wilson was hard on Vincent and would become frustrated when he couldn't perform tasks without instruction. ("It's not rocket science," says Wilson.) At one point, Barbara Leung — a friend of both cousins who is now Nom Wah's head of operations and marketing — asked Wilson to ease up: "I said, 'I think you're too hard on the kid. I don't think that works for him." As Leung saw it, Wilson wanted to be a mentor to Vincent and guide him. From Vincent's standpoint, Leung says, "It's like, 'Listen, you're not my dad. You're not my brother. I don't need your kudos or anything.'"
The growing resentment between the two cousins came to a head on February 12, 2021. It was the first night of Lunar New Year and the return of 25 percent indoor dining in New York City after a two-month pandemic ban. Vincent was managing, and the night did not run smoothly. In an email recounting the service, Wilson wrote that restarting indoor dining while simultaneously taking in the existing online orders had overwhelmed the staff, and that Vincent's purported inability to follow COVID protocols — allowing too many delivery drivers inside, not taking people's temperatures or information for contact tracing — risked heavy fines. Effective immediately, Vincent was to be relieved from his job as a shift manager and general manager, a decision to which he agreed. He continued with non-management duties (trash pickup, plumbing) and remained a 50 percent profit shareholder.
"If he wasn't family, we would've fired him years ago," Wilson says. "I think through the years, I kind of — not bullied him, but I was hard on him because he's my blood and he's been given all this opportunity, and he can't figure it out." In the months after Vincent's role change, Wilson says that there wasn't any friction between him and his uncle. "If he's upset, you wouldn't even know it," Wilson explains. Looking back, though, he believes that pushing Vincent to the side exacerbated later issues.
In the summer of 2021, it was time to renew Nom Wah's lease: Fred allegedly kept pushing it off, and as the year wore on, Vincent began to question Wilson's use of business funds. "He said to me once, 'Yo, you expensed breakfast, lunch, and dinner today,'" Wilson recalls. "So what? What business of that is yours? Go fuck yourself." According to Wilson, giving Fred his distribution in cash meant he had to take his owner's draw this way.
Wilson alleges that in early 2022, Vincent changed the locks on the restaurant office and safe, altered access to the company bank account, and removed Wilson from the surveillance system's app. In July, Vincent filed his legal complaint, accusing his cousin of "transfers totaling approximately $490,000" from a Nom Wah financial account to himself and using the business to pay for his Porsche lease, Soho House membership fees, and mortgage. "The reality is, a lot of my expenses are marketing," Wilson says. "Even the Porsche is marketing for me. And for me, it's like, hey, this is how I get new business."
Wilson is also alleged to have paid himself and his wife exorbitant salaries; the complaint characterizes Wilson as an entrepreneur who "capitalized on his uncle's decision to purchase the Nom Wah Tea Parlor space," while Wilson's lawyers argue that "Vincent has conducted an illegal scheme to take over the company and the restaurant." They say the complaint's accusations are inflated or ridiculous.
What's clear is that in whatever ways Wilson has been successful at bringing Nom Wah back, and building the brand, it has changed the calculus: No one else may have wanted the restaurant in 2010, but now the two sides are fighting to decide who will keep it. After 15 months of back-and-forth, they have still not reached a resolution on the lease or the fate of the original restaurant. Vincent runs it, while Wilson and his team operate out of the basement at the "fast-casual" Nom Wah in Nolita. On May 11, the Southern District of New York is scheduled to hold a pretrial conference in the case of Tang v. Tang; one proposal that's on the table in the meantime would see Vincent and Fred take ownership of the first restaurant while Wilson retains the expansions. Wilson says his legal fees currently amount to more than $160,000.
One recent Saturday, everything at the Doyers Street restaurant appeared normal. Some friends in town from New Jersey and Virginia, as well as a young couple discussing "the anti-Chinese riots of the 1870s," were among the dozens of people waiting. Nearby, a tour guide opined on Wilson's takeover: "He's a very savvy social-media guy." Then, invoking ancient, pre-TikTok history, he added, "the place blew up on Facebook and Instagram."
The wait for a seat was shorter than expected, only a half-hour. Inside, dishes were clattering in the sink, friends chattering, small round plates and steamer baskets piling up. A Sharon Van Etten song was playing on the speakers, and a framed photo of Wilson hung on the wall, looking out over the dining room.
Wilson says he is no longer concerned with the work he's put into the restaurant and that he just wants to move on. "This is shackling me," he says. "I'm beyond it."