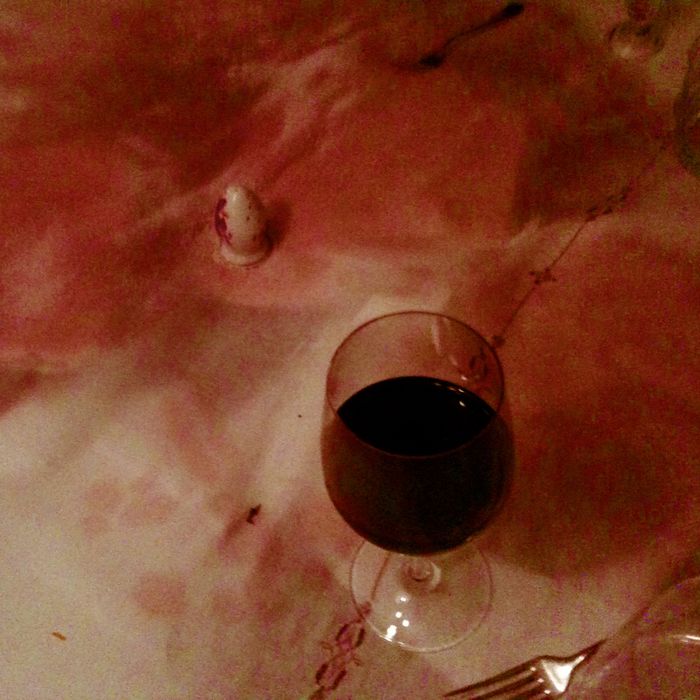 You'd better get some more Tide pens. Photo: Jeanne Szilit/VISUM creative/Redux
Sometime in the past year, there was a sudden and substantial shift in how food showed up on my Instagram feed. Saturation was replaced with soft focus, organized place settings gave way to wine-stained tablecloths and clouds of whipped cream sloshing over bowls. Everything was happening in dimly lit apartments. It was romantic, it was messy, and it was a universal embrace of the dinner party.
Filling our homes and hosting dinners for 22 people when our apartment really fits only 11 is a story most New Yorkers are familiar with, especially in the wake of a pandemic when eating at home felt more comfortable than trying to make a compromised restaurant experience work out. I've washed my set of mismatched dishes and broken wineglasses more times than I can count over the past two years. I've knelt into corners of friends' and strangers' carpets, balancing plates of olive pits and homemade lasagna and Alison Roman dessert recipes, my heels pressing into the back of my legs as I scooch over and make room for another guest. I've welcomed new flings of friends, and begrudgingly welcomed old flings of friends, into my home. I've vacuumed for days after the party ends. I've spotted leftover corks in the corner of my apartment while daydreaming in the middle of Zoom meetings and wondered if my home would ever be party free again.
But this summer, I've noticed the opposite is happening: The dinner party is winding down while chefs are figuring out how to bottle up the feeling of one so you can enjoy it without having to clean up afterward. It's not that people aren't hosting anymore. It's more that the people who were posting videos of orange-wine magnums and coordinating lamb orders with their butchers are now spending their time and energy elsewhere.
"Dinner parties can be weird because a lot of people neglect the 'party' element," says Shyan Zakeri, a co-founder of the pop-up Shy's Burgers, which got its start in April 2021. "I started Shy's Burgers with my friend Alex David not because we were yearning to feed our friends but because we were bored and it seemed fun." Now Shy's is one of a number of pop-ups — a list that includes Ha's Đặc Biệt, Dacha 46, and Apollo Bagels — that hits a middle ground between restaurant and gathering. Since its inception, Shy's has evolved from a second-story apartment kitchen that sent orders down in a bucket on a rope to a fully functioning pop-up activating at restaurants like Gem and TIME. "Once it became a business and not a side project, I've been trying to recapture the feeling of those initial weekends we had on the street in front of Alex's Williamsburg apartment," Zakeri says.
There is also the small matter of free time, something many of us have less of now that the world has opened back up. "During COVID, dinner parties were a way for me and my friends to make what we were missing," my friend and native New Yorker Lizzie Noonan tells me. "Because everyone had nothing but time, the more elaborate the evening was, the better: written menus, beverage pairings, playlists, dress codes, and after-dinner games were commonplace." Noonan says she has found it harder to make that kind of time commitment, especially as people become more fluid with their plans. "My group chats are popping off with day-of invites to dim sum in Sunset Park or an oyster bar on Governors Island." Noonan also sees pop-ups as an acceptable substitute. "They have the fleeting, messy delight of a dinner party," she says. "There's an accidental curation about each one, just like a group of guests invited by the same host."
Restaurant owners are increasingly building the spontaneity and warmth of dinner parties into the bones of their businesses. "There's a general movement toward casualness in restaurants, which I think is encouraging more people to go," says Cami Jetta, who runs Fort Greene's Dinner Party. As the name suggests, the restaurant's menu changes constantly, lengthy seating time slots mean there's no rush to get up, and you stand a good chance of sitting with strangers. "I guess I counted on people being so desperately fucking lonely during COVID that they would want to do something like that on the other side," Jetta says.
People are desperate, but these days it's mostly for dinner reservations at the same handful of popular restaurants: Bonnie's, Mel's, Laser Wolf, Dame, and — most prominent — Via Carota. To post a dark, messy photo from any of these places signals that you not only ate a nice dinner but that you know how to get your hands on what's hot. "Pre-COVID, I used to make plans, then reservations," Noonan says. "Now I do it in reverse order: If I snag the table, my friends will come."
Reservations are so in demand that a new black market has emerged. "The reservations are available 21 days out at 10 a.m.," says Laser Wolf's director of operations, Sarah Krathen. "They're gone within ten minutes, but then we find all these weird sites and Instagram accounts where people are selling Laser Wolf reservations for hundreds of dollars," she continues. "We watch it happen in real time, and we try to shut it down in a big way."
It goes without saying that not everyone is ready to put away their serveware and lock their doors for good. When I ask recipe developer and avid home cook Pierce Abernathy what he thinks, the timing is serendipitous. "Considering I threw a dinner party last night, I think I have to disagree!" he offers. "I can understand and appreciate this sentiment, and I am sure it rings true for many. But I still think dinner parties are this perfect venue for friendships to form, opportunities to arise, impressions to be made, and debates to be had — the dinner-party environment is unique and inviting in a way that I don't think any restaurant could be."
The numbers don't lie: In a July earnings call, American Express CEO Stephen Squeri called out the pendulum swing toward dining out compared with spending in 2019. "We're seeing tremendous growth, like 48 percent growth in restaurants." He owed that to the sentiment of supporting small businesses. New Yorkers saw the establishments that held their deepest memories struggle for years and came out on the other side ready to support them with their wallets.
I think there's something else going on, too: A restaurant is a good reason to really get dressed, take the subway to an inconvenient neighborhood, and play the delicate chess game of ordering shared plates before finding your way home at midnight after one too many overpriced cocktails. And then there's the best part. When someone else hand-rolls the pasta for you, there aren't any dishes waiting when you get home.