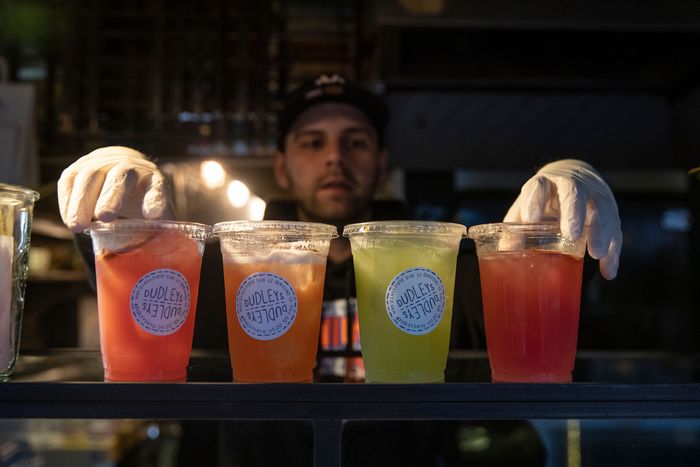 Back when to-go drinks were sanctioned.
Photo: Victor J. Blue/Getty Images
Governor Kathy Hocul has said that making to-go cocktails permanent is a personal priority of hers, noting it's "the most popular item" in her budget proposal. But, alas, it seems nothing good in this world comes easy. This weekend, lawmakers in both New York's state Senate and Assembly put out state-budget proposals with no mention of to-go cocktails.
This doesn't mean it's all over for walking daiquiris — the Senate and Assembly's proposals are just that, and they'll negotiate with the Hochul administration over a final budget — but it is a fresh obstacle to bringing to-go drinks back and Hochul's plan to require the state liquor authority to create the necessary regulations.
So what gives? Talking with reporters on Monday, the New York Post reports, assembly speaker Carl Heastie said the proposal was taken out because it's "a policy item" and that "we'll have that discussion." The paper adds that State Senator Diane Savino says lawmakers decided the plan didn't have a financial impact, and a spokesperson for Assembly Democrats tells Gothamist that the proposal was removed because "it dealt with a policy issue."
This isn't the first attempt in New York to make to-go cocktails permanent, and a previous one may shed some light on why this seemingly popular idea has met with so much opposition. In May, 2020, State Senator Brad Hoylman introduced a bill to extend the executive order allowing to-go drinks by two years, but by August of that same year, he had already walked back the proposal. Speaking with local paper The Village Sun, Hoylman said the change was the result of "justified public health concerns" over crowds congregating on streets as well as "sporadic and uneven enforcement."
But the biggest hurdle that permanent to-go cocktails face doesn't come from people annoyed at the potential for on-street partying; it's opposition from the state's liquor lobby. When former governor Andrew Cuomo's original order expired last summer, the cause of death was attributed to state liquor lobbies. At the time, New York State Liquor Store Association president Stefan Kalogridids offered his sense of how things should play out, telling the New York Times, "Now that COVID is over with, [restaurant operators] can go back to their normal business." (COVID was not over, and "normal business" at restaurants is something of a mess right now.)
As for this latest effort, Gothamist reports that both the NYSLSA and the Metropolitan Package Store Association have lobbied against Hochul's proposals and that the MPSA published a memo recently arguing that the "proposed legislation" will take liquor stores' "regular customers, and hand them over" to restaurants, which are "not being compelled to follow the same burdensome regulations."
Restaurant owners, of course, disagree. Speaking with Gothamist, New York State Restaurant Association president Melissa Fleischut says, "The industry needed to have this happen almost a year ago" and that to-go drinks would've helped during the peak of the Omicron surge, when many restaurants were hit hard and customers stayed home in droves.
The liquor store lobby is doing what it's supposed to: Advocate for the interest of its members. The argument against to-go drinks is not about what consumers want or what benefits the public interest. When introduced in 2020, to-go cocktails were received enthusiastically and, on the whole, responsibly. (Liquor-store sales also increased during that time.) New York, and its struggling small-businesses would benefit from this change; the opposition is doing more than just standing in the way of a good time.