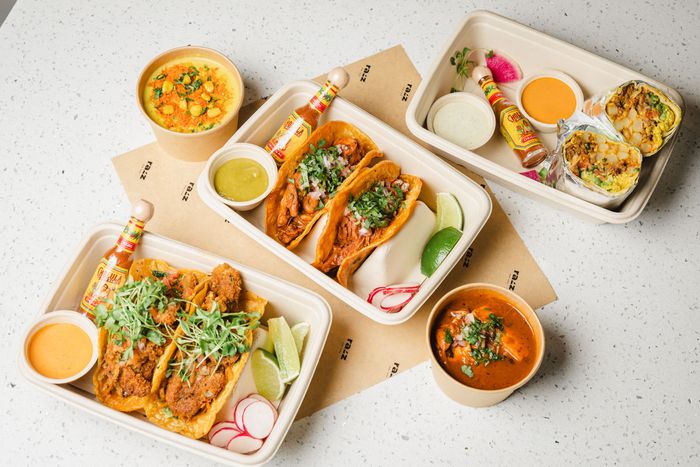 Some of the veganized fare at Raíz Modern Mexican Kitchen.
Photo: Lanna Apisukh
One of the classic gags of the old cartoons the Underground Gourmet grew up watching was having one character visualize another as a tasty snack. Character A, marooned on a desert island or some such scenario and feeling a bit peckish, would size up Character B, smack his lips, then picture him as a roast chicken or juicy steak. Yellowjackets season one has nothing on this so-called children's entertainment. Something similar, we imagine, must happen these days when a vegan cook looks at a warty 50-pound jackfruit and sees a barbecued piglet or a pulled-pork sandwich. In fact, when Nick Johnson and Jesus Villafan stared at a jackfruit a while ago, they saw birria tacos.
Johnson, a California transplant and former Wagamama GM, opened Raíz Modern Mexican Kitchen, a mostly takeout meat-and-dairy-free operation in the East Village, in January. Villafan, a Mexico native, has been cooking vegan and vegetarian food in New York for over 25 years, notably at Pure Food & Wine and with Amanda Cohen at the original Dirt Candy. In 2010, he helped Cohen beat Masaharu Morimoto in "Battle Broccoli" on Iron Chef, and for most of his career he has dreamed of creating a vegan concept based on traditional Mexican street foods. He got his wish when Johnson enlisted him to come up with the menu for Raíz, which means "root" in Spanish.
Villafan's home state of Morelos isn't known for birria, but the chef has been a big fan ever since he tried it three years ago. "I went to Queens with my family one day to try some birria tacos, and my kids loved it so much," he says of the marriage of stewy beef and sauce-stained tortillas that has come to dominate the tacosphere. "They call them pink tacos." So he knew he wanted to veganize the dish for Raíz, and after some disappointing early mushroom trials, he embraced the jackfruit. The result is a terrific brick-red broth redolent of chiles and warm spices, well stocked with chunks of jackfruit that soak up the sauce like a sponge. Corn tortillas get dipped in this vegan birria, then sloshed with more of the saucy stew and folded into tacos. They come in a nifty compostable taco tray fitted into a takeout container with a cup of consommé for sipping and/or dunking. Equally good is the Crispy Dilla, a quesadilla-like birria variant with melted vegan cheddar.
Beyond birria, those mushrooms find their calling in nicely crisped Baja "fish" tacos garnished with slaw and chipotle mayo. The Brunch All Day burrito stuffed with rice, beans, French fries, and turmeric-tinged tofu "eggs" satisfies Johnson's native East Bay cravings and our East Village ones. Even when the meat substitutes don't entirely succeed, like the dense marinated cubes of seitan in the Hale Pastor tacos, the overall aesthetic — fresh herbs, bright onion, vibrant salsas, plump lime wedges, and a mini-bottle of Cholula hot sauce on the side — delivers a legitimate and tasty taqueria flavor. As for dessert, there was a split decision on the madeleine-shaped churros. One-half of the UG deemed them undercooked, while the other argued that the contrast between a crisp exterior and soft, webby interior is the whole point of a churro, plant-based or not.
Decoratively, Raíz looks like the chain it wants to become (counter service, smattering of plants, handful of tables, fast-casual vibes), and Johnson says the neighborhood as well as the celebrity-vegan-politico response has been great. At press time, Mayor Adams had yet to work a visit into his schedule, but Cory Booker has already stopped by twice. He stumbled upon Raíz by chance on its second day of business, tucked into a burrito and some asada fries and took a video selfie with the owner. "He's always been my favorite senator," says Johnson.
120 First Ave., nr. 7th St.; no phone
Want more stories like this one? Subscribe now to support our journalism and get unlimited access to our coverage. If you prefer to read in print, you can also find this article in the February 28, 2022, issue of New York Magazine.