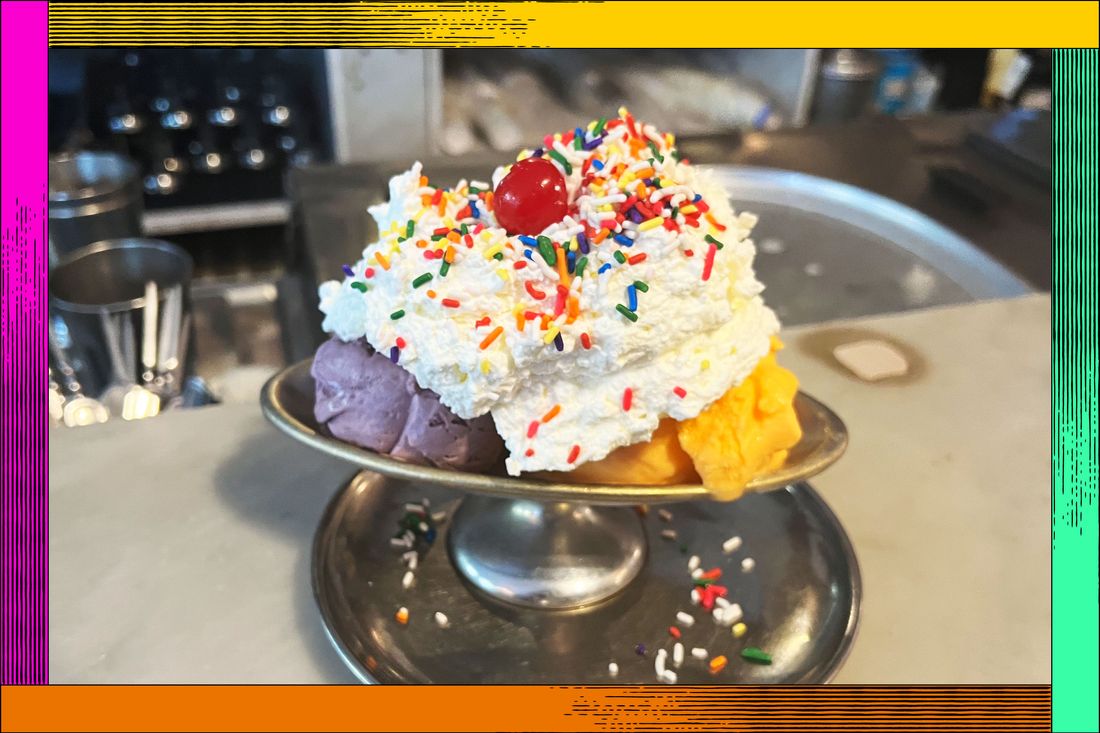 Orange sherbet with tons of whipped cream from Eddie's Sweet Shop.
Photo: Tammie Teclemariam
Let's talk about ice cream. I have already extolled the virtues of Van Leeuwen, and I am waiting for the line to be short enough to try the bubblegum flavor at Morgenstern's, but I trust most people in New York already know about the excellence of our big-name mini-chains. Instead, back from a short newsletter vacation but still feeling the summer heat, I wanted to track down and tell you about a few under-the-radar flavors and ideas that deserve some attention. I make no claims that the list below constitutes the "best" ice cream in the city; instead, these are just some of my favorites right now: soft serve and sherbet and even a scoop of banana ice cream I can't get off my mind. Enjoy!
Orange-sherbet sundae with whipped cream at Eddie's Sweet Shop (Forest Hills)
I will always order sherbet when given the chance, and the Day-Glo orange version served at this old-timey counter, and which you can see above, is a paragon of the form. Try it in a sundae topped with whipped cream, or so much fluffy marshmallow that it drips off the metal coupe into the saucer below.
Peppermint chip at Davey's (Greenpoint)
Davey's mint chip is particularly minty with an intensity that stands up nicely to the chocolate, as well as to the dense hot fudge that can be poured over the top if you'd like.
Cremelata ice at Dolly's Ices (Mill Basin)
The list of flavors at this easy-to-miss window is nearly endless — Malibu Bay Breeze, I see you — but I always gravitate toward Cremelata, a.k.a. their almond flavor, which is lightly milky and studded with toasted nuts. In Italy, they eat this stuff for breakfast; I recommend you take a pint to go so you can do the same.
Sorrel-rum-sorbet lemonade at Island Pops (Crown Heights)
The Caribbean-themed flavors, such as orange bitters and cassava pone, rotate seasonally, but sorrel-rum sorbet is available year-round. It turns out the warmly spiced Christmas punch is a perfect summer treat, too.
Strawberry–and–sake-kasu soft serve at Rule of Thirds (Greenpoint)
Sake kasu is the floral-tasting by-product of sake production; the owner of this Japanese restaurant buys it from a Brooklyn brewer. What does the ingredient do for ice cream? It adds a ton of umami and some mouthwatering saltiness that only amplifies the freshness of the ripe summer strawberries.
Banana ice cream at Bar Blondeau (Williamsburg)
The last place I expected to have my mind blown with ice cream was a rooftop hotel bar in Williamsburg, but I'm still thinking about the scoop of fruity banana ice cream that accompanies the "peanut-butter Blondeau bar," which — when taken altogether — reminded me of a high-end Carvel birthday cake.
Rose With Cinnamon Roasted Almonds at Malai (Carroll Gardens)
Instead of tasting like soap, the rose flavor enhances the dairy sweetness while spiced nuts add crunch and depth — and make it taste a bit like French toast.
You never know which handful of flavors will be available at this weekends-only scoop shop. Recent entries have included Waldmeister (a sweet woodruff gelato) and Styrian pumpkin-seed oil with pine nuts. The undercover hit for me is Mak, a lemon-poppy scoop with lots of seedy crunch and refreshing zest.
Coney Island Custard at Coney's Cones (Coney Island)
Given its location on the boardwalk immediately next to Luna Park's entrance, this shop doesn't have to be as good as it is. You can get classic Italian flavors like cappuccino and stracciatella, but I love the Coney Custard, a simple egg-enriched gelato that's paddled into a cone by one of the many teenagers staffing the joint.
A running list of everwhere I've been, week 25: 229. Babs 230. Lupa 231. Island Pops 232. Sal, Kris & Charlie's Deli 233. Coney's Cones 234. Tone Café 235. Shake Shack 236. BZ Grill 237. Original Pizza 238. Dolly's Ices 239. Eddie's Sweet Shop 240. Baby Luc's 241. Malai 242. Suzy's Roti Parlour 243. Mexico Autentico 244. Ice Cream Window 245. Gottscheer Hall 246. Windjammer Bar 247. Werkstatt
Want more stories like this one? Subscribe now to support our journalism and get unlimited access to our coverage. If you prefer to read in print, you can also find this article in the July 18, 2022, issue of New York Magazine.