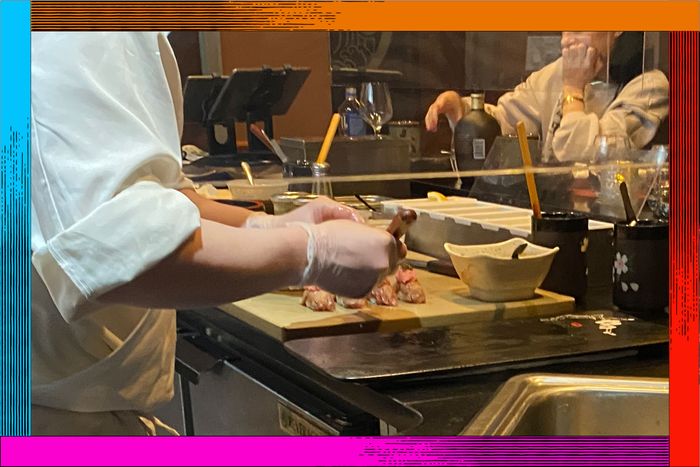 Sushi Hiro in Sheepshead Bay.
Photo: Tammie Teclemariam
This article originally appeared in The Year I Ate New York, a newsletter about eating through the city, one restaurant at a time. Sign up here.
For as long as I have been in New York, I have lived off the Q line south of Prospect Park. What can I say? My preference for pastoral lawns outweighs my desire to live in a neighborhood with its own Sweetgreen. We are very far from hipster Brooklyn in both distance and spirit; the people who spend any time beyond the Newkirk Avenue stop either grew up here or moved to start a family. The vibe is considerably more subdued, and good food abounds.
Here is my proposal: More people should be taking the Q (or the B) past the park and getting off at one of the stops they might otherwise pass on the way to Brighton Beach. Why do I think this is a good idea? I am so happy you asked.
The Sheepshead Bay sushi "scene."
While a preference for raw fish in a maritime area largely populated by Eastern Europeans should not be that surprising, the number of sushi bars between Midwood and Sheepshead Bay is still startling. They are a far cry from the austere, big-money counters of Manhattan, which is exactly why they are so appealing. Drop in some afternoon to Masuta Japanese Fusion, an unassuming place next to a ballet studio and a couple of law offices, and you might find it bustling with senior citizens lunching on generous portions of sashimi and rolls loaded with fish roe, lobster, and mayo.
The area's preference for a more bountiful style of sushi restaurant was reinforced at Sushi Hiro, an omakase counter a couple blocks from the Sheepshead Bay Q stop. When I sat down, chef Hiro himself was busy torching what looked like a beef and foie gras nigiri for the two 30-something couples eating at the bar. For the next bite, Hiro pulled out a tin of Petrossian caviar. A fake orchid loomed next to my place setting, behind which I spotted a shaker of gold flakes that would later gild the dab of caviar spooned over a blowtorched piece of tuna topped with another little scoop of tartare.
Sushi Noz, this was not, but the couples at the bar were having a blast. "Do you have something special," one guy asked the chef, "so I can tell my friend I had something he hasn't had yet?" Hiro looked through the lowboy fridge and pulled out some oysters, which he opened and garnished with more caviar. Then he served them to these obvious regulars and joined them for a shot of sake at the end of their meal.
Superlative no-frills pizza from someplace new.
The area is not hurting for pizza — Di Fara and L&B Spumoni Gardens are here, after all — and the place I'm most excited about these days is Lucia Pizza, a very Brooklyn parlor that opened a few weeks ago on Avenue X (and which, as far as I can tell, has no affiliation with a different Lucia Pizza in Queens). For now, it sells two things: garlic knots, and pizza, either whole pies or $3 slices. The blistered, bubbly crust is some of the best I've had — yeasty and sturdy, tasting like fresh bread — and the list of toppings is impressively tight. (Even if they do allow for the addition of hot honey, the worst pizza trend.) The corner space used to be an Atomic Wings, and the change disappointed one potential customer who stopped in the other night. "We're just pizza," the Yankees-capped guy working the register had to explain. And this, I think, is as it should be.
The crowds, or rather, the lack of crowds.
I went to Lagman House, said to be the only restaurant serving Dungan Chinese food in New York, for its freshly pulled noodles with braised-beef stew. I had the entire place to myself. It was so empty I could hear the chef slapping my noodles into shape over the music videos streaming on the TV in the back of the spacious room. This is not, in other words, a part of town where you'll end up fighting for a reservation with people who learned about a restaurant on TikTok.
A true 24-hour destination awaits.
The sign for Aksaray at the Kings Highway stop proclaims "Open 24 Hours" in bright white letters beneath its name. For this alone, the small Turkish restaurant should be more famous than it is. I never see it listed among the best late-night places to eat, a group to which I think it very much belongs.
On a recent three-minute walk from the train stop, I contemplated getting my order to go, not really giving the benefit of the doubt to the ambiance of an all-night gyro shop. When I walked up to the register to pay, a young guy popped out of the kitchen to ask how I enjoyed my adana kebab on Turkish bread. I told him the truth — very good — and then asked if they're really open 24 hours. Both he and my waitress nodded emphatically, "Yes! if you come at five in the morning, you can sit here!" he said, gesturing to the dining area, though he clarified that the grill is closed from 5 a.m. to 9 a.m., but you can still order the prepared foods (like fried eggplant with tomato sauce).
Turkish food is a specialty of this part of Brooklyn with long-standing restaurants like Aksaray and Taci's Beyti. And now a new favorite, according to a friend of mine who lives in their delivery zone, is Burchak Pide, a relatively new restaurant and bakery that specializes in filled Turkish flatbread called pide as well as meaty lahmacun, which people often just call "Turkish pizza."
The views.
During a recent weekday lunch at Liman — a waterfront restaurant in Sheepshead Bay that specializes in all sorts of fish — I first noticed the crowd: a group of five women at a round corner in the table who looked to be celebrating something with platters of seafood, another two-top chatting over mint tea, and an older couple wrapping up their meal with a plate of sliced fruit. Then I took in the view of the bay on a cloudy day through the floor-to-ceiling windows (which are opened on warmer days), and I found myself forced to take a photo, as did the man who came in alone a few minutes later to have some soup, a shepherd's salad, and a glass of Turkish wine.
A better roast-beef sandwich.
Roll-N-Roaster on Emmons Avenue is famous as much for its vintage brown-and-orange color scheme as for its roast beef with jus. But I am more fond of the food at the less flamboyant landmark Brennan and Carr, where you can get table service and pitchers of beer to go with your double-dipped roast-beef sandwich.
Some restaurants might ignore you — in a good way.
All I wanted when I walked into Anyway Café, which also has an outpost in the East Village, was a martini. But when I saw the petal-strewn tables and the bartender's red top, I immediately realized my mistake.
"Happy Valentine's Day!" the bartender uttered in Russian-accented English. "Do you have a reservation?" When I replied that I just wanted a drink, she gave me a disappointed look but decided to allow it since the restaurant was still empty. "We have a special menu," she said, pointing to a list offering chicken liver pâté and crème brûlée. I declined, trying to be as polite as possible. "It's okay," she said, cutting me off and shifting her attention to a couple that walked through the door. "Do you have a reservation?" she asked them.
The Manhattan location is always full of downtown types; this outpost, on the other hand, is not just Russian themed, it is also full of Russians. The staff, the men at the bar, the couples who stream in. While this might make some customers feel like interlopers, I found it comforting to be more or less ignored, able to sip some strawberry-infused vodka in peace, knowing absolutely nobody would bother me.
A running list of everywhere I've eaten, week five:
59. The Double Windsor 60. Koko's 61. Maison Premiere 62. Soba Azuma 63. Alison 64. Mile End 65. Lucia Pizza 66. Anyway Café 67. Sushi Hiro 68. Lagman House 69. Masuta Japanese Fusion 70. Liman 71. Aksaray