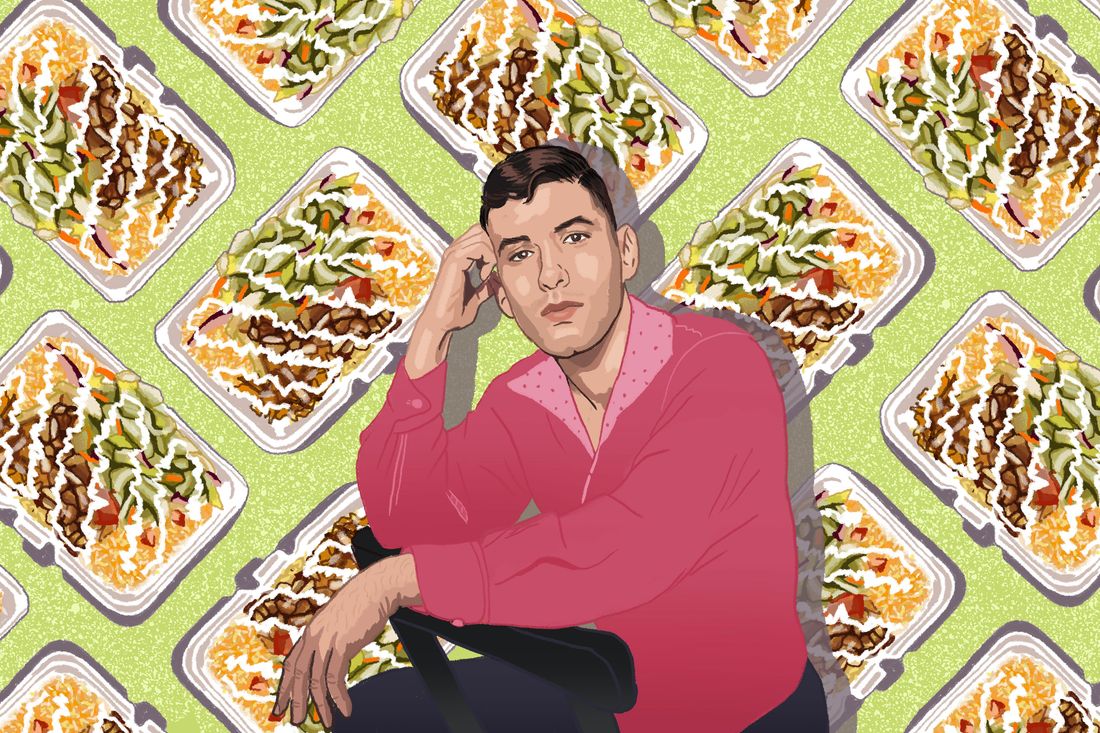 The musician Aaron Frazer has his halal-cart order locked down.
Illustration: Margalit Cutler
The musician Aaron Frazer released his first solo record in January. Now, he's part of two more albums that will each debut next week: He plays drums on Yola's Stand for Myself, and, as part of Durand Jones & the Indications, Frazer and his distinctive falsetto are featured prominently across Private Space's ten songs. "I don't take it for granted," he says, "that I got to continue on this path over the last year." But of course he's missed playing live, something he finally got to do for a small crowd late last week. "It was more emotional than I thought it would be, playing for people again." He was onstage again this week, drumming for Yola during a performance on the Late Show With Stephen Colbert, and he spent time at home in Brooklyn ironing out details for his fall tour with the Indications. The band will play Brooklyn Steel on September 10 before they head west to finish out the year.
Friday, July 16
For months now I've been going to bed between 3 and 5 a.m. I generally go to bed really late, but I had a session a few months ago at Royal Studios in Memphis. The artist I was working with was coming from L.A., so he was on West Coast time. We'd get in at like 3 p.m. and leave at 4 a.m., then you get home and you need to wind down and let your brain decompress, and by that time it's 5 or whatever.
That's all to say I sleep in a lot. I get up around noon and I'm not a morning person, so breakfast has to be easy and fast and I don't want to think about it. I eat a lot of granola, and then I'll chop up a banana.
I never really drink coffee, either. I just grip the third rail of life.
The night before, I had a livestreamed show at Mercury Lounge. My friend had flown in for it, from San Antonio, which was really sweet. He runs two restaurants in Texas, so he's into food. He wanted pizza, and I was trying to figure out which pizza place made sense for him. I felt like Two Boots would be a very solid, nice pizza option. Sometimes in Brooklyn, these pizza places get so abstract with their pizza, it really stretches the definition of what pizza even is. Where it's just crust, hot honey, and Brussels sprouts? It makes you think, philosophically, about what pizza is.
I worked in a pizza place in Indiana, called Mother Bear's. I loved it. I think it really stacks up. It's pan pizza. It's delicious. They also have the craziest house-made buttermilk ranch. You dip the pizza right in that motherfucker. I don't see too many people do it here, but in the Midwest they don't give a shit and it tastes great.
My friend and I walked down to the water at Domino Park and just caught up, which was really lovely. As we were walking, we encountered a food cart that was giving out free samples of vegan ice cream. It was good. I didn't even know it was vegan. I've had some vegan ice cream before and it's not all good. This was good. I wish I remembered the name of the cart.
Then I came home and tried to take it easy. The days leading up to that show were full of six-hour rehearsals, with everyone learning the material, and I was pretty spent physically, emotionally, and mentally. For dinner I made my go-to I-don't-have-the-energy-to-cook meal: ramen, with an egg that's cooked in like two inches of water. I think the recipe came from the New York Times cooking app. You boil it for a few minutes, you run it under water, and it's perfect. You can chop it, but it's still runny in the middle. You add that, then you just throw some spinach in the broth and it wilts. It all looks beautiful. To me, I feel like I'm really cooking. I'm not a good cook, but it's satisfying.
And I had some chamomile with my labelmate's honey. I'm part of Colemine Records, a label based in Loveland, Ohio. On the label is an artist named Wesley Bright and the Honeytones. He's an amazing soul singer, but he's also a beekeeper. Colemine has fun with album rollouts, and they did a cross-branding thing with Akron Honey. So when I go to visit Colemine headquarters, they have leftover jars of honey from Wes, and I always take one or two.
Saturday, July 17
It was a slow day, working on the Indications record rollout. Once I started doing music professionally, I learned there are so many things that go into it that have absolutely nothing to do with playing or writing music. Making preparations for touring, like, you know, discussing what our on-stage layout will be, and how that's going to be different from the last record cycle, or working out the merch designs. Like, Okay, we're going to have a bowling shirt on this tour, so what color? Can we find one that has clear buttons because the black ones look corny?
Every day is a blessing when you get to make music professionally because it's like Holy shit I can't believe I get to do this, but some days you're also like, This is fucking annoying but it's part of the job. And that's okay. You can have a day that's a blessing and annoying.
I will say that after going through a solo record rollout, and now doing one with the Indications, it really makes me appreciate having partners in the band because it is a lot of decision-making about stuff that I know nobody's really going to notice, but it matters in an intangible way — you feel it when the details are right. Especially with the kind of music we make, part of the fun is in the referential nature, and to get a reference to translate, it's all about the tiny details. That's what makes it feel like you can pinpoint an idea to 1968, or 1975, or 1982.
Anyway, I had some time at home. I scrambled an egg, with some apple sausage that's on the sweeter side. I'm a total sucker for sweet and savory together. And then some spinach. I could have cooked it down, but I like raw spinach so I just threw it on the side.
I had a small lunch: a salad with apple and almonds and some poppyseed dressing. The dressing was so good, but a little goes a long way. Too much dressing and I just can't hang.
This set of days was not very snack-y for me, but I snack a lot. Maybe it's a carryover from being in green rooms all the time. Midday pretzel chips — they're called Snack Factory, that's the brand — are so good. 
For dinner I had another easy meal. It was quinoa with lentils and some greens. We have a bunch of jars of grains that we got when the pandemic started, and we're working our way through them. It hasn't really depleted too much. It's always satisfying when you make it through a container.
My girlfriend is really at home with the Berkeley co-op community, and she taught me that if you put stuff in a bowl and you crack an egg on top, that's a meal.
Sunday, July 18
Granola for breakfast.
I had some chai tea with oat milk because I needed a pick-me-up. For years when I was on tour, I didn't drink caffeine. I guess I was younger so I had more energy. When you first start to tour, it feels like a vacation. You're traveling, you're with your friends, and you're at the party every night. Then, as touring went on, and the sleep deprivation was getting extreme, I would drink an energy drink sometimes before shows. My bandmates were like, Dude, that's fucked up. It's like putting several fluid ounces of taurine directly into your heart. So my bandmate introduced me to yerba mate, but when I'm home and I need a pick-me-up I do chai.
I went to the record store Captured Tracks in Greenpoint. I'd heard from an employee at a different store that they had revamped their stock recently. When you get a record-store recommendation from somebody who works at a different record store, you're going to check it out. They were great.
While I was in Greenpoint, I went to visit Little Tiffin for Thai food. We had a date night.
When I moved to Brooklyn, the first place I ever got a job was Ovenly, and I had to oversee the Smorgasburg stands on the weekend. When you're there, you get to know the other food vendors. I got to know the people from the cheese-finishing cave, or the people who do specialty cocktail bitters. And you trade stuff: I'll give you a cookie and you give me some bitters. One of the people I traded with was named Mony, who had a stand at the time called Queen Cobra Thai. It blew me away. It was so delicious and Mony was so sweet. That honestly used to be the thing I looked forward to most at Smorgaburg: getting some of the Queen Cobra Thai.
Now, Mony has this brick-and-mortar restaurant, Little Tiffin. They just had their first anniversary, and I'm so happy for her. She came over to the table, and I asked her for some recommendations, and as soon as she told me that she learned to make the gang hung lay from her grandma, I knew we had to try it. We also got khao soi, and the gai tod, which is chicken thighs in a chili sauce, might have stolen the show. It was so good.
I had a Singha with that. Have to get Thai beer with Thai food.
Monday, July 19
It was kind of a stressful day. I had a lot to do to get ready to appear on The Late Show with Yola. I had rehearsal that evening, but I also knew that I needed, basically, an additional cymbal because the song we were performing required a different color — a different sound for the song that's a little rockier. I'm a big believer in working with what you have, but there are some occasions where you need a different piece of gear.
I knew I would need a big lunch, and one of my favorite meals to actually cook is to grill some chicken, make some black beans, and then fry up some plantains. I love fried plantains so much, the maduros specifically. Tostones are like, I get it, but to me, again, sweet and savory sets it off so much. With maduros, you have to wait until the plantain is ripe, and if you try to do it before they're ready, it's starchy and not sweet. But these turned out great.
Then I was off to this place called Steve Maxwell. It's like the shop in the city for vintage drums. And thankfully it was a six-block walk from there to the rehearsal space. I hate lugging drums, honestly. I walked past a whole line of cabs and the drivers kept trying to take me. I was like, I got it — only four more blocks.
I got to the practice room and dropped my stuff a little early, thankfully. That was my plan, so I could run to a bodega and get a snack. There weren't any bodegas, but there was a 7-Eleven. From touring, I think I've gotten pretty good at figuring out how to not eat total bullshit when the only place to get food is a gas station. The gas-station banana is the move. A lot of times, they'll also sell apples, but you're not going to peel the skin off those apples, and it's just been sitting there. A banana is self contained. You can unsheathe it and eat it from there. At 7-Eleven I got a banana and a Clif bar.
Had the rehearsal, and was very psyched to leave my gear with the production manager, who made sure it got to the Ed Sullivan Theater. I went home unencumbered by heavy-ass gear, and I hit the halal truck near my apartment. I got my favorite order: lamb and chicken over rice with the salad on the side, white sauce, and barbecue sauce. A lot of people go with the hot sauce. A lot of people don't even know you can get barbecue sauce, but that's the insider move for me.
It was one time, years ago. I was in line for a halal truck and the person in front of me ordered the barbecue sauce. I was like, Holy shit. I didn't even know you could do that. It's been my order since then.
The last thing I ate that night were some strawberries from my cousin. She moved to Coney Island, and they have some more room, so they have a garden. She came to my Mercury Lounge show and had brought a little container of tomatoes and strawberries that she grew. They were delicious and it's such a nice thing when you get food from family, especially when it's homegrown.
Tuesday, July 20
I got a terrible night of sleep, probably only two or three hours. It was stress about doing the Late Show, getting up at 7:30 for a 9 a.m. call, and running through the checklist because you don't want to forget anything. Do I have the garment bag with the clothes I'll wear? And I've gotta get the steamer because I don't want to be wrinkled onstage. I have to make sure I have my in-ears. I don't know — I have ADHD, and that kind of stuff can be really difficult for me, as can time management, and you don't want to be late for the call time.
I really wasn't hungry so I just went to the theater. Thankfully the drums were pretty much where they needed to be, so it didn't take me very long to tune up, and I could crash in the green room.
They had some, like, artisan snacks. They call it the "Late Show Cantina." Nice popcorn and handcrafted potato chips and all little fancy shit. These shows know you're there all day, so they get it. Luckily they had a granola bar. It didn't look big, but it was super dense. And they provided lunch. That was rice with grilled chicken and some greens.
I also drank lots of water. I'm going to sound like an alien, but I love water. There's something so deeply hard-coded and satisfying about water. It's what we are, and it makes sense that our lizard brains, deep down, would be like, Hell yeah, this shit is amazing.
I think it's a habit I picked up from touring, really. If you're not drinking a ton of water on tour, you're sick in like two days. Your system gets really worn down, and other than sleep, there's nothing better for your voice than staying super hydrated. For me, if I don't do that, I can't get up in that range where I live.
On a show day, I have so much adrenaline that my appetite kind of disappears. But I try to get some food in me. You don't want to get up there and black out or faint or whatever. You have five minutes onstage to make one thing that's going to live on. It's going to go how it's going to go, but you don't want something to happen because you were burning on overdrive and forgot to eat for 15 hours. So I had some almonds.
And I had yerba mate, which definitely packs more of a wallop than my chai latte. It's a delicate balance. You don't want to over-caffeinate and play the song too fast. Thus far in my TV-performance career, I always feel like I play one or two BPMs faster than I want to. It's just adrenaline, and that's fine. But if you add a shit ton of caffeine to that, you're gonna go off the rails with the tempo.