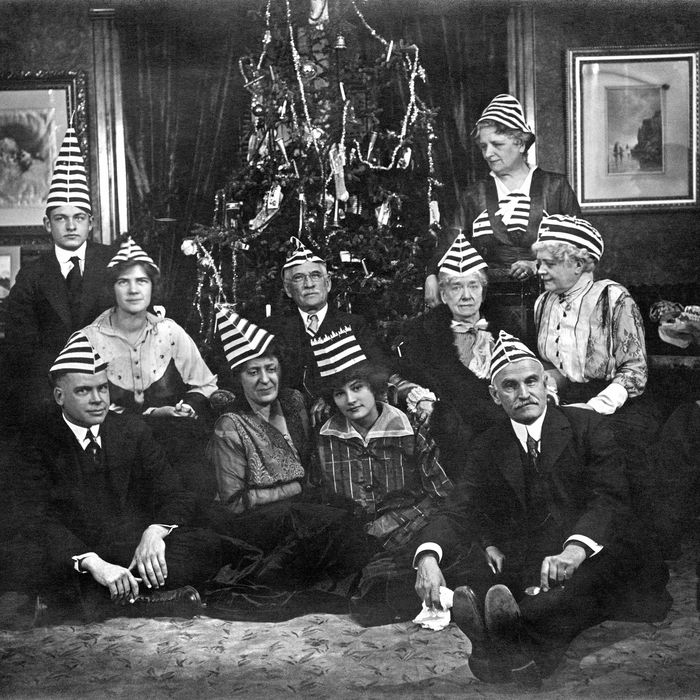 We've missed this, right?
Photo: Underwood Archives/Getty Images
After a 2020 hiatus, the Fried Frank holiday party is back. This is big news. The party — an extravagant soiree for the real-estate industry hosted by the law firm Fried, Frank, Harris, Shriver & Jacobson — is the "industry's equivalent of the Rockefeller Center tree lighting." According to one real-estate executive, it is also "the official kickoff to the holiday season."
It's true: One year and several vaccines later, party season is happening again. It's not just Cipriani, where the famed Fried Frank bacchanal returned this week, amid a galaxy of twinkle lights and a legion of masked waiters: Restaurants throughout the city report that the holidays are definitely happening. Mostly.
"It's not weird," the events director at The Standard's High Line hotel assures me. "Not at all. It feels almost normal." If anything, the lavish West Side multiplex is doing more business this year than it did in 2019, she says, which she attributes to some combination of the hotel's COVID-safety protocol (which is strict) and the loyalty of its "neighborhood friends" (who are plentiful and well-funded).
"We didn't know if there was going to be a holiday season," says William Tigertt, who owns Freemans, a space ideal for parties thanks to its warren of private rooms. "And now we're fully booked." It took a while — people have been world-historically slow to commit this year, for understandable reasons — and  business, he says, is not quite back to pre-pandemic levels, overall, but "people are doing events." The restaurant has three or four parties a day, every day, which sometimes means they're breaking down the six o'clock party to make way for another group at nine. "But the events we're doing are a little bit smaller in general," he adds. What would have been a 50-person shindig might now be a 20-guest affair.
Uptown at Tavern on the Green, events director Kerry Neal-Shaw has been thrilled, and sometimes stunned, by the demand. She walks me through their upcoming calendar, a barrage of well-heeled corporate events: a 200-person party here, 500 there, another 300 for good measure, a relatively intimate dinner for 120, and a party coming up for more than 1,000. "I am shocked," she says, happily. "I did not expect to see that this season." Other clients are still feeling more cautious, trimming guest lists, renting more space than they would have needed, back when we were all used to crowds. "But this one is going ahead with 1,200 guests."
Not that it looks exactly how it used to; for one thing, every corporation — at Tavern, that's law firms, accounting firms, finance firms, management consulting firms, other firms — has its own COVID-safety protocol. Some are hiring outside COVID-compliance companies to be on site ahead of time, rechecking vaccination cards and administering rapid tests; others are asking that the entire Tavern staff also get tested in advance of the event. "We had one one client who turned it into a whole other reception," Neal-Shaw says. "So while the people were waiting for their COVID results, we were passing Champagne and hors d'oeuvres in that room." But then, other companies have decided that passed hors d'oeuvres themselves are not COVID safe. "Or they say just the opposite: We only want passed hors d'oeuvres, and we don't want stationary displays, because we don't feel that's COVID friendly."
"They might be overthinking it," she says, delicately. She gets it, though. "Everybody has spent two years not knowing what's going on, and now we're putting our toe in the water and saying, Okay, let's have a party again. And if I want everyone to feel comfortable at my party, what's the best thing I can possibly do? You want to create that for them." Party planning, in 2021, is not just about actual safety but also emotional safety.
Still, there is only so much a restaurant can do to help guests feel safe. "People are more wary this year, just in case something happens," says Alanna Ramirez, assistant general manager and events manager at the Bronx Brewery in Mott Haven. "We're very happy with two or three bookings a week," she says, even if it's not quite what she'd been hoping for, based on the brewery's hot-vaxx summer. "I think we would be mobbed, but with the new variant … It definitely puts a damper on what we expected."
Scott Gerber, CEO of Gerber Group, is sensing a similar sense of caution. In the last month, he says, The Campbell, his swanky cocktail bar at Grand Central, has had a half-dozen postponements. "They still want to do them," he reports, "but they're like, We're not completely back in the office yet. We've reconsidered and we're going to wait until February and kind of see what happens." Perhaps instead of "holiday" parties, we'll be looking at a slew of "back to the office" parties, suggests Gerber. Ramirez, too, is optimistic about an extended season. "We're hearing that a lot of people are going to wait until we reopen the backyard officially around March."
Nevertheless, the appetite is there. "We're seeing almost the entire guest list coming!" says the events manager at the Standard. And, Neal-Shaw says, they're staying. Historically, people would put in an appearance at the corporate holiday party because they had to. "But now that you haven't seen all these people for two  years, you want to stay. You want to dance, you want to talk, and you want to maybe have an extra cocktail."