Venture down to the southernmost point of King Street and you'll find hot pinsa romana emerging five days a week from Newtown's newest Italian restaurant, Casa Mia Osteria.
Pinsa romana is a contemporary reinvention of ancient Roman pizza that is growing in popularity across Italy — the fluffy oval-shaped pizzas have a distinctly different appearance from their circular Naples-style cousins, but that's not the most important distinguishing factor. That would be the flour and dough.
Dough at Casa Mia combines three different types of flour, including rice and soy flour, and the team uses a ratio of 900 millilitres of water per one kilogram of flour. It means that the dough rises more when cooking compared to the Naples-style pizza base Sydneysiders are familiar with, and results in the pinsa romana's signature light and crunchy bases.
Casa Mia Osteria comes from duo Andrea Nazzari and Valerio Boncompagni, who are passionate about bringing a fresh take on traditional Italian flavours to Sydney's inner west. The pair worked at Michelin star restaurants in their hometowns of Rome and Milan before moving to Sydney and meeting while working at Baccomatto in Surry Hills. From there, a friendship blossomed which would eventually give birth to Casa Mia Osteria.
"It's our baby," Boncompagni tells Concrete Playground. "That's why it's called Casa Mia. Casa Mia means my home and this is going to be our home."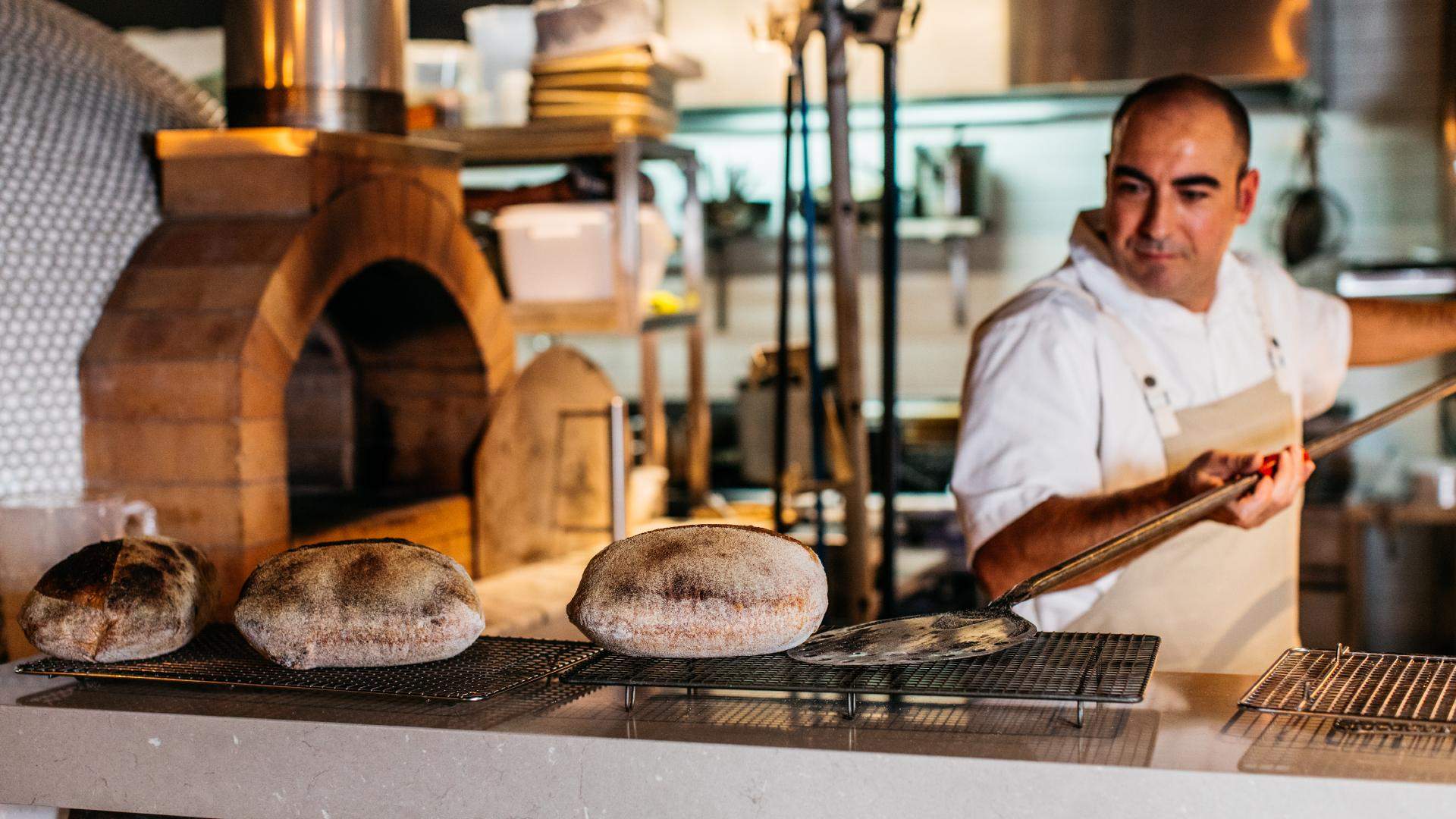 When it comes to what's on top of the dough, the restaurant will have a new seasonal menu every few months. Currently, you can find a four-cheese and pear combo, a puttanesca pinsa with cetara anchovies, olives, capers and stracciatella on a tomato base, or a chickpea, black cabbage and sundried tomato vegetarian option.
"When you go to an Italian restaurant you always find almost the same thing. You always find the caprese, the carbonara, the cacio pepe," says Boncompagni. "When we decided to open this restaurant, we decided to offer to our customers a different type of real Italian cuisine."
"We're obviously doing something different from the rest of the pizza places," Nazzari adds.
And the fun doesn't stop with the pinsa. An exciting mix of antipasti including salted cod croquettes, braised baby octopus in soft polenta and a reserved pasta list featuring fettuccine with lamb ragu and black olives is accompanied by a collection of Italian and Australian wines.
"We believe in a small wine list with good quality," says Nazzari, explaining that he is excited to introduce Sydneysiders to unique Italian wines. "Like the food, I want to give the people something different. Always try to surprise the customer."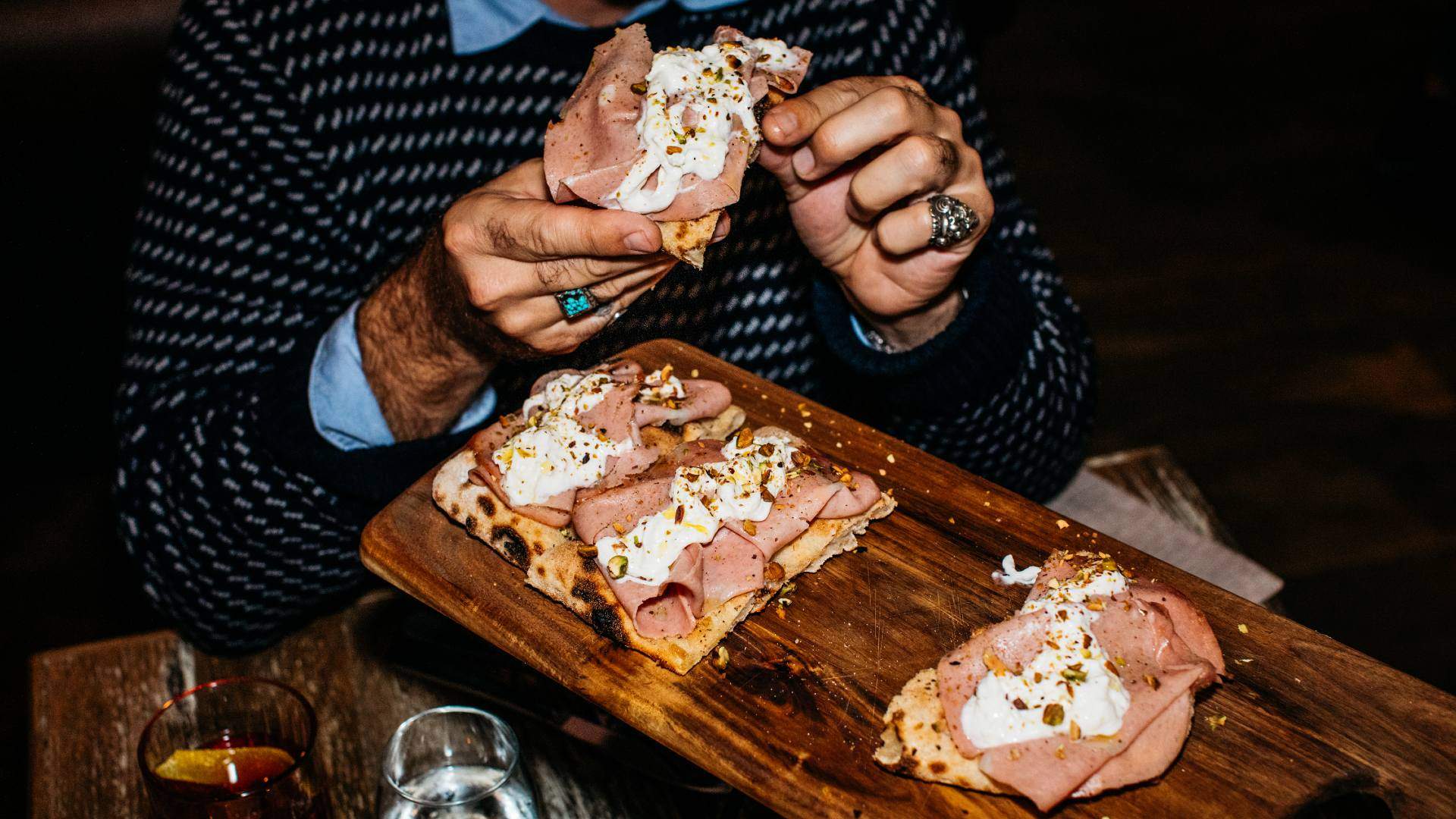 As well as its dinnertime menu, Casa Mia also offers lunch specials on Saturdays and Sundays. Swing by during the day and you'll find a spread of Italian treats ready to brighten what might otherwise be a gloomy lockdown weekend. You'll find a selection of baked goods including bomboloni, cakes and cannoli, plus fresh bread, cook-at-home lasagnas, bottled cocktails and mini lunch pizzas.
Casa Mia Osteria is open at 9/605 King Street, Newtown from 5–9.30pm Wednesday and Thursday, midday–9.30pm Friday and Saturday, and midday–9pm Sunday. Casa Mia Osteria is open throughout Sydney's lockdown.
Images: Kitti Gould

Published on July 28, 2021 by

Ben Hansen