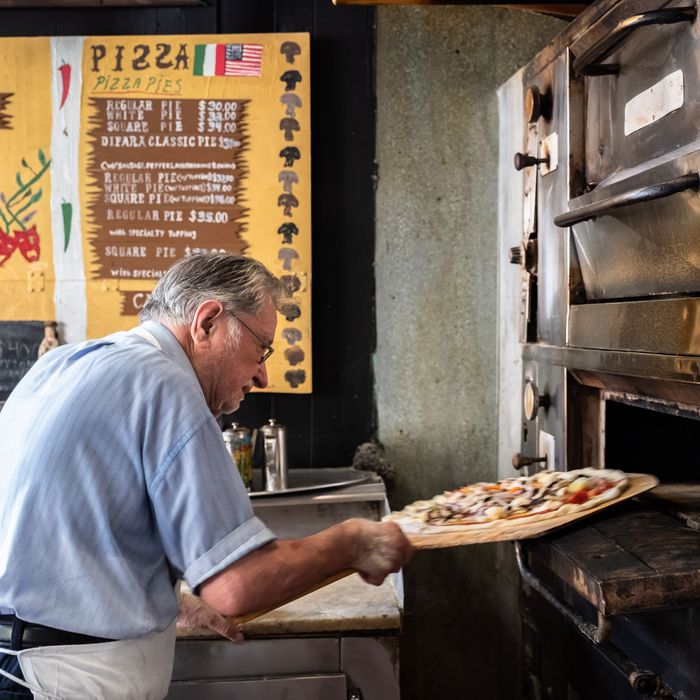 For more than 50 years, De Marco made every pie at Di Fara in Midwood.
Photo: Guillaume Gaudet
Domenico "Dom" De Marco, who in 1965 opened a pizzeria called Di Fara in Midwood, Brooklyn, that attracted legions of fans, has died. The news was shared by his daughter, Margie De Marco Mieles, on the pizzeria's Instagram account, who did not provide a cause of death. He was 85 years old.
"The best phrase that describes my father is, he was a man who loved America but missed his country of origin very much and spent all his time in America trying to create that culture of food from Campania," says De Marco's son, Dominick Jr. "He brought the hills of Italy to Avenue J." The younger De Marco adds, "There's going to be some great pizza in heaven, so let's all do our best to get there someday."
In 1959, De Marco emigrated to New York from Provincia di Caserta. After working for a few months on a Long Island farm, according to the New York Times in 2004, De Marco opened a pizzeria with his brother in Sunset Park called Piccola Venezia. After a few years, he and a business partner named Farina opened Di Fara. "I do this as an art," he said at the time. "I don't look to make big money. If somebody comes over here and offers me a price for the store, there's no price."
Called "the holy grail of classic New York–style pizza" by New York's Underground Gourmet, Di Fara was, for much of its run, a one-man show, so much so that the shop would close if De Marco was unable to work. Until recently, he produced every pizza himself, a fact that was woven deeply into the shop's mythology. It gave the pizzeria an aura of craftsmanship just as the food world's attention was shifting to artisans and producers.
For decades, Di Fara was mostly known as a neighborhood slice shop, but eventually it was turned up by people like Jim Leff, the founder of Chowhound, and Adam Kuban, who started the pizza blog Slice. Over time, a cult of fans developed around the pizzeria and even more so De Marco himself, turning the small store into a destination that food-obsessed New Yorkers were practically required to visit.
The popularity allowed prices to rise with time. In 2009, the Times covered the hoopla around the pizzeria's $5 price tag for a single slice, quoting then-Mayor Bloomberg as saying, "If you've ever had a really great slice of pizza, you know there are worse deals." A manager at Astoria's Rizzo's, another pizza-world favorite, bristled, "I couldn't possibly think of any slice that could cost that much." (In the same article, the paper called De Marco "a bespectacled maverick of the New York pizza world.")
Over the years, De Marco's monklike commitment and his insistence on finishing his pies with fresh basil became a signature, and he helped to inspire a new generation of pizza-makers. There has never been a better time to eat a slice of pizza in New York, and Di Fara is arguably the most influential slice shop in the city's history. In a tribute to De Marco, Lucali owner Marc Iacono — a pizza-making legend in his own right — wrote, "You single-handedly turned the pizza world upside down. You set the standard, and trails of success for so many of us."
As Kuban puts it, "It's hard — maybe impossible — to think of another pizza-maker of his stature, stamina, and significance."