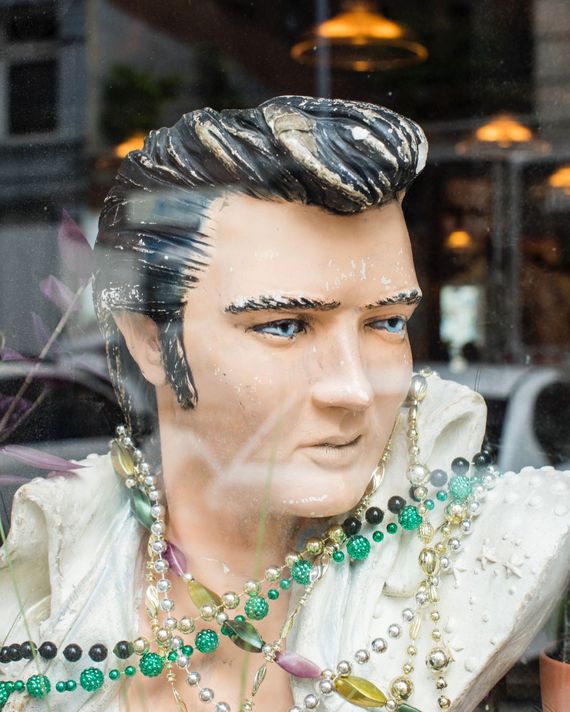 When this Elvis statued disappeared from Jolene, owner Gabriel Stulman turned to Instagram for help.
Photo: Eric Medsker
On the evening of October 1, Penis Man went missing. The small ceramic statue had been watching over the bar Nightmoves since it opened in 2019, a kind of good-luck charm: just over a foot tall, handmade, and aspirationally endowed. The name was only practical. "We affectionately called him Penis Man," explains general manager Amanda Spina, "because that's the best way to identify him." When service started, he had been there. When it ended, he was gone.
Nightmoves operates like a semi-private club: It's the kind of place where everybody generally knows somebody, but the culprits seemed to be universal strangers. Penis Man had been stolen once before, at a private party. That time, though, Team Nightmoves managed from the surveillance footage to ID the thieves as friends of friends of friends, and the sculpture was returned without further incident. This time, while they had faces, they had no contacts and no names.
People steal from restaurants all the time. They take coffee mugs and wine glasses and silverware and signage; when smoking was common, they took ashtrays. Typically, restaurants opt to cut their losses. But when Penis Man went missing for a second time, the staff couldn't let it stand.
Instagram's merits are, at best, debatable, but it turns out to be an exceptionally effective tool for solving low-level whodunnit capers such as this. On October 27, Spina posted two stills from the surveillance footage to the Instagram page of Nightmoves' sister restaurant, the Four Horsemen, covering the culprits' faces with bright dots, like a wanted poster by way of John Baldessari.
A piece of art had been stolen, the post explained. Attempts to track down the thieves discreetly had failed. "We are now asking the community — do you know who took it? Do you recognize these folks in these photos? We've covered their faces so that they don't get hassled too much, but if you have any ideas, please help us out. All we want is our little guy back." The post also laid out what would happen next: "If it is safely returned, we are happy. If we are unable to get it back, the next step is posting their pictures without the dots and getting the police involved, which is out of our hands. We really really don't want to do that!"
The post took off. Within hours, they had a DM: "I have information," a man wrote. "Who do I call?" He said some people had been to his house after a party Nightmoves, and he didn't even know who the girl was, but she'd left it at his house and actually he lived in the neighborhood and could return it right away. Whether this was true didn't matter; Penis Man was soon back home. "If people do steal," Spina says, "I highly recommend this very old-school detective way of getting stuff back."
Barely a week later, the restaurateur Gabriel Stulman found himself taking this advice: a porcelain bust of Elvis Presley had been stolen from the Noho restaurant, Jolene. Elvis has been a fixture in the space for decades. He'd been there when it was Great Jones Café. He'd been there when Stulman turned it into The Jones, and the King stayed in the window when, this summer, that restaurant became Jolene.
Penis Man was likely stolen on a whim, but the Elvis theft appeared to be premeditated. A couple had come in, distracted the maître d', and made off with the statue, which is, by Stulman's estimation, "bigger than your standard microwave," and weighs maybe 30 pounds. Stulman had also managed to identify the culprits on his own; it's just that they weren't picking up the phone.
"I sent them text messages. I called them. I left them voicemails," Stulman clarifies. "They knew." With traditional channels proving ineffective, the restaurateur decided to turn up the heat. "I thought, Well, maybe fear of public humiliation and shame will make you respond to me."
He posted the (alleged) thieves' picture to Instagram, dots over their faces. "We're taking a page from the @fourhorsemenbk handbook," Stulman wrote. "Return the statue in the next 24 hours, and this goes away; otherwise, we tell." He heard from them that day. They were out of town, but assured him they'd return it as soon as they got back, and he updated Instagram to reflect the amended terms. "If I didn't give my community an update," he thought at the time, "then it was kind of all toothless." He granted a public extension, and right on schedule, Elvis returned.
In both cases, the threat of exposure — not necessarily law enforcement — was enough to ensure the rightful return of the stolen property. And in both cases, success was not a given. After all, this is social media, where things can, and do, frequently go wrong. Spina admits she had concerns about the plan. The Four Horsemen account has almost 37,000 followers, and she is familiar with how social media works. "I guess I'm aware of the power that we as a business could be wielding,"  she suggests. "I don't know what people on the internet are capable of — people can be mean and vicious and I didn't want to cause harm to anybody. I just wanted our thing back." Stulman, on the other hand, had been calling the culprits for five days before he posted. He had no hesitations about uncovering their faces, if it came to that, but it didn't. It worked.
Both sculptures are home. Still, things are not quite back to normal. Elvis is going to sit in a different window going forward — one that can only be accessed from behind the bar. He'll be back as soon as Stulman builds him a shelf. As for Penis Man, he's resting in the Four Horsemen office. They're talking about getting him a department store-style sensor, something to alert staff if he gets through the door. "If and when he goes back, we'll have some precautions in place," Spina says. "He's been through a lot, for sure."