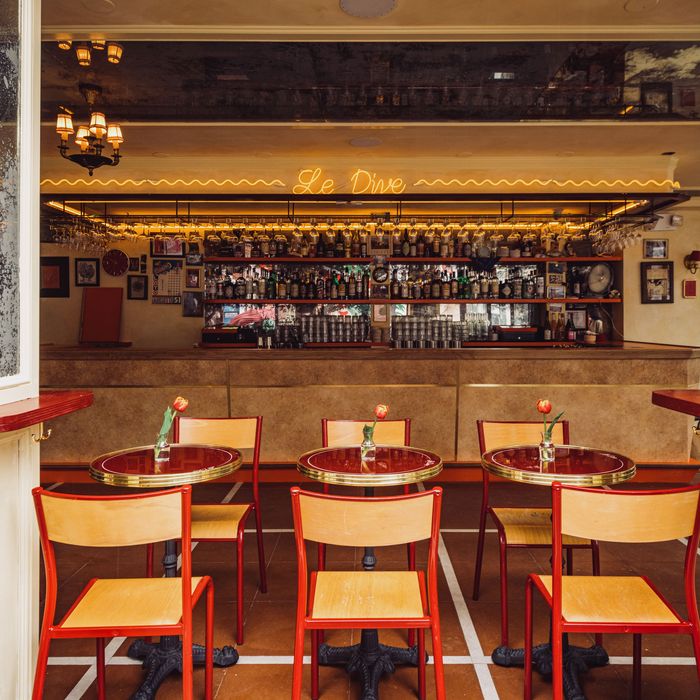 New York will always have Paris: The City of Light has lorded over our own dining culture since at least the 1940s, when Le Pavillon, in the words of the New York Times, "changed forever the quality of haute cuisine in New York, indeed, in America itself." There was the '60s wave of La's (La Caravelle, La Côte Basque); the "bold, sassy bistro airs" of late-'90s (pre-Corden) Balthazar; and American chef Daniel Rose's triumphant 2016 return to the States at Le Coucou, after he'd opened a trio of influential restaurants gastronomique in Paris.
Today, New York's perpetual Paris obsession is reflected in the ongoing proliferation of French-leaning natural-wine bars such as Claud, Ruffian, Gem Wine, LaLou, and Place des Fêtes — all pulling ideas and design cues of varying degrees from oft-cited neo-bistro landmarks like Clamato, Clown Bar, and Sauvage. "There's just this forever idealization of French aesthetic and lifestyle," says Anna Polonsky, a restaurant designer and creative director who was born and raised in Paris.
Even knowing all of this, I still wasn't prepared for my first trip to Le Dive, the Dimes Square wine bar that Jon Neidich opened in May. It didn't remind me of Paris generally; it reminded me of Paris very specifically. There were the orange Formica bar shelves and plates of saucisson from Aux Deux Amis, a gold-tinted destination in Paris's 11th arrondissement. And there, above Le Dive's bar, was the same squiggly, illuminated neon that also sits above the bar at Chez Jeannette, in Paris's 10th. The two bars feature matching awnings too: maroon with a scalloped cream finish, their names printed in red script. It's one thing to offer reference points — Keith McNally designed Balthazar to resemble specific Parisian brasseries that he had visited, in addition to a photograph of a large Edwardian bar that he found at a flea market — but Le Dive bears the uncanny, down-to-the-last-detail resemblance of a set built for The Rehearsal.
Le Dive's neon. Photo: Teddy Wolff
To his credit, Neidich agrees. During R&D trips to Paris for various restaurants, he says he was drawn to "the energy, the pace, and the tight space" of Aux Deux Amis, as well as the "quintessential dive-y" nature of Chez Jeanette. His idea for Le Dive, he says, "was definitely pulling strongly internally from both of those concepts." Aux Deux Amis for food; Chez Jeanette for vibes. (And, Neidich points out, not every detail comes from those two bars specifically: The chairs are vintage, from a French schoolhouse, and the circular acrylic tables are inspired by those of Paris cafés like Café de Flore and Les Deux Magots.)
Where Le Dive differs from its Parisian progenitors is in the ways the experience must be tailored for New York: We demand swift service (and martinis, which are among Le Dive's best sellers), and laws prohibit us from drinking on the sidewalk as we wait for a table. Always-rising rents also mean operators may need at least three turns in a night for their restaurants to survive — and they need to steer diners toward bigger dishes that command higher prices on checks. In Paris, alternatively, it's perfectly acceptable to spend four hours at a wine bar. "It always becomes a wine restaurant, not a wine bar," Polonsky says of the New York look-alikes. "I don't actually believe anyone has managed to create the Paris experience," she continues. "They may have mimicked it, designwise, or menuwise, but the culture is different."
Does it matter that one of the city's most popular new neighborhood spots is not particularly original? By all appearances, not really. On a recent Thursday night, the crowd spilled out onto the sidewalk and the ad hoc plaza that's made possible by Canal Street's participation in the city's Open Streets program. The quoted time for a table was two hours, and nobody seemed to mind at all.