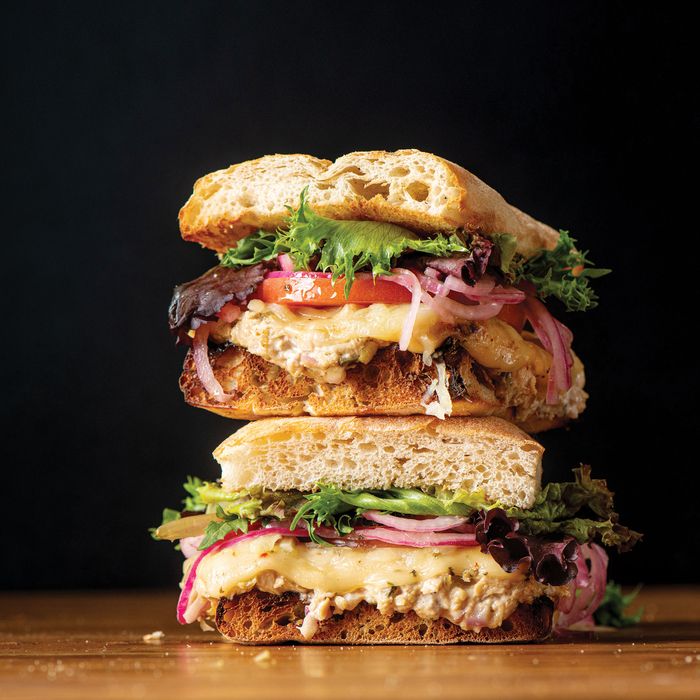 Cicci Di Carne's Tonno Melt.
Photo: Kim Fox/Courtesy of C3
These are unsettling times for tuna-sandwich eaters. You might think that of all the foods on the planet, the humble, mayo-whipped totem of the American lunch box would be the least likely to be cloaked in drama and intrigue. Not so. In January, the Washington Post broke news of the Great Subway Tuna-Hero Scandal. The story went viral, but in case you missed it, here are the pertinent details: Two Bay Area customers sued the sandwich juggernaut, claiming Subway had served them a substance that a lab revealed was not only not tuna, it wasn't even fish.
A slew of clickbait headlines followed. Subway called the lawsuit "reckless," "without merit," and "improper." In February, Inside Edition conducted its own lab-test investigation: It's tuna, it concluded. Not to be outdone, the New York Times' "Sunday Styles" section weighed in four months later with another lab report: No, it's not tuna, it said — well, it wasn't exactly sure whether it was or wasn't; in fact, the Times didn't know what to call it. Wanting to have the last word, Inside Edition hauled out the old insulated cooler bag and the dry ice and sent another round of samples to its lab. The verdict: It's tuna all right, 100 percent.
From the beginning, there was something murky about the suit and the subsequent media attention. More questions were raised than answered: Why didn't the plaintiffs' legal team reveal the name of the lab and its precise findings? Why did the Times buy its tuna-salad samples in L.A. and ship them cross-country to a lab (also, oddly, undisclosed)? Why did it use a lab that said it was dubious of its ability to definitively analyze a lump of something that had been cooked, mayo'ed, frozen, and shipped 3,000 miles in a box? Why did the Times even bother, considering that Inside Edition's lab (identified and accredited and located in Florida) had determined the tuna purchased from Subway shops in Queens to be legit months earlier? And finally, why was the fact that the original claim had been amended to a lesser charge of Subway's not using the type of tuna it advertised, rather than no tuna at all, buried at the bottom of the stories, leaving many less-than-thorough scrollers convinced that Subway tuna fish was neither tuna nor fish?
While we can't claim to be aficionados of the embattled chain, we did stop by our local branch recently to check out the hotly contested hoagie. So how was it? To our finely-honed palates, it tasted like…tuna fish. Not the best nor the worst we've ever had but perfectly acceptable, and indistinguishable from much of its coffee-shop, sandwich-chain competition. That's what we thought, anyway, though it was hard to concentrate because we were distracted by the food truck parked directly in front of the shop.
A Subway-esque logo that read "OurWay" was painted on the side of the vehicle. The truck, it turned out, was run by the plant-based-seafood startup Good Catch, which, in the wake of the Times' Subway article, saw an excellent opportunity to promote its own product by doling out genuine fake-tuna sandwiches concocted with its proprietary mixture of pea-protein isolate, soy-protein concentrate, chickpea flour, lentil protein, soy-protein isolate, and navy-bean powder. Good Catch wants to help save the oceans from overfishing, and, in a way, you could read its food-truck stunt as an acknowledgement of Subway's innocence: If Good Catch believed Subway wasn't using real fish, then why the guerrilla-marketing maneuvers? The legal minds at Subway, however, did not see it that way, and they immediately fired off a cease-and-desist letter.
With all of this tumult on the tuna-sandwich front, it's no wonder we were confused a couple days later when we stumbled upon a new counter-service sandwich shop outside our Brookfield Place office. It's called Cicci Di Carne by Dario, and a quick perusal of the décor made it clear to us that the Dario in question is Dario Cecchini, the exuberant, Dante-reciting eighth-generation Tuscan butcher from Bill Buford's book Heat, known among carnivores as the greatest butcher in Italy, if not the world. A video loop of Dario armed with a cleaver showing off various hunks of meat played on a screen behind the counter. Photos of Dario rested on the dining ledge. And jars of mostarda and profumo del Chianti (a blend of Sicilian sea salt and herbs) from Antica Macelleria Cecchini, Dario's shop in Panzano in Chianti, occupied some prime real estate next to the register.
The sandwich menu, divided into caldi (hot) and freddi (cold) panini, did not stint on the porchetta, the finocchiona, the 'nduja, and the mortadella. A couple of sandwiches, like the Reuben-esque Smoked Pastrami alla Dario with Fontina and pickles and a Dario'd French Dip, paid tribute to American sandwich ingenuity. (We'll get to those terrific sandwiches in a future review.)
But what really grabbed our attention was something listed as a Chianti-style tonno sandwich. Dario superfans know that what he calls "tonno del Chianti" isn't tuna but pork, specifically boned-out pork thigh boiled in white wine and preserved in olive oil — essentially pork confit with the flaky texture of rillettes. According to Bill Buford, Dario learned the ancient peasant technique from an elderly local who had been instructed long before by his dying father to relay it to the Cecchini butcher shop to ensure that the regional recipe, which began as a way to repurpose subpar piglets, would not disappear. "In a moment of marketing clarity," writes Buford, "Dario renamed it tonno (tuna) del Chianti. In 2001, the European Union recognized it as a food unique to the region, and, giving it an official designation, ordered that the recipe be preserved as a monument of Tuscan culture."
From what we've heard, despite its frugal roots, tonno del Chianti does indeed resemble the kind of fancy Italian and Spanish tuna that goes for upwards of $20 per tiny tin. We should note that in its place of origin, the preserved pork is typically served (just like genuine tonno) with Tuscan beans and red onion — not on seven-inch-long hero rolls. Could it be, we wondered as we stepped up to the Cicci Di Carne counter, that the shop's Chianti-style tonno was Dario's signature tonno del Chianti? And were we in for a taste of this famous porcine treat?
"Is the tonno sandwich really pork?" we asked the friendly woman behind the register in a conspiratorial voice.
"What?" she said. "It's tuna salad."
"You mean it's not pork?"
She scrunched up her face.
"Because Dario, you know, is famous for his tonno, which is not tuna but pork."
"Huh?" she said.
We babbled on about tuna-pork for a bit longer, then gave it up. The unlikelihood of a Brookfield Place sandwich shop serving tuna panini that were actually pork panini without explicitly stating so 12 times on its menu and requiring customers to sign waivers had finally dawned on us. That would be outrageous and likely incite mob violence. Angry pescatarians would burn the place down.
"We'll take a Tonno," we said, apologetically.
A few minutes later, the counterwoman handed us our sandwich. It came wrapped in jaunty red-and-white-logoed paper secured with a red tie. The tonno was mingled with a rich aïoli and chopped peperoncini; garnished with pickled red onion, lettuce, and tomato; and sluiced with a caper vinaigrette. It looked like tuna. It tasted like tuna. And after a few bites, we rested assured that it was in fact tuna — no need to send it off to the lab.